Enda Iten – The Best Running Shoe for the All-Around Pavement Pounder – Gear Patrol 2016, 2017 https://gearpatrol.com/2017/05/17/best-running-shoes-of-2017/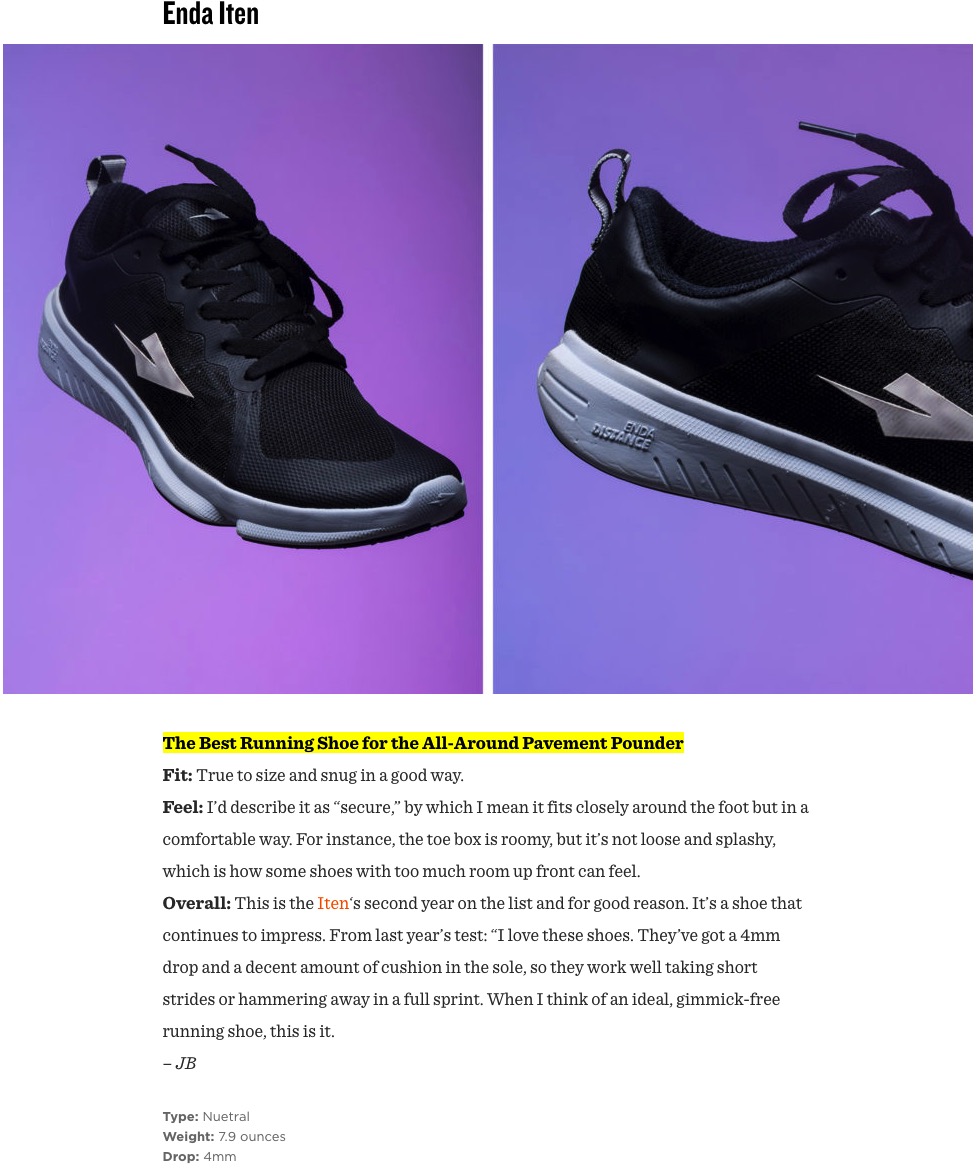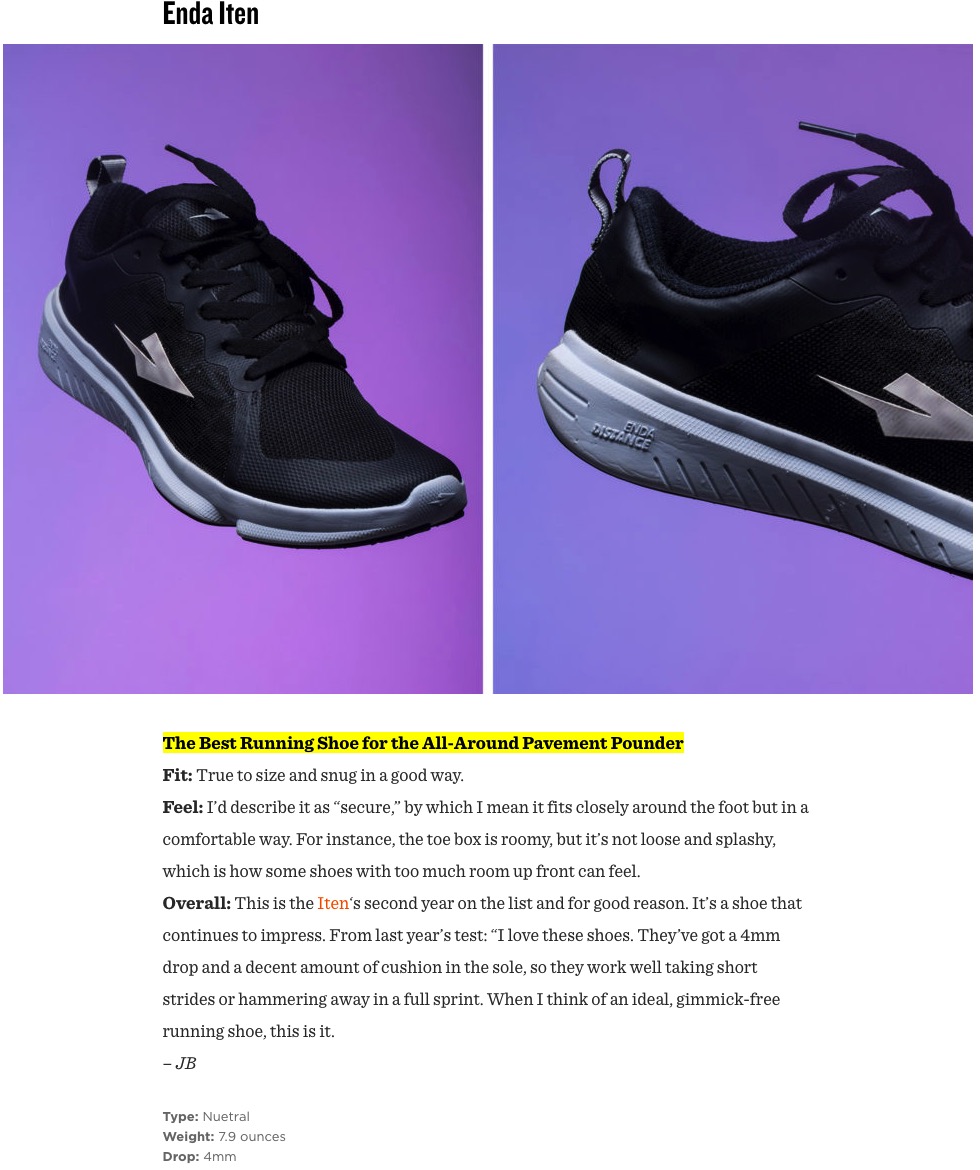 Purchase your pair today
https://www.endasportswear.com/
Enda Iten
Technical Features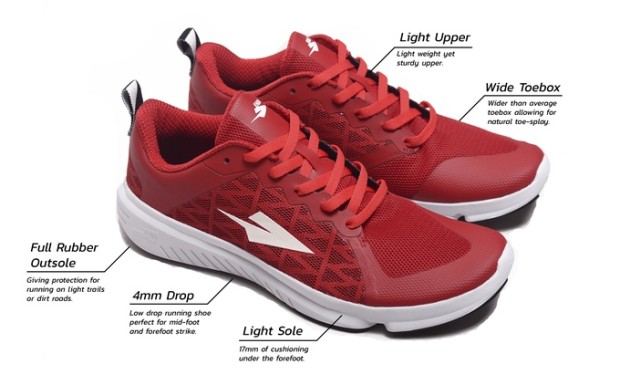 4mm Drop: The difference between the thickness of padding at the heel and under the forefoot can make a big difference on the way you run. Put too much foam under the heel relative to the forefoot, and you're at risk of the thick heel hitting first and throwing off your gait. Put too little, and you might not have enough cushion under your heel when going downhill or over rough terrain. If you watch just about any Kenyan runner, you'll notice they land on their mid-foot or balls of their feet. So we've given the Iten a 4mm heel to toe drop, which is about half of most traditional running shoes.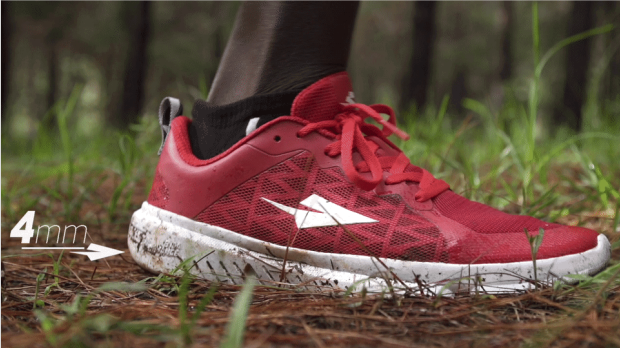 Wider Toe Box: We created more space for the pinky toe than is found in many other shoes to ensure it's not squished into or under its neighbor. A natural toe splay helps to absorb impact, which is why we went a bit wider to give the pinky some room to do its work
Light Weight – 7.9 oz (224 grams):  Lots of running shoes are classed as either trainers (read: thick and padded) or racing flats (read: thin and lots of ground feel). The Iten sits between those categories. With 21mm of cushioning under heel and 17mm under the forefoot, it's a shoe you can comfortably train in, but it's fast enough for race day.

Midsole as Heel Counter: while the Iten is a 4mm drop shoe, we realize it looks like it has more of heel than this. That's because we brought the midsole up to cup the heel. When viewed from behind you get a sense of how much the foot really sits down into the midsole. This helps the shoe move with your foot when you're running on terrain that might have your foot hitting at a funny angle or rolling a bit.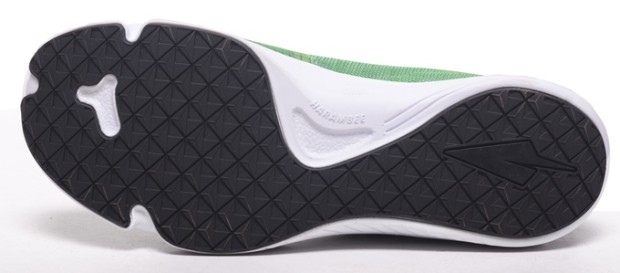 Full Rubber Outsole: this gives you grip and protection on pavement and on other surfaces, such as light trails. If you land on a small rock, you won't feel it the way you might on a shoe with a less substantial outsole. Since it's real rubber, it will also stick around through hundreds of miles, giving your Enda Iten's almost as much endurance as you.
The Kenyan Heritage
We drew inspiration from different elements of Kenya, including its rich history:
1. Colors: these have been selected to match the Kenyan flag.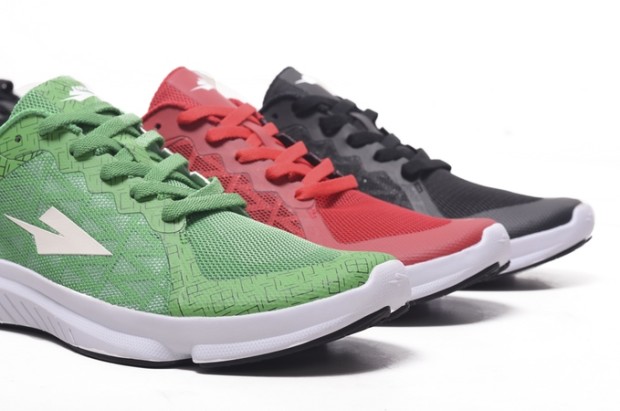 2. Our Logo: it's design is based on the image of a spear tip. The spear features throughout the history of Kenyan national identity, from the flag to being one of the highest honors that can be awarded to an individual in Kenya (Elder of the Burning Spear) — not unlike a knighthood or a presidential commendation.

3. Harambee Philosophy: Under the sole, you'll find the word "Harambee". It's the official motto of Kenya, and a value that drives us as a company. In Swahili it means "all pull together", and is used to refer to moments where communities come together to accomplish something individuals couldn't do alone – just as we are turning to you to ask for help in making Kenyan running shoes a reality.

4. The Number 12: Jamhuri Day (Republic Day), the most important national holiday marking both the date Kenya gained independence in 1963 and the day, exactly one year later, when Kenya became a republic, is on the twelfth of December – or 12/12. That's why we've got exactly 12 lines on the lateral side of the Enda Iten.

5. The Great Rift Valley: most of Kenya's running champions come from the rift valley. To honor them, and the valley's unique high-altitude and mild climate that makes for the best training grounds in the world, the heel of Enda Itens is designed to mimic the valley and its great escarpments.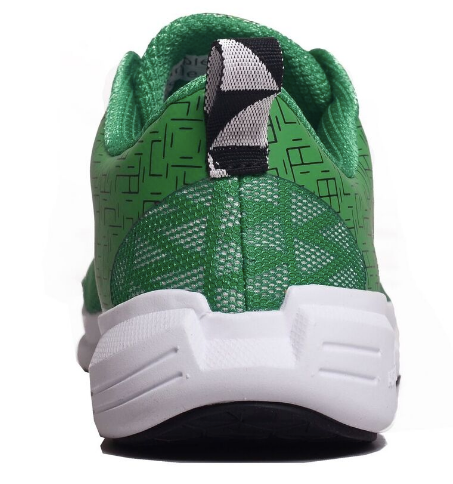 6. Geometric Patterns and Repeating Triangle Motifs: these feature in many traditional Kenyan fabrics and beaded patterns. We've brought three variations of these patterns into the side mesh, the heel strap at the back and the outsole.
We hope you enjoy these little bits of Kenya and find the Iten's a pair of shoes you'll want to wear both out on a run and about town.
Sizing
The critical thing for determining sizing is the last – a foot shaped mold around which the shoe is built. We worked with Jones & Vining, who have over 80 years' experience in developing lasts, because they're well known in the shoe industry to be best in class. Using their lasts means the Enda Iten will fit true to size.
If you don't know your running shoe size, don't worry. You don't need to tell us until the campaign ends. Between now and then, there are a couple of things you can do:
You can go to a running or sporting goods store near you and try on a couple of shoes. Odds are the size for a Saucony Kinvara or Nike Free 5.0 will be the right size for your Enda Itens.
If you can't make it into a store, then consider that most people wear a running shoe that is slightly larger than normal shoe, since our feet swell when we run and you want a bit of extra room to move forward when running downhill. If you normally wear shoes that have a bit of room in the toe, just order that size. If your shoes are snug, then you might want to order your Enda Iten's a half-size larger.
How It's Made
The long term goal is for all components of Enda shoes to be made start to finish in Kenya. Sadly, a great deal of the equipment necessary to make a great running shoe simply can't be found in Kenya. So we're starting simple, with a plan to build on as we go.
This means that, initially, we'll be sourcing the component pieces from Asia, and then building the shoes and packaging them here in Kenya. For the components we're using two excellent facilities in China that also produce running shoes for other major international running shoe brands.
How We Got Here
Making the Enda Iten has been a long process. It started out as an idea to make a truly Kenyan running shoe. In the 18 months since that start, we've worked with talented and experienced shoe designers, developers, and professional runners to create the ultimate running shoe. Two of the leading figures in this process have been:
Steve Burris – Steve's passion for running and coaching led him to join the original product development team at Nike's Exeter, NH R&D facility in the late 1970's. He developed numerous commercially successful sport-shoe models for customers and world class athletes. In a 38 year career in athletic footwear & apparel, Steve led global product development teams for adidas in Germany and Reebok in the USA and was production Country Manager in several Southeast Asian source countries. Steve has managed large organization logistics with notable success, and more recently assisted smaller brands such as Newton Running, and start-up brands in setting up product sourcing organizations. But his passion remains high performance product which helps athletes at every level maximize their potential. Steve retains excellent relationships with suppliers and infrastructure providers across the industry and is highly respected for his ability to build world class product sourcing capabilities which achieve the best balance of quality, timely delivery and pricing.
Birdhaus Design –  With a team bringing experience Under Armour, Reebok, and Keen, Birdhaus is well versed in designing and manufacturing top quality athletic shoes. Birdhaus uses design thinking and strategy to deliver innovative solutions to clients around the world.
We've gone through many iterations of the design and created many prototypes in order to build a pair of shoes that are a joy to run in, while still looking great when wearing them around town. Through that process we've built a team of people around us – freelancers, volunteers, and suppliers – that make it feel like anything is possible with the shoe. We're excited to keep working with them to bring you this shoe and hopefully produce more shoes in the future.
About Enda
Enda (meaning "Go!"in Swahili) is a social enterprise founded to bring Kenyan athletic greatness to runners around the world, and to bring sustainable income to Kenya. Enda was founded in 2015 as a Benefit Corporation by Navalayo (Nava) Osembo-Ombati and Weldon Kennedy.
Nava comes from a village near Eldoret, Kenya, where many of Kenya's running champions come from. A graduate of the London School of Economics, Navalayo has worked in different places around the world, including the US, UK, Ethiopia, Tanzania and Kenya. She is trained as both an accountant and a lawyer, which explains why she is so interested in risk management, results-based management and writing.
Weldon is a social-change campaigner who has worked on a range of early stage social change startups. He built the student and international member programs at The ONE Campaign and most recently led Change.org's growth in Europe as the regional Managing Director. An avid runner and running shoe obsessive, his half marathon PB is 1:37:39.
We met in Nairobi in early 2015 and immediately clicked. After a couple of conversations we decided to found Enda because we believe Kenya can, and should, benefit more from it's well earned running reputation, and because we believe it will be good for runners everywhere to have a stronger connection to the culture and traditions of Kenyan running.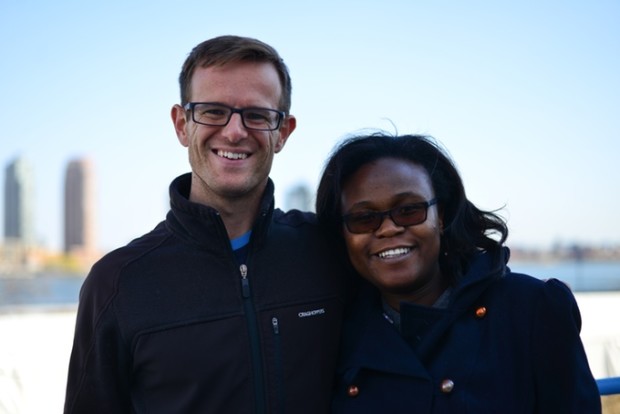 Social Impact
We are a social enterprise with a mission of increasing the amount Kenya benefits from its well earned reputation in running greatness. We're working with social impact consultants, Global & Smart, to ensure that we're building a company that has creating social value at it's core right from the start.
1. Creating Jobs 
This is pretty straight forward. Kenya is a young country with a median age of 18 years. Frustratingly, youth unemployment in Kenya is 17%. Development experts and the Kenyan government agree that creating good jobs in sectors like manufacturing is one of the most important priorities for the country.
The challenge is that it is almost always cheaper and easier to produce goods in Southeast Asia. We plan on overcoming this obstacle by creating a brand that leverages the value of being made in Kenya, as well as taking advantage of preferential of tariff rates for importing footwear and apparel to the US under the African Growth and Opportunity Act. The result will be bringing some quality jobs to Kenya.
2. Supporting Local Communities
Many Kenyans lack access to basic sanitation, clean water, adequate health care, and quality education. Thankfully many clever and courageous people are working to address these challenges. From experience, we know how hard it is for them to fund their activities. We want to make sure we're making our contribution too, so here's how we're going to do this:
We'll set aside a portion of our profits into a pool (of money, not for swimming!);  Working with experts, we'll identify a handful of most effective projects that could use some extra support every 6 months;
Anyone who buys a pair of Enda shoes and registers their purchase will get one vote to help us determine which projects will receive money from the pool;
Through this, we will link Enda runners across the globe to local communities in Kenya, and vice versa, and encourage empathy, creativity and innovation.
3. Changing The Way the World Sees Kenya
Kenya is already famous for the world's best runners, stunning wildlife, fantastic beaches, and where President Obama's father came from (never mind the rest of our species some 60,000 years ago). We want to make it famous for great products too.
Most people couldn't tell you exactly where their shoes are made. We want Enda runners to be able to take pride in knowing their running kit comes from Kenya, and that Kenyan products are of the highest quality.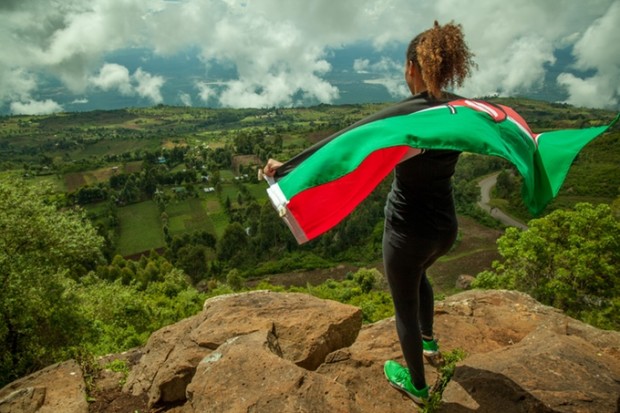 Share Enda On Social Media
Think we're amazing? Well then, don't keep it to yourself! Follow us on Twitter, Facebook and Instagram and share us with your family and friends!!!
Purchase your pair today
https://www.endasportswear.com/