By Chris Lotsbom, @ChrisLotsbom
(c) 2017 Race Results Weekly, all rights reserved
FALMOUTH, MA, USA (19-Aug) — Craig Engels of the Nike Oregon Project earned his first victory as a professional here at the Aetna Falmouth Mile, while Brooks Beast Hannah Fields snagged a personal best of 4:28.32 in a tight win over Canadian Nicole Sifuentes. On a blustery but beautiful summer evening, both races turned tactical, fast.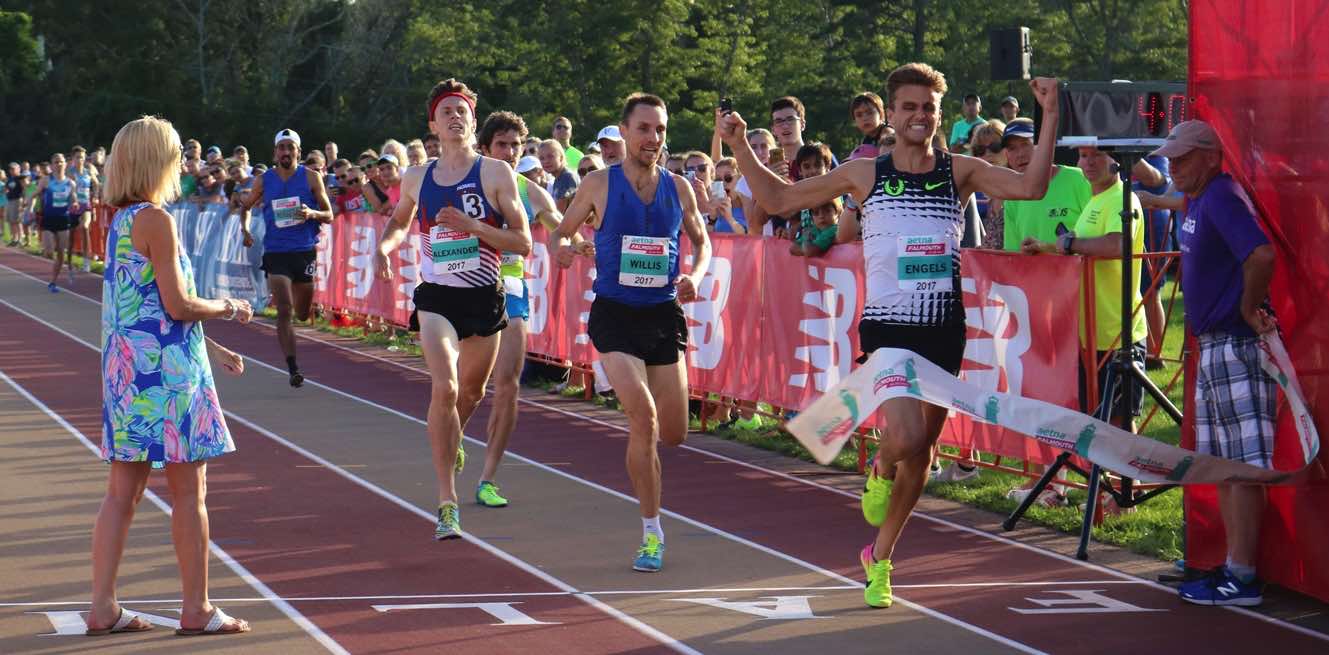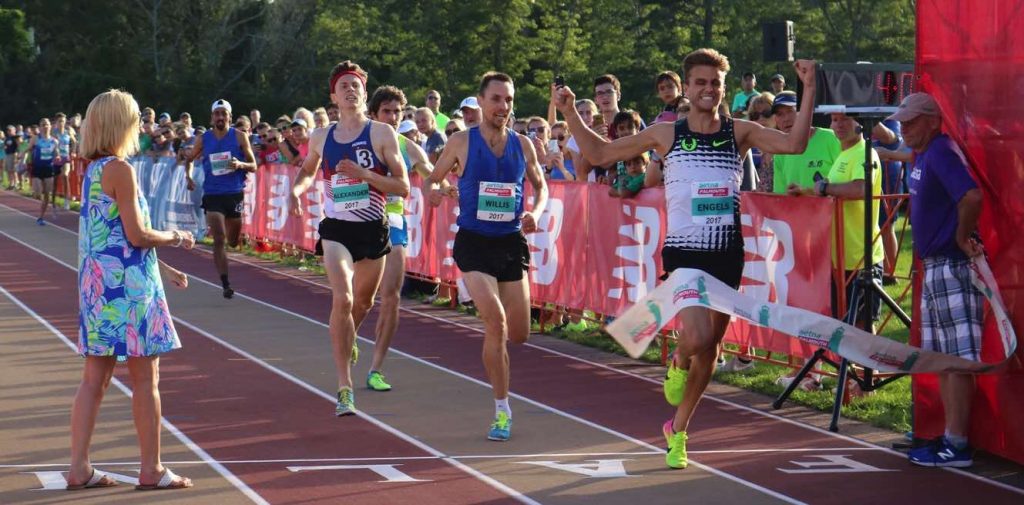 Though it's his rookie campaign as a pro, Engels appeared to be a veteran moving up through the field in the final two laps. It was by design, as the Ole Miss grad shadowed two-time Olympic medalist Nick Willis stride for stride, sitting at the rear of the eight-man field as Julian Matthews, Daniel Herrera, and Colby Alexander did the work up front through 800m.
Willis was first to make a sizable move 600 meters out from the finish, surging from back to front trying to inject a bit of speed into the lagging race. After an opening 800m of 2:03, the whole field was prepared for a fast second half.
"We were fairly cruisy through the first three laps, so I thought I better get into position with 600 to go," said Willis. "With 300 to go the pace wasn't picking up, so I went to get into position."
Forced wide, Willis worked hard to match Garrett Heath, taking the bell in 3:05. The pair did the hard work while Engels sat tucked in behind playing the waiting game.
Engels's one and only move came in the final hundred, when Willis simply ran out of gas kicking out of the bend. Midway down the straight Engels slid by on Willis's inside to eek out the win 4:00.19 to 4:00.47, with Colby Alexander kicking hard to take third in 4:00.54. Heath was fourth in 4:00.86.
"First win as a pro, first win in a really long time. It feels amazing. It's such a cool race," said a clean-shaven Engels, no longer sporting his signature mustache and mullet. "Going out in 63 you can't feel bad. I just hung back with Nick. I've seen him do it in enough races where he goes from last to first. I figured I'd follow the professional, you know?"
Willis was gassed at the end, though deserves credit for dictating the race's moves.
"I went to fourth gear and I still couldn't get around so I had to go to 100 percent with 200 to go just to get around them, and that's not a good thing to do when you still have 200 meters to run. So that really cost me cause I was muscling it the last 50," Willis said. "Normally you try to save a half gear, but I was just hoping not to be passed by the whole field in the last 50."
Engels said he has not moved to Portland, Ore., yet, but will do so and join his Nike Oregon Project teammates at the end of this season. He's still coached by his college coach Ryan Vanhoy, and will soon transition to the Alberto Salazar-led squad. When asked about the missing mustache and mullet, he said not to worry.
"It will be back, for sure!" he said, staring right into a video camera.
Moments before the Engels-Willis close finish, Hannah Fields made a near identical move to overtake two-time Falmouth Mile champion Nicole Sifuentes steps from the line.
With the wind gusting, Sifuentes took the lead early and carried the field through 800 meters in 2:16. Fields was on her shoulder, with Dominique Scott-Efurd alongside. Taking the bell with 3:26 on the clock, the field was taken a bit by surprise when B.A.A. High Performance team member Lauren Johnson made a strong move to the front. While Johnson's move was bold, it didn't shake Sifuentes or Fields.
Sifuentes led out of the bend, but as the finish approached so did Fields. Closing hard, Fields nipped Sifuentes at the line to win 4:28.32 to 4:28.51. Johnson was third (4:29.21), a step up on Kate van Buskirk (4:29.32). Scott claimed fifth in 4:30.24.
Announced as the winner, Fields immediately searched for teammate Katie Mackey and embraced her in a big hug. Fields said the win was as much for Mackey as for herself, as Mackey has mentored Fields throughout her pro career.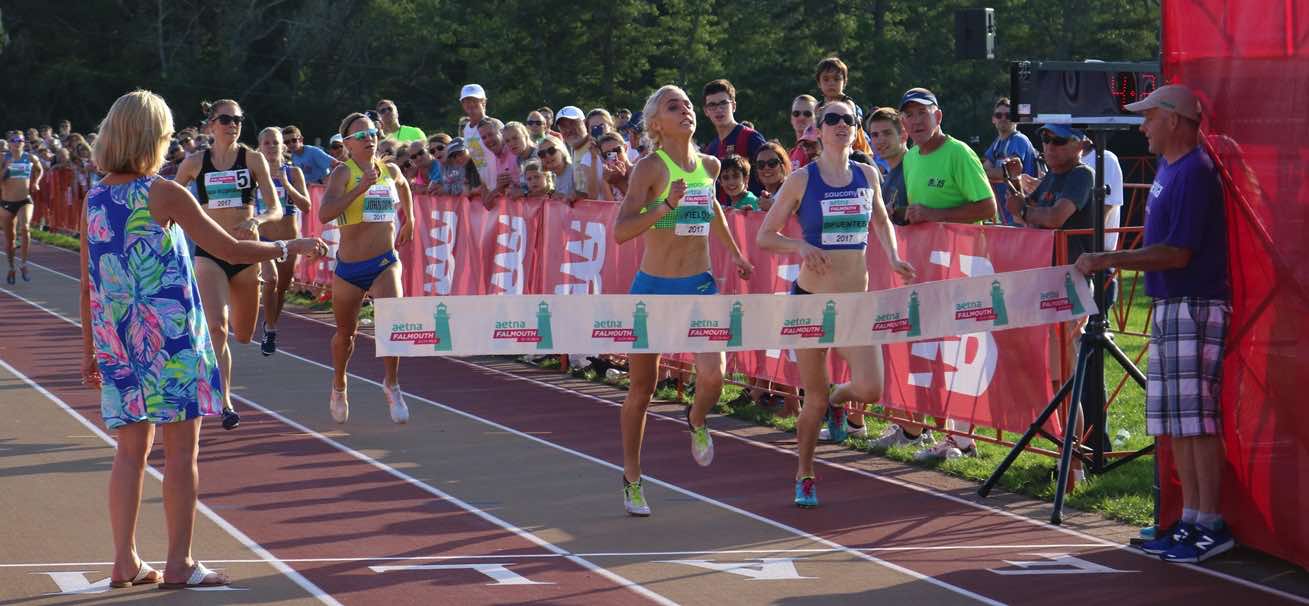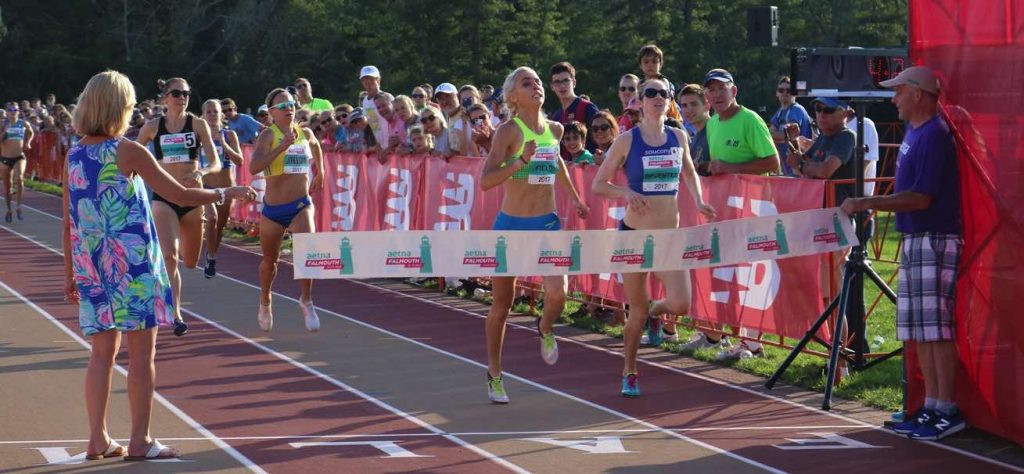 "When I had a really, really crappy first year [with the Beasts], she was crucial to being able to see beyond that and know that it's a part of the journey. It's not going to be sunshine and butterflies all the time. It's rough," Fields said. "I don't think I'd be as grateful for it if I didn't struggle so much last year."
Winning the West Chester Mile on August 10 in addition to tonight's race, Fields is riding a wave of confidence as the season comes to a close.
"Being able to have the encouragement of teammates is what pulled me through that. Doing that out there alone would not be nearly as enjoyable if I didn't have them to pull me through that. Shoutout to the Beasts!"
Sifuentes was also pleased with the time and place. "Down the homestretch, I almost didn't get passed. Hannah Fields has run 2-flat (in the 800m). I'm pretty darn happy with my finish, considering everything. I would have liked to hold her off. It's easier to chase someone down, and I almost didn't get caught!" she said, later adding "Fields has a great kick!"
Winners of the Tommy Cochary High School Mile were Mike Griffin of Wrentham, Mass., in 4:26.08, and Grace Connolly of Natick, Mass. in a girl's meet record 4:56.33. Connolly's photo-finish win over Rachel Sessa (4:56.55) was extra special considering Connolly annually spends her summers in Falmouth and trains on this very track.
"It's awesome! I've done a few speed workouts here, and I love running here. It was awesome!" Connolly said. "It's extra special [getting the event record]."