By Chris Lotsbom, @chrislotsbom
(c) 2017 Race Results Weekly, all rights reserved
FALMOUTH, MA, USA (20-Aug) — This morning, Stephen Sambu faced the daunting task of winning his fourth consecutive New Balance Falmouth Road Race, something no man had ever done before. Dictating the race and dealing with a stubborn Leonard Korir behind him, Sambu managed to accomplish his goal by the slimmest margin, securing the win by a step in 32:14. Korir finished with the same time.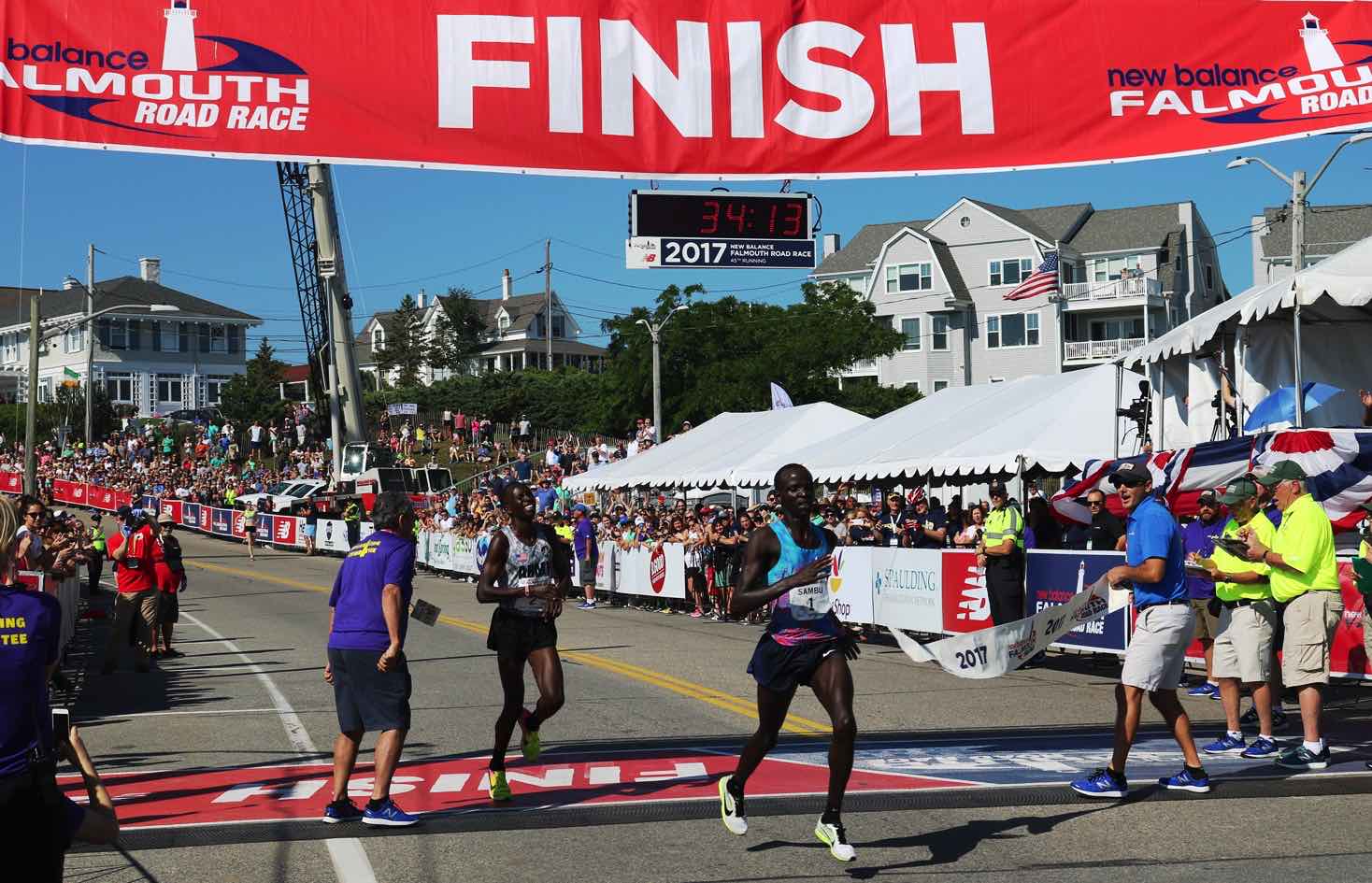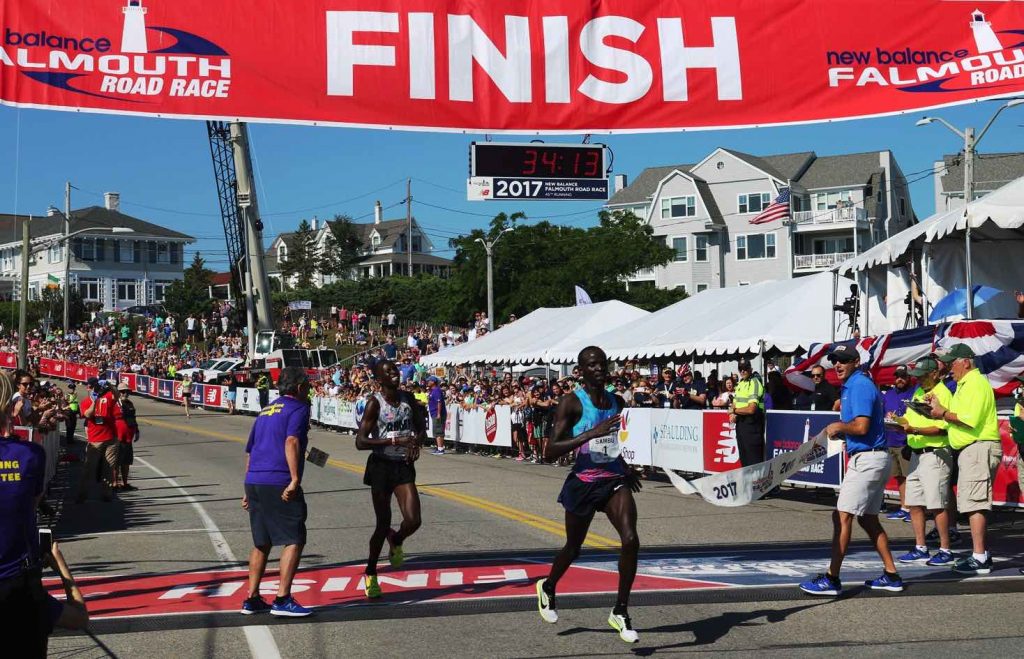 "It feels really good. It was so tough. From the beginning I was trying to push it, I was trying to tell my friend Leonard to lead a little bit but he didn't want to do it. Then I decided to go," Sambu said, clearly relieved with the outcome. "When I crossed the line first I was like 'Thank God!'"
From four miles onward, it was a battle of the minds –and legs– between Sambu and Korir. Leaving Abdi Abdirahman and early front runner Luis Vargas behind, Sambu pushed along adjacent to the Atlantic Ocean just like he'd done in each of the previous three years.
After 5 kilometers was hit in 14:30, a series of comfortably quick miles (4:34, 4:36, 4:32) gave the pair a significant lead. During that same stretch, Sambu frequently gestured to Korir requesting he'd share the lead, or at least help manage the pace.
Repeatedly Korir declined. "He was going at a very tough pace. I didn't want to push it with him. He was prepared, he was so prepared," said Korir.
Between five and six miles, Sambu gave up trying to get his friendly rival to lead. Sambu put his head down and forged ahead, pushing up the final hill, and prepared for a sprint to the majestic seaside finish in Falmouth Heights.
"I was not happy, but I said, 'It's OK!' I said to come, he was just sitting there. I told him five times and he said he just didn't want to do it. I know that's his running style. You cannot change someone's running style. He likes waiting until the last 400 or the last 200 meters," Sambu said.
For all his effort leading, Sambu was rewarded when it mattered most: at the finish line. Despite momentarily giving up the lead with 200m to go, he regained form and took the win by a step in 32:14.
"[In the last mile] he wanted me to go, to take away my kick. I said no, I'm not falling into his trap. Unfortunately it didn't work out," Korir said, clearly disappointed with the result.
After the race, both Korir and Sambu embraced and shared laughs about how the race played out. They joked about how it was nearly a replay of what happened at the 2015 United Airlines NYC Half, when Korir nipped Sambu at the line for the title.
At the end of the day, Sambu now reigns supreme as the winningest man in race history, topping Bill Rodgers, John Korir, and Gilbert Okari (each of whom have three; Joan Samuelson leads the women's tally with six). "It is really special special… I was telling myself everybody wants me to win. To get four times in a row is not easy. I was like 'I hope I get it!"
Vargas, 24, was third in 32:53. The N.C. State grad was ecstatic with the finish. "I had no expectations and just wanted to have fun with it. It's a beautiful course and, for a course that is point-to-point, to have crowds of people every single mile was, I can't even explain the feeling… I hope to come back year after year and one day win."
Abdirahman was fourth in 33:04, and also won the masters title, followed by Canadian Cam Levins in fifth (33:35).
CHEPKOECH DOMINATES WOMEN'S RACE AND RETAINS TITLE
Caroline Chepkoech was determined to win her second straight New Balance Falmouth Road Race, and nothing was going to get in her way.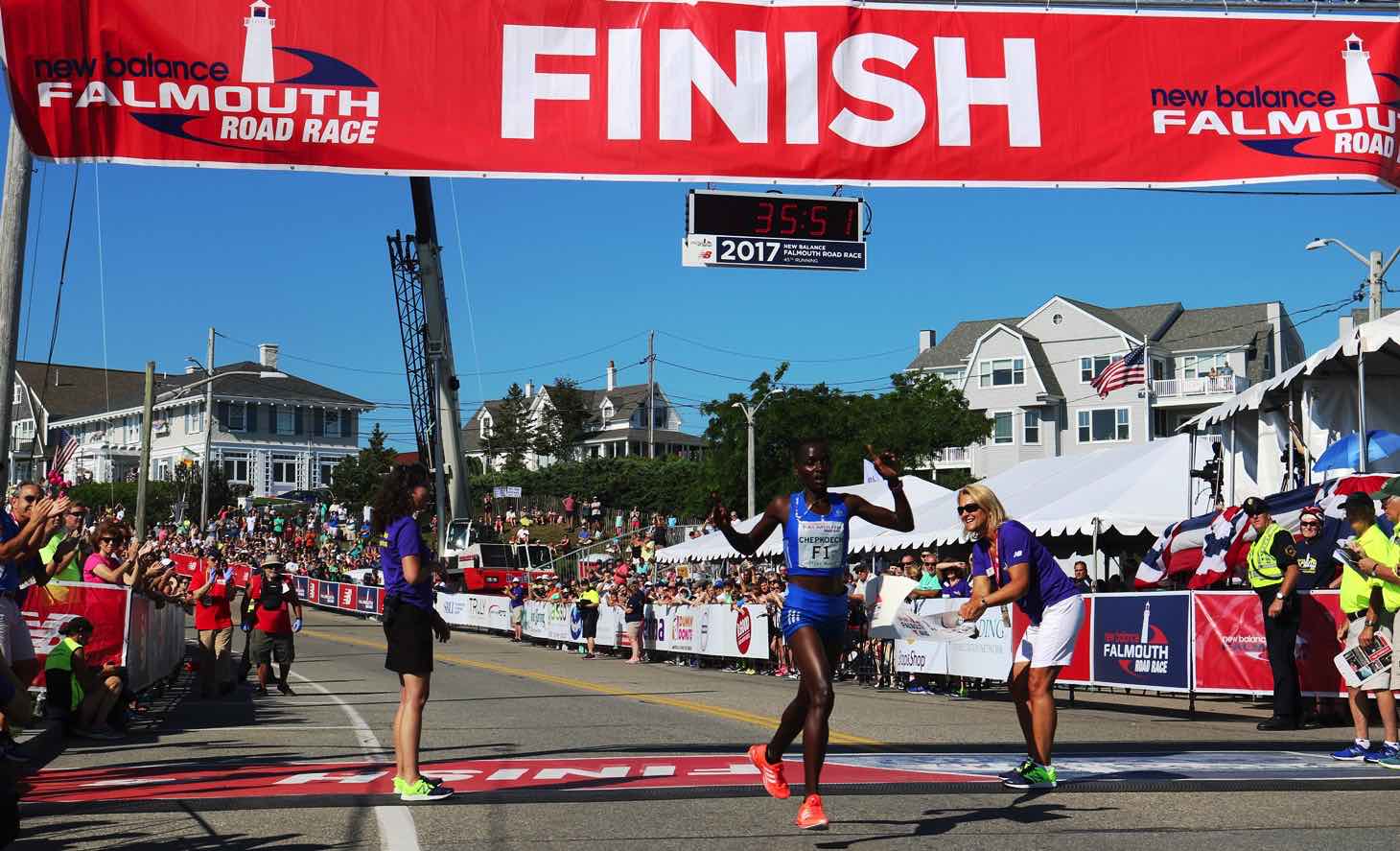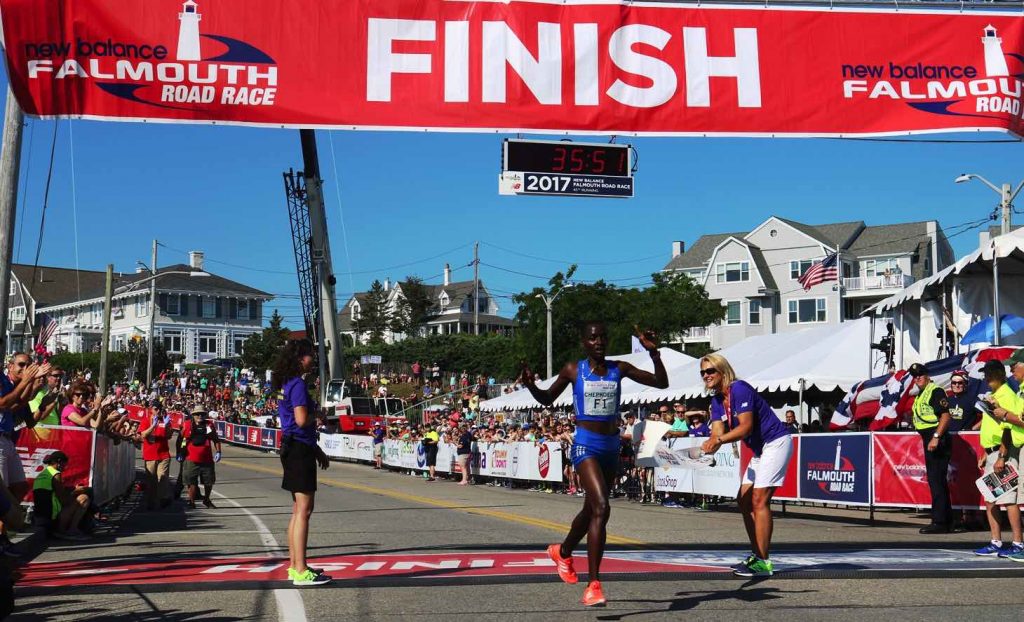 With a pack of seven reaching the mile in 5:19, Chepkoech was side-by-side with Mary Wacera, Mamitu Daska, Diane Nukuri, and Lineth Chepkirui as Americans Lindsey Scherf and Natosha Rogers kept touch behind. Ironically, racing along Nantucket Sound it was a sea of blue up front: each woman from East Africa was sporting an ocean-blue top, while the Americans raced along in red and black.
After hearing the two mile split of 10:34, Chepkoech seemed spooked. She immediately shot out to a ten step lead that became 20 seconds by three miles. The pitter patter of the pack's shoes was replaced by the lonely jingle of Chepkoech's long necklace bobbing left to right, right to left, down the early hills.
With subsequent miles of 5:02 and 5:07, Chepkoech slammed the door on any chance she'd be caught. Hitting the tunnel of cheers all alone, Chepkoech kept her tempo while Nukuri, Daska, and Wacera battled for second place. On a warm and humid day, Chepkoech didn't even grab a single cup of water. She seemed unfazed by the conditions.
"The reality was we were racing for second, the way she took off," said Nukuri, three times and Olympian for Burundi.
Chepkoech charged into Falmouth Heights with 35:53 on the clock to win the $10,000 top prize. She'd also win the gender challenge bonus over the men, and finished a full minute ahead of runner-up Wacera (36:53). It was the largest margin of victory since 1982 when Joan Benoit won by 1:08 over Dianne Rodger.
"I am happy! I am so happy for defending, and for last year," said the soft-spoken Chepkoech. "I was giving everything… I was racing to go in front. When I see back I saw nobody can follow me and I tried to push, push. I feel lucky, I am happy, and I feel strong!"
Nukuri was third in 36:57, while Daska, an Ethiopian, placed fourth in 37:00. Jess Tonn of the Brooks Beasts ran strategically and managed to claim top American honors after passing Rogers near the six mile mark. Tonn had been side-by-side with Neely Gracey for most of the way, but managed to create a bit of separation in the final kilometer. She'd place sixth in 37:49 to Gracey's 37:52. Rogers wound up eight in 38:07.
"For me, today the goal was just to battle for the top eight or five or so spots," Tonn said. "First American was definitely in the back of my mind the whole time, but having it be my first Falmouth Road Race I wanted to be super conservative over the first three miles," Tonn said. "Once I hit my host family's house right before mile five, the Green family, I really wanted to just hit it hard from there until the big hill you guys put there at the end. I had so much fun, I had a blast and had a lot of fun battling with Neely the whole time, and Natosha and Lindsey out there."