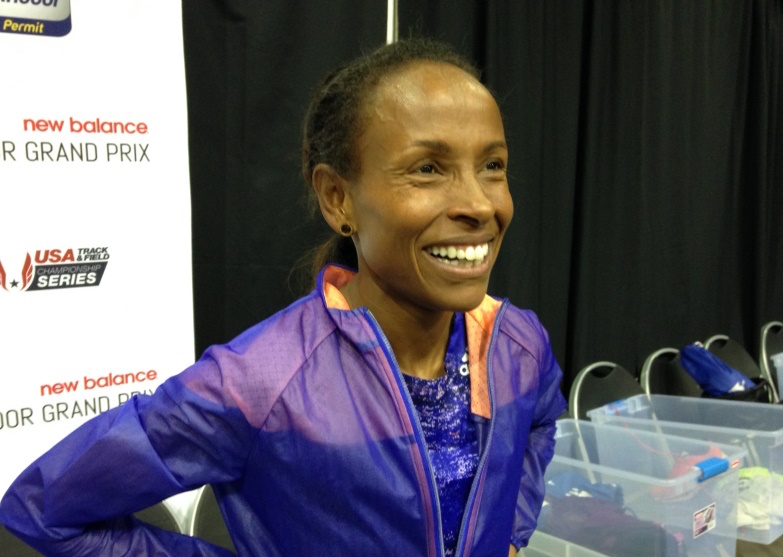 By Chris Lotsbom, @ChrisLotsbom
(c) 2016 Race Results Weekly, all rights reserved
BOSTON (13-Feb) — Any questions as to whether Meseret Defar is the same athlete now as she was before giving birth to baby daughter Gabriella last June were defiantly put to rest here at the New Balance Indoor Grand Prix, as the two-time Olympic gold medalist ran away with the 3000m in a world leading 8:30.83. Defar put on a dazzling display of tenacity, nearly lapping the field as she chased her own meet record of 8:30.05.
Defar's performance was just one of four world leading marks set here at the second stop of the IAAF World Indoor Tour.
Though the traditional boisterous Ethiopian crowd was smaller in number than in years past (possibly due to Boston's biting cold temperatures), the arena's crowd was brought to its feet as Defar cranked lap after lap alone out front. In the final lap, the 32-year-old nearly caught the tail end of the chase pack, a rare feet in professional athletics. She broke the tape in 8:30.83, shattering the previous world lead by 21 seconds.
"I am so happy for this race," said Defar, finishing her first track race since August, 2013. "I am afraid to push at here because I don't have confidence like I did before… Still, the race was for me incredible."
Behind Defar, New Balance's Abbey D'Agostino towed the tightly packed field along through the bell, when Laura Thweatt, Nicole Sifuentes, and Heidi See all made a valiant attempt for second place. D'Agostino held them off in 8:56.77, the second-fastest time for the Massachusetts native this season. Thweatt crossed next in 8:57.11, followed by Sifuentes (fourth in 8:57.17) and See (fifth, 8:57.66).
"I did end up taking the lead sooner than I wanted to but I felt very in control at that point. You have to be ready for anything," said D'Agostino, noting that the slow early pace dashed any opportunity to set a PB. "I was also not prepared at this point to run 8:30; hopefully someday, but not right now. You just take them as they come and I have another great opportunity next weekend at Millrose."
For both Defar and D'Agostino, this meet was a nice stepping stone towards preparation for meets later in the season, in particular the IAAF World Indoor Championships and USA Championships, respectively. In her post-race interview, Defar made clear her intentions for the next couple of months: return to the medal platform.
"Now I will decide with my manager, but I want to now prepare for World Championships Indoor," said Defar. "My plans for the summer are to run a couple of races in Diamond League and I will run a 10,000m qualification time and after that I am going to prepare for Rio."
A pair of familiar faces swept the men's mile and women's 1500m in world leading times. New Zealand's Nick Willis was the men's winner going away in 3:53.27, while Ethiopia's Dawit Seyaum held off Brenda Martinez for the women's title in 4:01.86.
Letting Bethwell Birgen and Vincent Kibet set the tempo early, Willis stayed relaxed passing 800 meters in 1:55.9. Content with the effort, Willis didn't even break stride while the two Kenyans briefly tangled legs a step ahead.
As he has done so many times here at the Reggie, Willis cranked the tempo up a notch in the final laps, surging to the lead after taking the bell. With daylight in front and a gap behind, Willis celebrated with a raised hand as he won in 3:53.27. It is his fifth win at the meet since 2009.
"If anything, I feel like I'm defending home turf," Willis told Race Results Weekly, speaking shortly after finishing a television interview. "It's my agent's meet and I've been coming here since 2003 when I was a freshman in college. Once you win a race several times it's sort of like your stating your mark and you take some ownership of it."
Not one to rest, Willis quickly returned to the track following the meet's end to do a 10 x 400m workout. Coach Ron Warhurst barked out splits as Willis, Danny Stockberger, and Julian Matthews rounded the track while maintenance crews broke down the facility.
For Seyaum, the reigning B.A.A. Invitational Mile champion, the women's 1500m title would take a fartlek-like effort. Going out at meet record pace, Seyaum wanted to dip under the four-minute barrier. Pumping her arms like a steam engine, Seyaum tried to shake the determined Martinez multiple times. Yet the 2013 IAAF World Championships bronze medalist at 800 wouldn't go away easily.
Toying with her competitor, Seyaum took off one final time on the bell lap, dashing Martinez's chance for the win. Despite stepping inside the curve on the final turn, Seyaum scampered to victory in 4:01.86. Martinez was second in 4:04.58, with Kate Grace third in 4:06.75.
"She kept looking over her shoulder and seeing if I was there. You can't do that indoors, especially on the turn," Martinez told RRW, referencing the step inside the rail. "She managed to hold me off still. I wanted to kind of push the pace and I didn't want to settle behind her. I did creep up on the side of her and she responded. She was playing with me!"
Speaking through a translator, Seyaum was disappointed at not breaking the meet record of 3:59.98.
"It was a good race," she said. "I didn't exactly get what I wanted but it was a good race. Yes, [stepping off the curve] had an effect and the pace was a bit slow."
Continuing the Ethiopian tradition of wins on the Reggie Lewis oval was Dejen Gebremeskel. The strongest man entered in the 3000m, Gebremeskel slowly but surely put pressure on the competition. With 600m to go it looked like the Olympic silver medalist at 5000m would run away with the win, yet Australian Brett Robinson stayed close on his shoulder. With no indoor track experience, Robinson ran into uncharted waters as he took the bell with Gebremeskel.
Robinson hung tough, but was no match for Gebremeskel's finishing kick. The 26-year-old won in 7:42.94 to Robinson's 7:44.29, while Lawi Lalang (7:45.07) and Isiah Koech (7:46.50) rounded out the top four.
"Gebremeskel, he's world class. You can't drop him," said Robinson.
Boris Berian and Andrew Wheating were victorious in the men's 600m and 1000m, respectively. Berian, currently unsponsored, came close to Cas Loxsom's American record of 1:15.33, finishing ahead of Bershawn "Batman" Jackson in a world leading 1:15.51 (to Jackson's 1:17.85). The Big Bear Track Club member has had quite the last 12 months, rising from obscurity to world-class 800m runner. Notching an outdoor PB of 1:43.34 in 2015, Berian failed to advance to the final round of the USA Championships 800m. Now a year wiser, he's used the experience as fuel for the fire.
"Indoor is mainly just having fun," he said. "Anything can happen in a race, no matter how in shape you are. Just going in, having a great attitude, and doing the best I can in each race."
Nike Oregon Track Club's Andrew Wheating and Saucony's Duane Solomon ran stride for stride into the homestretch of the 1000m, bringing back memories of the pair dueling outdoors. Interestingly, Solomon opted to run from behind the entire race, closing in on the leaders through the bell lap.
Leaving a bit too much room to make up, Solomon was unable to nip Wheating at the line. Wheating scored the win in 2:18.68 to Solomon's 2:19.10.
The Boys and Girls Invitational High School Miles both were photo-finish races. Stephanie Jenks of Iowa defeated New York's Sammy Watson by one-one hundredth of a second, 4:47.48 to 4:47.49. For the boys, early leader Thomas Ratcliffe (son of KIMbia Athletics manager Tom Ratcliffe) was overtaken by Rhode Island's Jack Salisbury down the stretch, 4:08:33 to 4:08.74.