By Chris Lotsbom, @ChrisLotsbom
(c) 2016 Race Results Weekly, all rights reserved
ZURICH (27-Aug) — On the eve of her final track race of the season, Kate Grace is both calm and antsy. The 27-year-old Oiselle athlete who trains with the NorCal Distance Project is very excited to race here at the Weltklasse Zurich IAAF Diamond League meet, squaring off against many of the same faces she battled eleven days ago in the Olympic 800m final.
With the Olympics behind her, Grace's priority is to have fun and make the most of her opportunities competing on track's highest circuit. After many years of trying to crack the upper-echelon of middle distance runners, Grace finally finds herself among the world's best.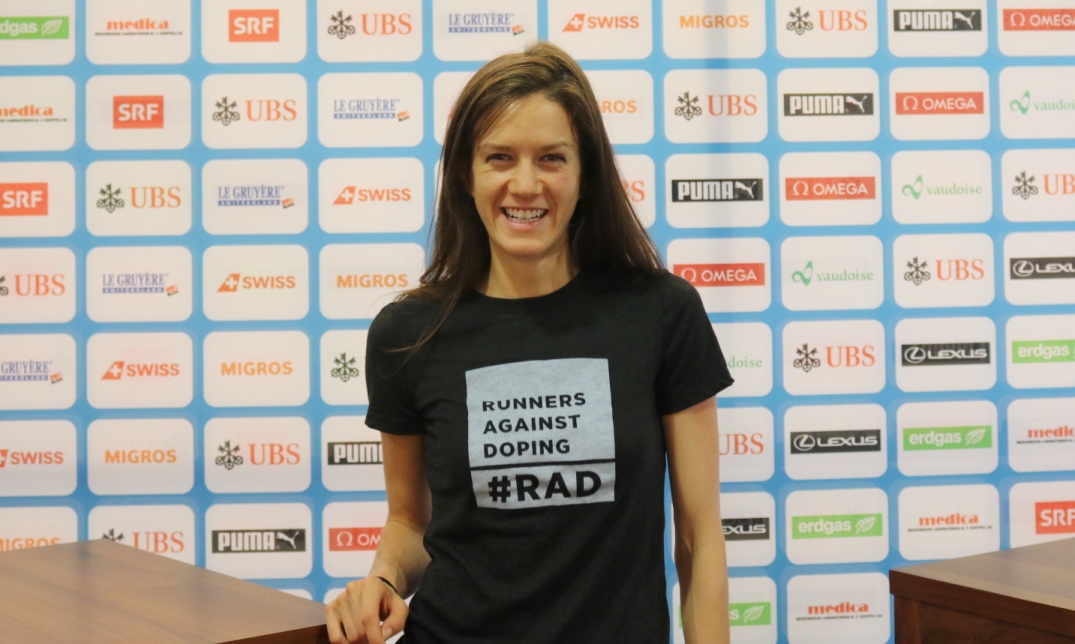 "I'm just going into it excited. The last few races, with being in Rio and everything, there was a lot of pressure. It seemed much more serious," Grace told Race Results Weekly, speaking exclusively at the meet headquarters. "This, obviously, the competitors are all just as good, many of the same competitors. But I'm trying to go into it with more of a happy-to-be here, fun, looking for a good result [mentality]."
To be blunt, Grace has had a breakout year. She won the U.S. national title for 800m –her first on the track– at the Olympic Trials, making her first international team, bound for the Olympics. In Rio de Janeiro, Grace ran a lifetime best of 1:58.79 in the semi-finals to make the final, where she'd place eighth (1:59:57).
Now at the tail end of her season, the Los Angeles-native is eager for her two final races: the 800m here tomorrow and Saturday's New Balance Fifth Avenue Mile in New York City.
"It was amazing. It was crazy. The Olympic experience was my first U.S. team, so there's a lot of firsts and new experiences which were fun," Grace said. "Making it to the final was big. Making it to the final was awesome, it was really fun. I didn't run as well in the final which is never fun, but all of my 800's recently have been my fastest 800s. It's pretty cool to be on, to have bumped to the next level with my times."
Grace has cracked two minutes four times this year, and ran 4:05.65 for 1500m. She credits many things for her rise from a league champion high school runner to Olympic finalist: most recently it's been the coaching of Drew Wartenburg and the support system that's been built as part of the NorCal Distance Project in Sacramento. Grace also mentioned her training partners, sponsor Oiselle, and friends and family.
Midway through her answer, after praising Wartenburg's guidance and her training group's mentality, Grace took a moment to pause and really think a bit deeper. "I have a million answers to that question and I do different ones every time."
"I guess one thing that I keep not doing in interviews is [saying] that a lot of things that have happened the last four years have led to this. I don't like to discount previous coaches or previous training groups because that was all really important to my development," she began. "I don't think I necessarily could have gone, I don't know if I'd have been ready to go right to Sacramento and everything would have been perfect. I had a lot of growing to do and learning to do."
In college, Grace said she never considered racing on the national –let alone international– level. She was just concerned with representing Yale University well and taking home Heps conference titles.
"I was serious in college, but I was just serious about winning the Ivy League. I wasn't really thinking about the national level. Once I set my sights on that, it actually was a pretty small period of time –basically four years– to learn about what this whole [professional running] thing was and try to get good at it. I would say I did bounce around, but it was kind of necessary because I had to fit a lot of development into a short period."
Before joining Wartenburg, Grace had trained under Frank Gagliano as part of the New Jersey/New York Track Club. Her first big breakthrough came in 2013, when she set PB's from 800m to the 3000m and broke two minutes for the first time, running 1:59.47 in Paris. That year she'd also win the U.S. Road Mile National Championships.
"This year, things did come together, but there were pieces that had been building that I want to give credit too," she said. "I was really trying to simplify my life, good influences in my life, coaches, sponsors, friends, and that I think really helped bring things together and make the big step up.
After coming back from a year plagued with setbacks, Grace is now fit and set on making the most of her races both tomorrow and on Saturday in New York City. She said her 1:58.79 PB can definitely fall again, depending on how the race plays out.
"It's an interesting field because there's such a difference between what Caster [Semenya, the Olympic champion and world leader] might run versus the other members of the field. Trying to figure out how to play that, I'll have to talk to [Wartenburg] and figure that out."
In addition to Semenya, Olympic silver and bronze medalists Francine Niyonsaba and Margaret Wambui are entered, as well as the rest of the eight-person Olympic final field: Melissa Bishop, Joanna Jozwik, Lynsey Sharp, and Maryna Arzamasova.
Grace acknowledged that she hasn't raced many IAAF Diamond League meets over her tenure as a professional athlete. That's why she especially wants to make the most of this opportunity. The stakes are raised, and an enthusiastic crowd at the famed Letzigrund stadium will make the atmosphere electric; fans have already claimed spots outside the athletes' hotel hoping to score autographs and pictures with Olympians.
"There are a lot of amazing athletes here," she said. Grace's main objective is to beat some of the athletes who finished ahead of her in the Olympic final, and knows a fast time will be needed to do so.
"I feel like I've always tried to stamp it a little bit harder," she said, referencing leaving her mark on both the American and international 800m scene. "The thing with track is there's always turnover and there's always things to prove. I want to run 1500's also and that's a whole open thing for me. Yes, I feel happy with this season, but I also feel like there's more which is a really exciting feeling."