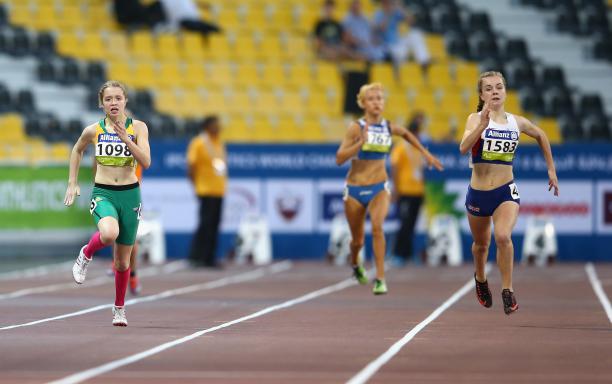 "My ability is bigger than my disability."
It's a mantra that 14-year-old Isis Holt (Vic) lives her life by and it has been rewarded at the IPC Athletics World Championships, with the sprint sensation clocking a world record of 28.57 (w: +1.5) to win GOLD in the T35 200m for athletes with cerebral palsy.
Surging out of the blocks in lane six, Holt was challenged around the bend by her friendly rival, 15-year-old Maria Lyle (GBR, silver 29.32), before digging deep to break away on the home straight and take victory.
The performance marks a stunning rise in the sport of para-athletics for Holt. A student at Melbourne Girls Grammar School, she took up athletics less than two years ago and now faces an exciting twelve months as she prepares to take on the world once more at the Rio 2016 Paralympic Games.
"That was the most exciting race of my entire life. I have never had that kind of experience before and it was amazing to be in that race," Holt said.
"It's so great to have such a great competitor so close to my own age out there. It's nice to know that someone else is going through almost the exact same things to be their best at a young age.
"The best bit is the 100m is still to come. It's my favourite event and I can't wait to be out there again."
The bronze medal was won by Oxano Corso (ITA, 32.20), with Australian Flame debutant Brianna Coop (Qld) narrowly missing a medal in fourth place with a new personal best time of 32.36.
Holt was joined on the medal winners list today by her Australian Flame teammates and newly crowned bronze medallists Chad Perris (WA) and Madison de Rozario (WA).
Perris was strong from the sound of the gun and came home like a steam train to ensure his medal winning performance in the T13 visually impaired 100m. Stopping the clock at 10.96 (w: +2.3), the sprint charge will now shift his attention to the 200m, with heats to feature on the program tomorrow.
"I'm happy with the time, the race was good, my start was better, I'm so happy with this. My goal coming in to this was to win a medal so I am extremely happy. No rest yet though. I've got the 200m to come and I'll be back here ready to try and do it all again," Perris said.
"The best thing I ever did was make the move from Perth to Canberra to work Iryna Dvoskina, and train alongside Evan (O'Hanlon) and Scott (Reardon). It's been an incredible two years working with them."
Lining up for the women's T54 wheelchair 1500m, de Rozario clocked 3:42.03 to secure her spot on the podium alongside Hongzhuan Zhou (CHN, first, 3:40.87) and Gunilla Wallengren (SWE, second, 3:41.89). The race is the first of three for the two-time Paralympian, with the 800m and 5000m to come later in the program.
Angela Ballard (NSW), who won gold in the T53 400m on day one, crossed 10th in 3:52.04.
In other results on day three of the IPC Athletics World Championships:
– Sitting in the bronze medal position coming into the home straight, up and coming middle distance runner Deon Kenzie (Tas) fell over in the closing stages to cross 7th in 2:11.58 in the T38 800m for athletes with cerebral palsy. He will now turn his attention to the 1500m later in the program.
– A starter in the round-of-eight for the men's T34 wheelchair 400m, two-time Paralympic Games medallist Rheed McCracken (Qld) managed 6th place in a time of 56.75.
– Nicholas Hum (Vic) placed 10th in the final of the T20 long jump for athletes with intellectual disabilities. Battling swirling winds, the London 2012 Paralympian leapt 6.31m (w: +2.0) with his third attempt after fouling in the first two rounds.
– Returning to the track for the final of the men's T54 wheelchair 1500m after a spectacular crash in his heat yesterday, Jake Lappin (Vic) crossed 9th in a time of 3:06.72 as Rawat Tana (THA) won gold.