The 22-year-old Norwegian phenom Jakob Ingebrigtsen has written his name into the history of track and field with an astounding show of athletic greatness. By shattering the long-standing world record for the 2000 meters held by Hicham El Guerrouj, he accomplished this incredible feat. Ingebrigtsen's persistent drive and great power showed brilliantly during the breathtaking performance that took place in front of the glowing lights at the Memorial Van Damme meet in Brussels.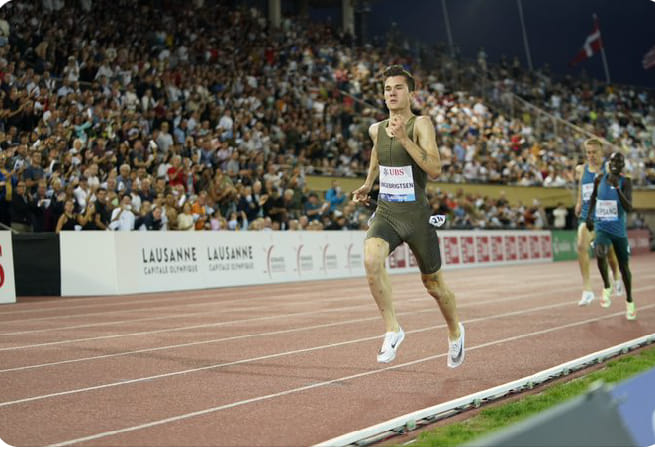 Hicham El Guerrouj, celebrated for his legendary records in the 1500 meters and the mile, saw his 2000-meter record of 4:44.79, established on September 7, 1999, in Berlin, fall to Ingebrigtsen's relentless pursuit. Remarkably, Ingebrigtsen's record-breaking run took place just one year after his birth in Sandnes, Norway.
Ingebrigtsen left no room for ambiguity regarding his aspirations, boldly announcing his intention to conquer El Guerrouj's record on August 15. Initially, the plan had called for pacers to set a blistering pace of 56-second laps (equivalent to the record's pace of 4:44.79). However, Ingebrigtsen wisely opted for a more conservative approach, targeting 57 seconds per lap in the early stages, preserving his energy for a sensational final lap—a strategy that had proven to be successful when he shattered the 2-mile world record in Paris earlier this year.
Executing this strategy to perfection, Ingebrigtsen closely trailed pacers Cornelius Tuwei and Boaz Kiprugut, reaching the 1k mark in 2:22.28. By the 1300-meter mark, both pacers had gracefully stepped aside, leaving Ingebrigtsen to navigate the rest of the race unaccompanied, guided solely by the vibrant green pacing lights. As Ingebrigtsen surged into the final lap, he crossed the line at 3:48, aligning seamlessly with the guiding lights. The Norwegian's indomitable spirit was evident as he charged down the home stretch, completing his run with a breathtaking 54.9-second final lap to secure a new world record of 4:43.13. Impressively, Ingebrigtsen hit the 400-meter mark in approximately 57 seconds, indicating a remarkable 3:46.1 for his final 1600 meters.
Ingebrigtsen's average pace throughout the race remained an astonishing 56.63 seconds per 400 meters and a staggering 3:47.78 per mile.
View this post on Instagram
This extraordinary accomplishment adds another jewel to Ingebrigtsen's illustrious 2023 season, during which he has triumphed in 10 out of 11 races, including five Diamond League points events and the World Championship 5,000 final. Notably, he achieved a personal best at 1500 meters (3:27.14) and established world records in the 2000 meters (4:43.13) and 2 miles (7:54.10). With this feat, Ingebrigtsen now boasts three world records/world bests in his illustrious career, with the 2000m and indoor 1500 (3:30.60) officially recognized as world records, while the 2-mile time stands as the fastest ever, though categorized as a "world best" by World Athletics.
The only setback in Ingebrigtsen's remarkable 2023 season was his quest for victory in the 1500 meters at the World Championships, where he finished as the runner-up to Great Britain's Josh Kerr for the second consecutive year.
In the same race in Brussels, Reynold Kipkorir Cheruiyot of Kenya secured second place with an impressive time of 4:48.14, earning him the #5 spot on the all-time list for this rarely-run distance. Meanwhile, Australia's Stewart McSweyn claimed third place in 4:48.77, ranking him at #7 all-time. An emerging talent, 18-year-old Niels Laros of the Netherlands, secured fourth place with a time of 4:49.68.