By Chris Lotsbom, @ChrisLotsbom
(c) 2016 Race Results Weekly, all rights reserved
PARIS (26-Aug) — Fans expecting to see world record chases here at the Meeting de Paris tomorrow, part of the  IAAF Diamond League series, may be disappointed, as both Olympic champions Ruth Jebet and Faith Kipyegon put to rest any record rumors. However, the pair assured members of the media that fast, competitive races are in store for both the 3000m steeplechase and 1500m.
"My body is tired from Rio, but not too much. Tomorrow I will give my best," said Jebet, just 19, a Kenyan-born athlete who represents Bahrain. Her sentiments were nearly identically repeated by Kipyegon, a Kenyan, taking the dais ten minutes later.
"Everyone is tired," Kipyegon lamented.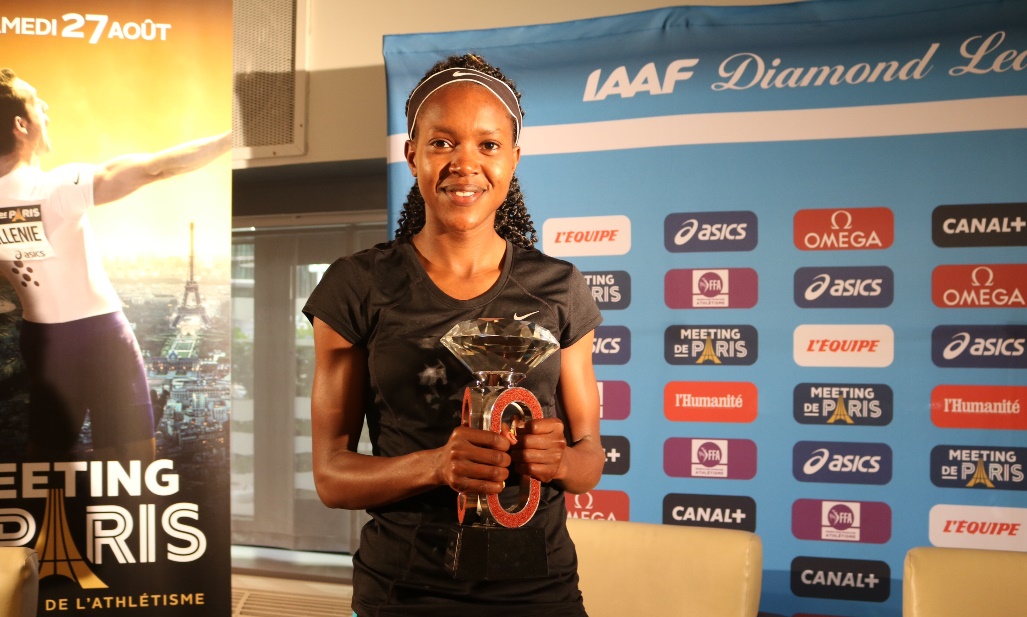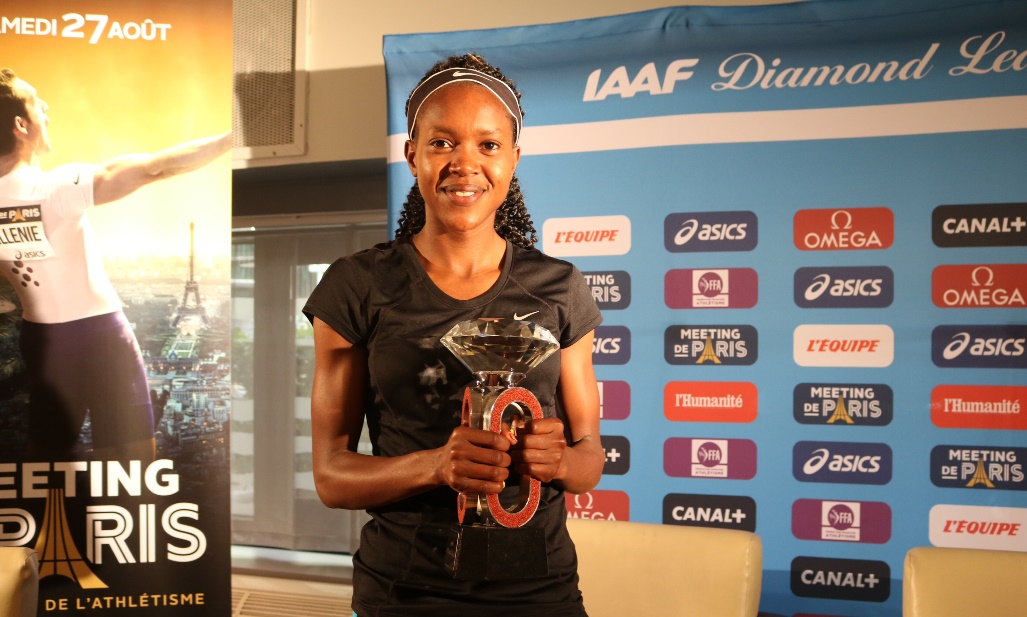 In each of her races this year, Jebet has raced from the front with her eyes set on the clock. Twice in the last three months –at the Prefontaine Classic and in the Olympic final– Jebet has cracked the nine-minute barrier, coming oh-so-close to Gulnara Galkina's 8:58.81 steeplechase world record set when she won the 2008 Olympic title. Jebet ran 8:59.97 to win at the Prefontaine Classic last May, then upped her lifetime best to 8:59.75 eleven days ago in Rio.
"I am happy to be an Olympic champion. Before I was a World Junior [gold] medalist, and to think I would be Olympic champion," Jebet began before smiling. The smile ended her sentence, exemplifying what the win meant to her.
Jebet said she didn't think twice about going out hard in Rio de Janeiro, splitting one kilometer in 3:05.93 and two kilometers in 6:00.06. It's how she prefers to race: being the hunted, not the hunter.
"I don't have any regrets from not beating the world record during the Games as I gave it my best for my time. I'm tired now, but if my body is OK I might try to beat the record in Zurich," she said, referencing the IAAF Diamond League finale in the event on September 1.
"I have tried two times but I don't think I could run [after the world record] a third time, with the Olympics. It's not possible to get it [physically] tomorrow," Jebet said. "Maybe my body tomorrow, if it's OK I try my best to run [fast]."
Jebet will still need to run quick if she wants to pick up another ten Diamond League points. Right now she is tied with Kenya's Hyvin Kiyeng (the Olympic silver medalist) with 26 points a piece atop the leaderboard. Sofia Assefa of Ethiopia sits third with 15 points.
Also in the race is Olympic bronze medalist Emma Coburn of the United States. She's run well at the Stade de France before, finishing in 9:14.12 in 2014. The meeting record for the event is 9:11.65, set by Hiwot Ayalew in 2014.
Likewise, the women's 1500m will be a tightly contested, quick affair led by Kipyegon. While Genzebe Dibaba's stratospheric world record of 3:50.07 won't be challenged here (pacers are set to go out in 64 for 400m and 2:08 for 800m), the race is built as a near replica of the Olympic final. Nine women who ran in the gold medal race in Rio will face off again here as part of a large 17-woman field (the only ones missing are Dibaba, Britain's Laura Weightman and Morocco's Rababe Arafi).
"I am ready. I went back to my manager's house or office, I trained there for two days and I come here to race and I am ready for tomorrow," Kipyegon said.
Kipyegon, 22, told reporters that she feels very different compared to last year, when a toe injury hampered the start of her season and caused her to peak late. Though she came away with a World Championships silver medal, Kipyegon was disappointed. In Rio de Janeiro she more than made up for any shortcomings, upsetting Dibaba in a tactical race.
"First I thank God, for last year I won a silver medal in Beijing and I won a gold medal in Rio. It was an amazing race in Rio and it was a good race there. I was very prepared in Rio," she said. "I thank my coach. We did a good program for this season because we were heading to Rio. It was a good program.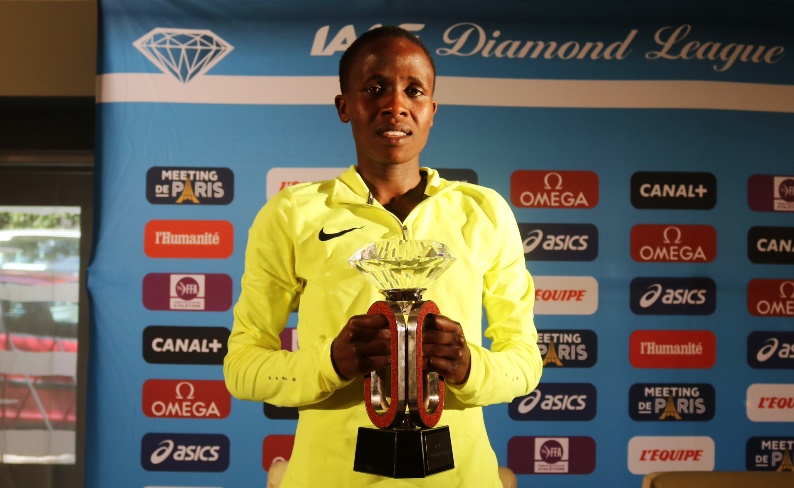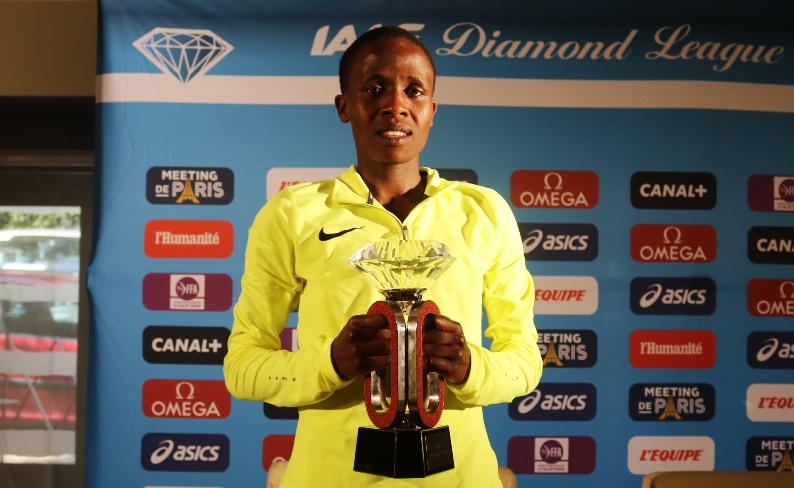 "In Rio it was a good tactical race because we didn't have to push each other [individually] because no matter, the 1500m is pushing all the time. It was a good race by starting and we left it at the end," she said, later adding, "I had a good moment there, winning 1500 meters. To be an Olympic champion is something I really enjoy."
Olympic bronze medalist Jenny Simpson, fourth placer Shannon Rowbury, and IAAF World Indoor champion Sifan Hassan all will be factors tomorrow. Britain's Laura Muir has a Diamond League win to her name earlier this year in London as well (running a national record 3:57.49).
Unlike Jebet in the steeplechase, Kipyegon hasn't truly focused on any world record runs. She's more keyed to lowering her personal best, which currently sits at 3:56.41, third fastest in the field behind Hassan (3:56.05) and Rowbury (3:56.29).
"I think in the future we have to work hard to improve my personal best. I just want to improve my personal best from 3:56 to 3:55, yes," she said. "I don't think for this year, for this last Diamond League [any records will be set] because everyone's tired from Rio with heats, semis and finals. We are just going to run a good race here. I hope to," she said.
The world lead for 1500m is Kipyegon's 3:56.41 from May, and could very well be in jeopardy. That, in reality, could be said for all the distance disciplines here tomorrow.
"If our bodies allow, we can run fast," she said.