Like Sisters, Simpson & Coburn Ready To Take On Paris Together
By Chris Lotsbom, @ChrisLotsbom
(c) 2016 Race Results Weekly, all rights reserved
PARIS (26-Aug) — To the outside observer, Jenny Simpson and Emma Coburn could be sisters. They oftentimes wear the same New Balance clothes, train together under coaches Mark Wetmore and Heather Burroughs in Boulder, Colo., are graduates of the University of Colorado, and now are both Olympic bronze medalists. They frequently travel to meets as together, and even have the same goals here at the Meeting de Paris IAAF Diamond League: run season bests and beat those who finished ahead of them on the Olympic podium.
While they each have unique personalities and interests (Simpson loves kids movies, Coburn's current craze is decorating cakes; more on that later) they form a complementary bond and support system that's made them a dynamic duo on the international circuit.  The moderator of today's press conference even got them confused at one point, referring a 1500m question to Emma and calling Jenny the Olympic steeplechase medalist.
In reality, both have temporarily delayed their Olympic celebrations to race fast here on familiar territory at the Stade de France. The Paris track is where Simpson set her lifetime 1500m best of 3:57.22 in 2014 and Coburn ran 9:14.12 in the steeplechase, just missing Simpson's then-American record 9:12.50. Both aim to go faster tomorrow evening.
Since departing from Rio de Janeiro, Simpson and Coburn have stuck together here in Paris, joined by Simpson's husband Jason and Coburn's boyfriend Joe Bosshard. While they've enjoyed a few days in the city, the pair have intensely focused on the business at hand.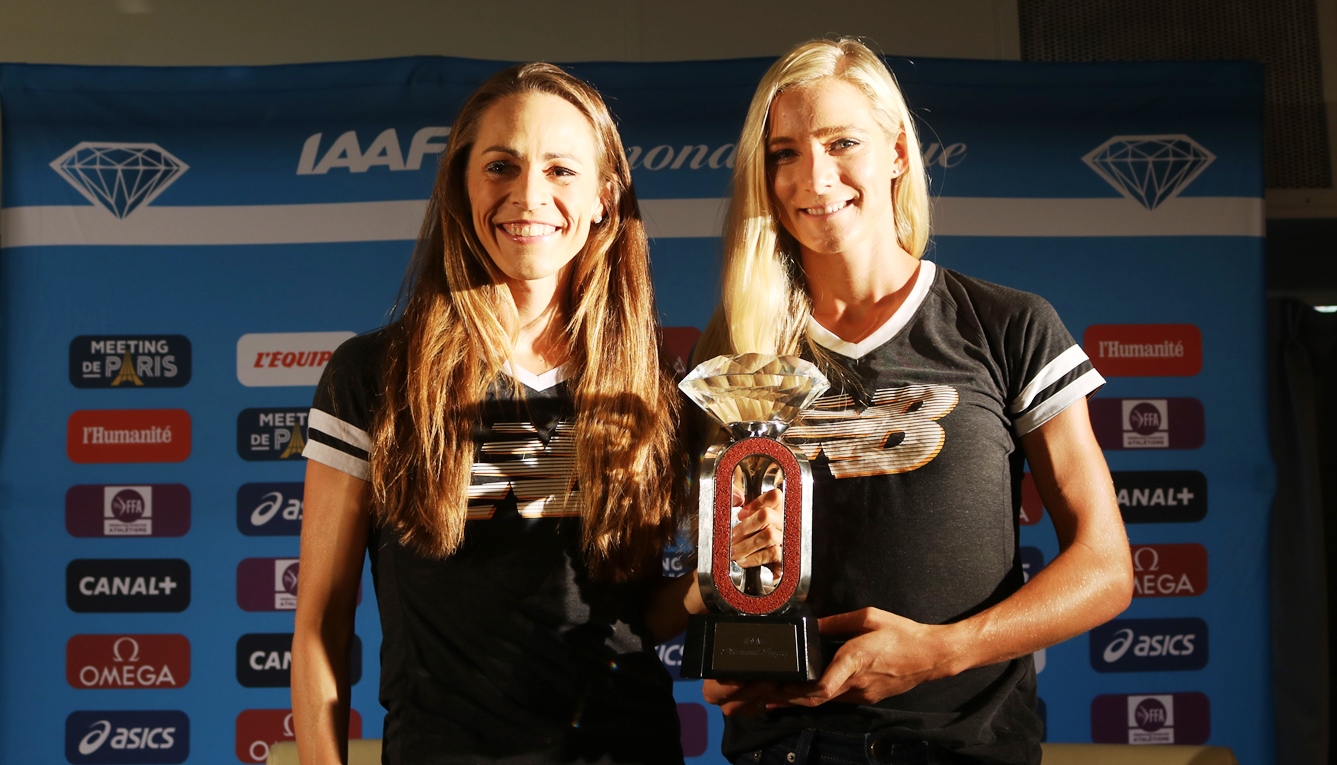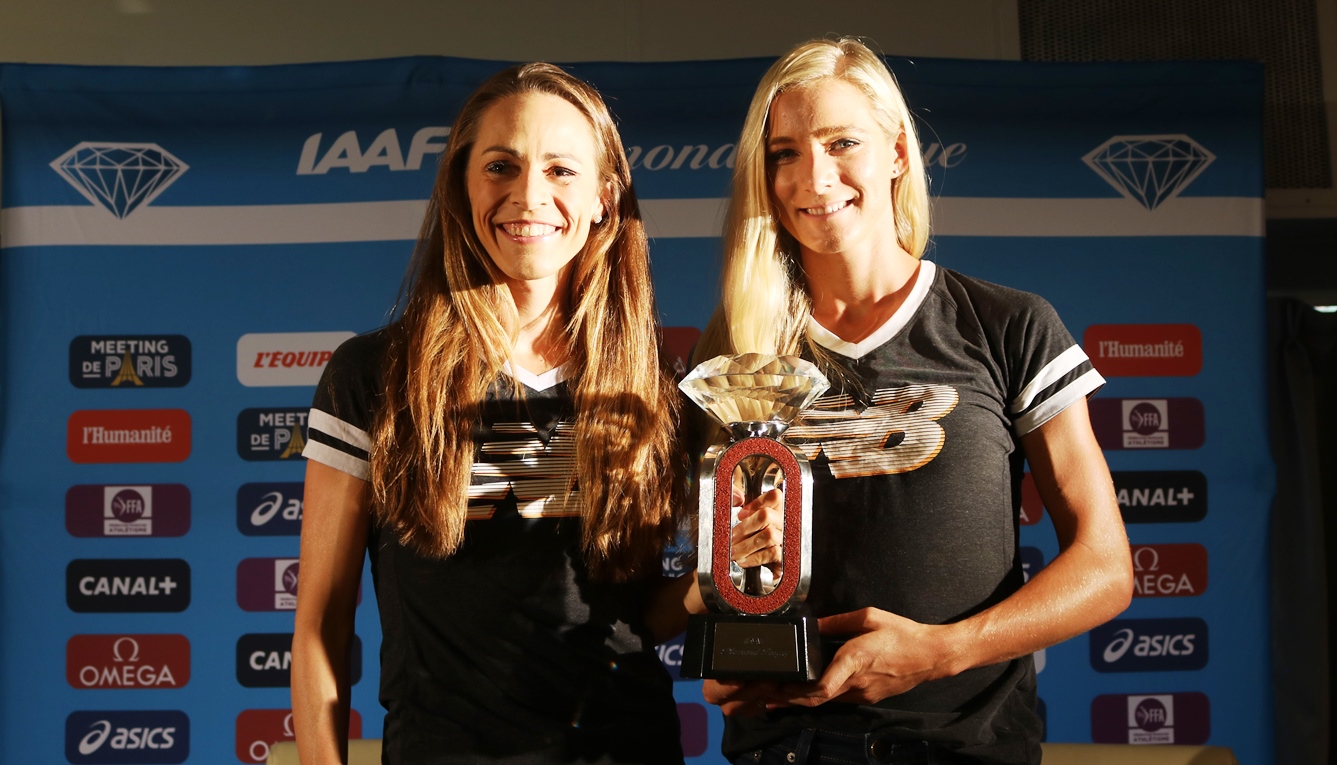 "I think it'll be actually really different than the Olympic final. There are a lot of the same names, but there's a pacer here," Jenny began. "I totally anticipate it won't be a jogfest at the beginning of the race. I think everyone wants to get a season best, everybody wants to see what's left in the tank. I think this is a really great opportunity to get under the four-minute mark."
Coburn strongly feels she can lower her American record in the steeplechase once again either here in Paris or on September 1, in Zurich (she ran 9:07.63 in the Olympic final to take bronze). She also hopes to take down either Olympic gold medalist Ruth Jebet or silver medalist Hyvin Kiyeng.
"I wouldn't be surprised if I don't beat it at all, but I wouldn't be surprised if I beat it by a second or two. I think that 9:07 is near my limit but I think I have a few seconds in a perfect race," she said. "Hopefully they are running world record pace and over-extend themselves a little bit and I can catch one of them. That'd be really fun."
Each touched upon what it means to have someone so close to them in all aspects of life, both in training and on the monotonous journey racing from city to city. With overall guidance from coaches Wetmore and Burroughs, the pair have progressed together.
"I think you're so much better with partners than on your own," Simpson said. "On the track, you can be much more consistent when you're not always carrying the load every single workout. Even if Emma and I have slightly different assignments, sometimes we can find ways to merge and help each other through intervals even if we're not identical assignments the whole workout. I definitely think it's better."
Race Results Weekly took the chance to dig one step deeper, asking the pair what quality they admire most in one another.
"She has this animalistic drive when it comes to racing that she can turn this switch and become this beast that gets the job done every time. I think I really admire her fierce attitude in races," said Coburn, taking a quick glance in Simpson's direction.
Simpson admires Coburn's ability to keep on an even keel no matter the situation. Whether it's at the Olympics or training at high altitude, Coburn never lets emotions get the best of her.
"She doesn't have huge emotional highs and huge emotional lows. She doesn't get rattled very easy," Simpson said. "That's so evident through her racing. Her racing embodies that characteristic to the most extreme degree: she can be running as hard as she can and she looks really calm. Then she can win a bronze medal and come through, and has this really excited reaction but it's not overly dramatic and crazy. I really, really admire that about her because I think she's a better person and better athlete going through different extreme situations in life because she can really hold her emotions in life and really just plow through."
It wouldn't be a true sister relationship if the pair didn't reveal a secret or two on the other.
"She LOVES kids movies," Coburn said of Simpson, giggling to herself. "The Lego Movie is her favorite movie ever. She grew up near Orlando so she's very into Disney. But she loves, loves kids movies."
And about Coburn?
"She is really, really, really into cake decorating videos right now. She's been telling me all these details about cake decorating, how different cakes are made," said Simpson. "Emma's really funny in that she gets into internet videos of themes. Whatever the theme is at the moment, she's super into it. I think the background on her phone right now is some decorated cakes."
In the end, the pair are in it together through thick and thin, Olympic medals and tough days at the track.
"We're human being beings. Not every single day is going to be perfect, you're not always going to get along perfectly, but when you have a really similar goal and similar personalities, you're definitely, definitely better working together," Simpson said. "It's a lot more like siblings at this point in a lot of ways."