By David Monti, @d9monti
(c) 2016 Race Results Weekly, all rights reserved
(22-Jun) — After a two-month break from competition, reigning Abbott World Marathon Majors champion Mary Keitany gets back to racingthis Saturday at the Mattoni Olomouc Half-Marathon in the Czech Republic. This weekend's race, where Keitany is both the defending champion and course record holder, will be her first since her disappointing result at last April's Virgin Money London Marathon.  There she fell hard with about eight kilometers left in the race, and finished a ninth in 2:28:30, all but ending her chances of competing at the Rio Olympic Marathon.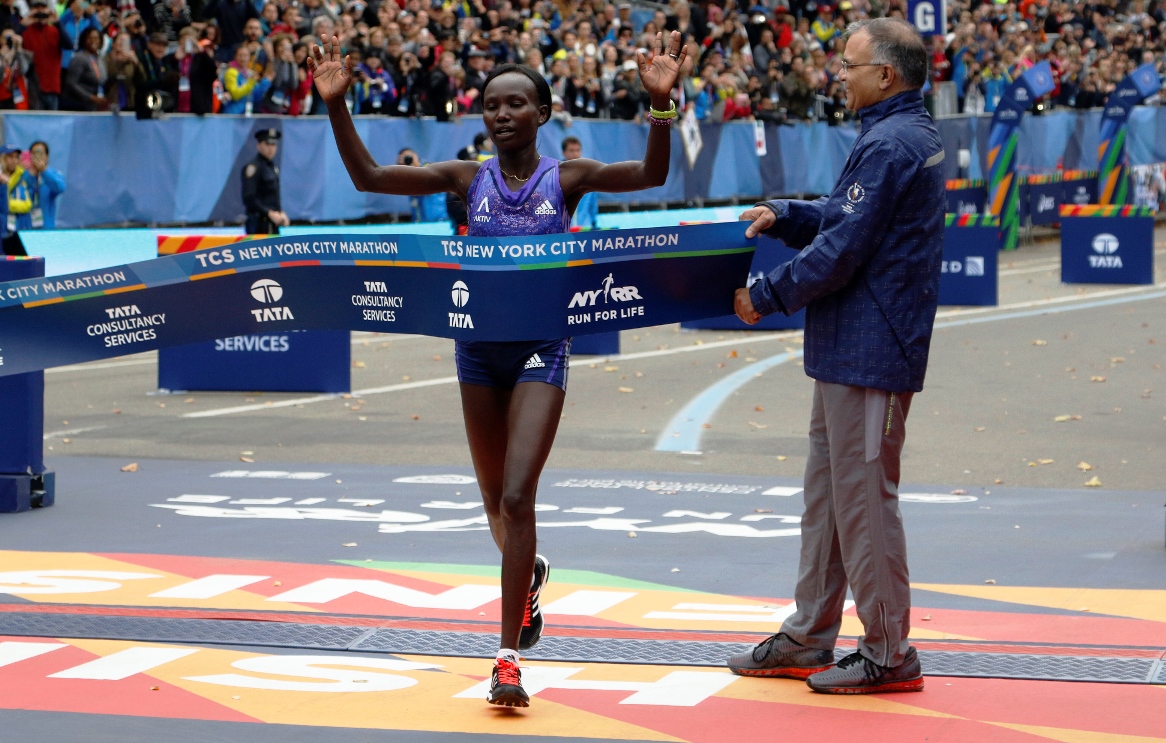 Speaking to Race Results Weekly from Prague today via Skype, Keitany explained that it was not the fall in London which cost her the race, but rather a different problem she had days before.
"Actually, when we talk of London, not falling alone got me all of those problems," said Keitany, in her familiar high-pitched voice. "I arrived in London on Tuesday (and) on Wednesday I was not felling well.  I had a problem, a stomach problem."
Keitany, 34, had swept through the first half of the London race in 1:10:45 and was with the leaders, including eventual champion Jemima Sumgong who also fell. But in the second half of the race, Keitany had a hard time keeping contact with the leaders.  She said she felt flat.
"All of Thursday I was not in good mood," Keitany recalled.  "You lose a lot of water in the body (from flying).  When I just fell down it was the matter of the problem I had before, not just falling down.  I had no power.  Almost 15-K, 20-K I was just running, but I was not there.  What I can say: the falling did not make me lose the race.  Another problem which I had made me fail."
After London, Athletics Kenya only named Keitany as a "reserve" athlete for the Rio Olympic team, a big blow for the two-time TCS New York City Marathon champion.  Her plan for this year had been to win London, qualify for Rio, and get a second chance at the Olympic Marathon medal which slipped her grasp at the 2012 Games where she finished fourth.
"If I want to say something about the Olympics, I'm very disappointed," Keitany said, shaking her head.  She continued: "For me, I wanted to go to Rio.  Because of the mistakes I made in London, that caused a lot of problems. As you know in Kenya we are many with good times."
But Keitany then offered some surprising news: the Kenyan team might not yet be finalized.  When the team was named last month, Jemima Sumgong, Helah Kiprop (Tokyo Marathon winner) and Visiline Jepkesho (Paris Marathon winner) were named as the three primary athletes, with Keitany and Joyce Chepkirui as reserves.  Chepkirui did not wish to be a reserve athlete, and withdrew her name, but Keitany did not.  Technically, Keitany could still displace one of the three primary athletes.
"I think that the real selection will be made the first of July," Keitany said slyly.  "We are still finding the team.  They say they have not made the last decision."  She added: "I know in Kenya there are many with a fast time.  If you lose, you just lose.  So there is nothing you can say."
Olomouc Half-Marathon race director, Carlo Capalbo, is hoping for a fast race this weekend, and had arranged a male pacemaker for the women's race through elite athlete coordinator Jana Moberly.  But Keitany is doubtful she can get near the 66:38 course record she ran last year.  The weather, she said, was the problem.
"I think I'm fit, (but) first of all we must talk about the weather," she said.  "The weather here is terrible, very hot!  If the weather is OK I think we will run well."
Keitany said she would do her best to follow the pacemaker, but worried about overheating and potentially losing the race.
"I know we'll do something good," she said, looking impatient with this reporter's questions.
Keitany said that she had no real interest in chasing Paula Radcliffe's absolute marathon world record of 2:15:25, a mark she called "impossible." She did say, however, that Radcliffe's all-women's world record of 2:17:42 might be within reach.  Keitany, who is the Kenyan record holder with a 2:18:37 personal best, is the second-fastest marathoner of all time.
Keitany said that her fast running was exclusively the product of God-given talent and hard work under coach Gabriele Nicola.  Proclaiming that she has always competed cleanly, she said she had no use –or need– for drugs.
"I'm a talented lady," she reasoned.  "Cheating is another bad thing. You have to run clean if you are talented like me; there is no need of cheating."