The autumn road running season sprang to life on Sunday, September 10th, as Agnes Ngetich, a 22-year-old Kenyan athlete, etched her name into the annals of running history at the Transylvania 10km race in Romania. Ngetich delivered an awe-inspiring performance, clocking an astonishing time of 29 minutes and 24 seconds, setting a new women-only world 10km record.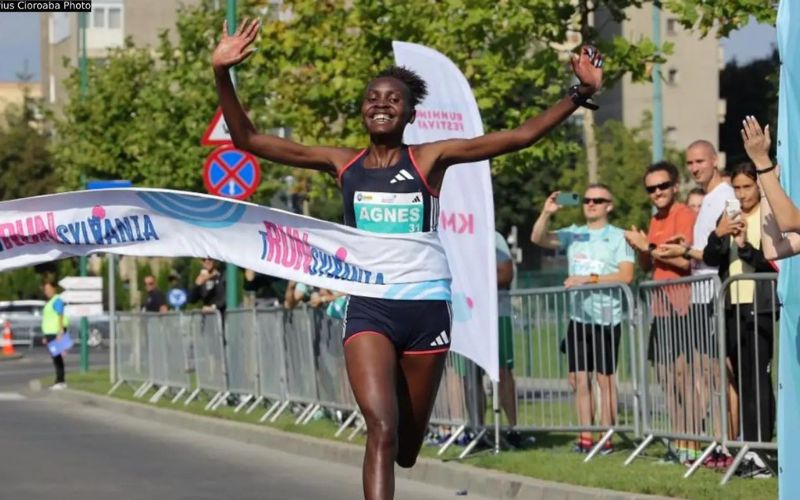 Ngetich's incredible feat not only secured her victory but also eclipsed the prior record of 30 minutes and 1 second set by the late Agnes Tirop in Herzogenaurach back in 2021. This extraordinary accomplishment firmly placed Ngetich as the third-fastest woman in history over the 10km distance, trailing only behind Ethiopia's Yalemzerf Yehualaw, who recorded an astounding 29 minutes and 14 seconds in a mixed race in Castellon last year, and Yehualaw's recent time of 29 minutes and 19 seconds in Valencia earlier this year.
The Brasov Running Festival bore witness to Ngetich's blazing speed as she tore through the 5km mark in an astonishing 14 minutes and 25 seconds. This not only secured her a commanding 10-second lead but also surpassed the women-only world record for that distance by an impressive four seconds. Ngetich's unwavering determination culminated in a record-breaking solo performance.
Earlier in the year, Ngetich secured the bronze medal at the World Cross Country Championships in Australia, sharing the podium with fellow Kenyan Beatrice Chebet and Ethiopia's Tsigie Gebreselama. Reflecting on her remarkable journey, Ngetich commented, "I began the year with the World Cross, which was perfect, so I aimed to conclude the season on a high note."
Throughout the summer, Ngetich continued to make her mark on the track, achieving personal bests in the 5000m with a time of 14 minutes and 36.70 seconds during Diamond League races in Paris and 3000m with a time of 8 minutes and 32.62 seconds in Oslo. She capped off her track season with a commendable sixth-place finish in the world 10,000m final, completing the race in 31 minutes and 34.83 seconds.
View this post on Instagram

Ngetich expressed her astonishment at breaking the world record, stating, "The world record is a complete surprise to me. I didn't anticipate achieving the world record; I simply aimed for a personal best, striving for a time under 30 minutes to break the course record. Achieving a world record is truly beyond my wildest dreams."
In the women's competition, Kenya's Catherine Reline secured the runner-up position with a time of 30 minutes and 14 seconds, while Uganda's Joy Cheptoyek claimed the third spot in 30 minutes and 34 seconds. The men's race saw Kenya's Weldon Langat emerge as the victor, posting an impressive time of 27 minutes and 5 seconds.