The 41st edition of the Cross Internacional de Italica on Sunday (November 12), the fourth event among the 15 comprising the World Cross Country Tour Gold, featured two outstanding races where Kenyans Ronald Kwemoi and Edinah Jebitok emerged victorious.
In their inaugural appearance at this esteemed event, Jebitok and Kwemoi claimed top honors with impressive sprint finishes against formidable opponents. Jebitok surged ahead of Ethiopia's world U20 champion Senayet Getachew, while Kwemoi engaged in a heated battle with Kenya's Hillary Chepkwony.
The women's 9918m race took an unexpected turn with the absence of pre-race favorite Beatrice Chebet, who withdrew due to illness. Jebitok set an early brisk pace, accompanied by compatriot Winnie Jemutai, Ethiopians Getachew and Wede Kefale, and Uganda's Annet Chelangat. During the second circuit, Jebitok strategically broke away, establishing a lead over Getachew. The final laps were marked by a gripping duel, with Jebitok claiming victory in a thrilling sprint finish, overcoming a momentary pause near the finish line. Both athletes finished with a time of 32:39.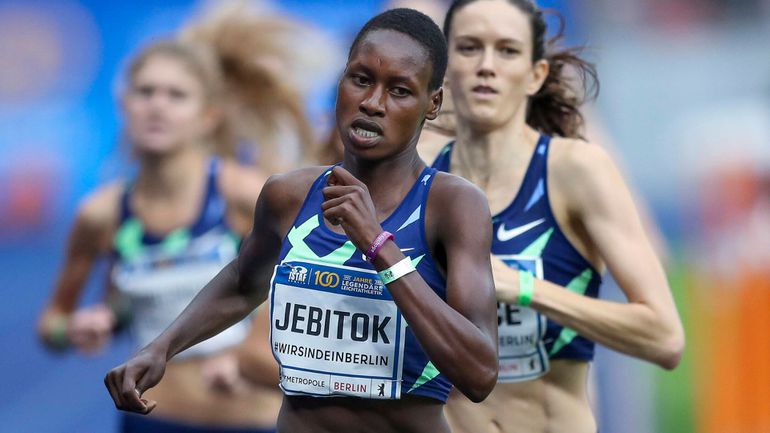 Jebitok expressed satisfaction with her European tour, underscoring her goal of securing the overall victory in this season's Cross Country Tour.
In the men's 9918m race, Ronald Kwemoi took an early lead, setting a pace that only a select group could maintain. The 28-year-old, known for setting the world U20 1500m record in 2014, faced stiff competition from fellow Kenyans Chepkwony and Ishmael Kipkurui, as well as Burundi's Rodrigue Kwizera and Uganda's Martin Kiprotich.
The race reached a thrilling climax on the closing lap, with Kwizera attempting to avoid a massive sprint. Kwemoi, Kipkurui, and Chepkwony engaged in an intense three-way battle. Chepkwony strategically took the lead with 500m remaining, but Kwemoi showcased resilience, securing victory after an epic contest.
The Cross Internacional de Italica underscored the exceptional talent of Kenyan athletes, delivering captivating performances on a sunny afternoon near Seville.
Results:
Men
1 Ronald Kwemoi (KEN) 29:09
2 Hillary Chepkwony (KEN) 29:09
3 Rodrigue Kwizera (BDI) 29:11
4 Ishmael Kipkurui (KEN) 29:16
5 Mohamed Katir (ESP) 29:29
6 Martin Kiprotich (UGA) 29:31
7 Abdessamad Oukhelfen (ESP) 29:41
8 Sergio Paniagua (ESP) 29:48
9 Elzan Bibic (SRB) 30:00
10 Oscar Chelimo (UGA) 30:19
Women
1 Edinah Jebitok (KEN) 32:39
2 Senayet Getachew (ETH) 32:39
3 Winnie Jemutai (KEN) 33:37
4 Annet Chelangat (UGA) 33:55
5 Wede Kefale (ETH) 34:28
6 Maria Forero (ESP) 35:06
7 Amelia Quirk (GBR) 35:13
8 Kate Axford (GBR) 35:21
9 Carolina Robles (ESP) 35:33
10 Cristina Espejo (ESP) 35:38
Source: worldathletics.org