In a riveting display of athletic prowess at the Cardiff Cross Challenge, Megan Keith and Keneth Kiprop emerged triumphant in the senior women's and men's races, respectively, during the World Athletics Cross Country Tour Gold event held on Saturday (11).
Megan Keith, the European U23 5000m champion, continued her ascent by securing a dominant victory in the 6.4km senior women's race. Following a commendable fifth-place finish at the Cross Internacional de Atapuerca, the 21-year-old showcased her mettle by outpacing a formidable international field, claiming victory with a significant 17-second lead. Clocking an impressive 20:35 on the challenging Llandaff Fields course, Keith asserted her dominance on the muddy yet flat and winding terrain.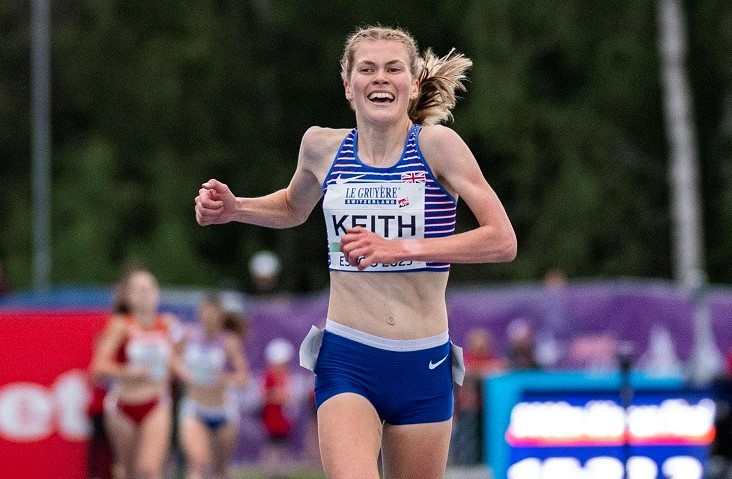 Likina Amebaw of Ethiopia, a prominent contender with prior Cross Country Tour Gold victories, secured the runner-up position with a time of 20:52, edging out compatriot Asmarech Anley. Meseret Yeshaneh, the world U20 steeplechase bronze medallist, secured the fourth position, with Britain's Jessica Warner-Judd following closely in fifth. Keith expressed her satisfaction, stating, "That was an enjoyable race. I love this course, and running hard here is always a rewarding experience." She now sets her sights on earning a place at the European Cross Country Championships in Brussels next month.
In the fiercely contested senior men's race, Keneth Kiprop of Uganda emerged victorious after a thrilling battle in the 9.6km contest. The 18-year-old, previously securing a sixth-place finish in the U20 event at the World Cross Country Championships, led for the majority of the race until Kenya's Vincent Mutai executed a decisive move. Responding with a burst of speed, Kiprop crossed the finish line in 28:32, securing a three-second advantage over Mutai.
Reflecting on his triumph, Kiprop shared, "Winning this race in Cardiff was an enjoyable experience, especially for my first cross country run in Europe. I thought the sprint would determine the outcome." Mutai, the victor of the Cardiff Half Marathon in October, settled for the second position. Ethiopia's Abele Bekele Alemu claimed the third spot, with Britain's Zak Mahamed in fourth and Burundi's Egide Ntakarutimana in fifth.
The Cardiff Cross Challenge showcased an impressive array of talent, setting the stage for the upcoming European Cross Country Championships in Brussels and highlighting the resilience and determination of these exceptional athletes.
Thanks to: worldathletics.org