By Chris Lotsbom, @chrislotsbom
(c) 2016 Race Results Weekly, all rights reserved
HONOLULU (11-Dec) — Kenya's Lawrence Cherono smashed the course record here at the 44th Honolulu Marathon by running 2:09:39, the fourth fastest marathon in the United States this year. Dueling with 2014 champion Wilson Chebet, Cherono managed to scoot away in the final miles to claim victory in Kapiolani Park adjacent to Waikiki Beach. In the women's race, Brigid Kosgei completed a Kenyan sweep of the champion's leis by running 2:31:11; American Lindsey Scherf was second.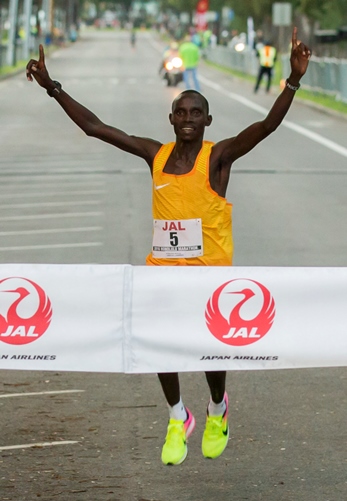 CHERONO RUNS INTO RECORD BOOKS
Although the humidity was typically high, temperatures were slightly cooler than normal with no wind. Cherono and the rest of the men's field were determined to take advantage of the better than usual weather conditions, and pushed the pace from the start. Not since Jimmy Muindi's course record run of 2:11:12 in 2004 had conditions been so good here for racing.
The man responsible for a fast pace, pacemaker Festus Talam, did his job to perfection early on. Through 5 km in 15:25 and 10 km in 30:25, Talam led the seven-man pack as they left Waikiki and approached the road adjacent to Diamond Head volcano. In addition to Cherono and Chebet, Olympic silver medalist Feyisa Lelisa, Ethiopia's Deribe Robe, and Kenya's Robert Kwambai were part of the front charge. Together the group reached halfway in 1:05:01, making Muindi's course record a clear possibility.
Clocking kilometer after kilometer in the 3:03 to 3:05 range, Talam was in such a rhythm that he was comfortable chatting with the other athletes. He'd record back-to-back 5 km splits of 15:17 (20 to 25 km) and 15:18 (25-30 km), so accurate and smooth that Honolulu Marathon President Dr. Jim Barahal joked, "Someone should tell him to run to 35 km!"
When Talam did drop out, Chebet and Cherono became the aggressors, leaving Lelisa and Robe in their wake. Making his Honolulu Marathon debut, Cherono wanted to test Chebet, despite their friendship.
"Wilson Chebet, we have trained together and he is my best friend. The challenge that he had to me, I knew he was the best because he has been here before and run this marathon the last three years and knew the course," Cherono explained. "It was a challenge for me."
Cherono threw in the first big surge at 20 miles, clocking a 4:47 mile split to create an eight-second gap. Yet Chebet would respond minutes later, returning to the Kenyan's shoulder by the 21 mile mark.
Trading moves back and forth, Cherono would gap Chebet again at 36 km (22.4 miles). This time, it was for good.
"It was tricky on the way because I was trying to react and move my way, and Lawrence also was really tight looking at me again," Chebet said.
Running back up towards Diamond Head by himself, Cherono drew strength from the cheers of thousands of participants just reaching the eight mile mark, running the other direction. As the volume intensified, Cherono dug down deeper to extend his lead on Chebet.
By the time he entered Kapiolani Park, Cherono knew the course record was his. "It is good to me. It is great to win, it is fantastic. I am happy to win the race," said Cherono. "To beat the record person in the race, it means a lot. It means a lot because it can change my life."
Chebet would take second in 2:10:50, followed by Robe in 2:13:43. While the top three posed for photos, Olympic medalist Lilesa stopped with 100 meters remaining and walked the rest of the way with his wrists crossed in an 'X', a silent protest in support of the Oromo people of Ethiopia. His final time was 2:15:57.
"That was a difficult course and weather," Lilesa said.  "My preparation was also not very good," Lilesa said. "I prepared for two months for this marathon, as other athletes prepared for more than three months. My preparing was not very good."
Sporting a colorful lei, Cherono couldn't help but relish in his first American victory.
"It was so cheerful, it was cheerful and happy. It was a good moment for me," he said. "I will celebrate because this is something unusual to win. I should have to celebrate my victory."
A pair of Americans finished in the top ten: Thomas Rivers Puzey was sixth in 2:23:59 followed by close friend Nick Arciniaga, seventh in 2:24:32. Arciniaga completed the marathon despite a severe high ankle sprain that was a result of last weekend's XTERRA Half Marathon Championship.
Olympic miler Hamish Carson of New Zealand finished seventh at yesterday's inaugural Kalakaua Merrie Mile, and originally planned to run part of the marathon as his long run. Carson did not drop out and wound up placing a respectable ninth in 2:27:21.
BIG SURGE BY KOSGEI CLINCHES WOMEN'S TITLE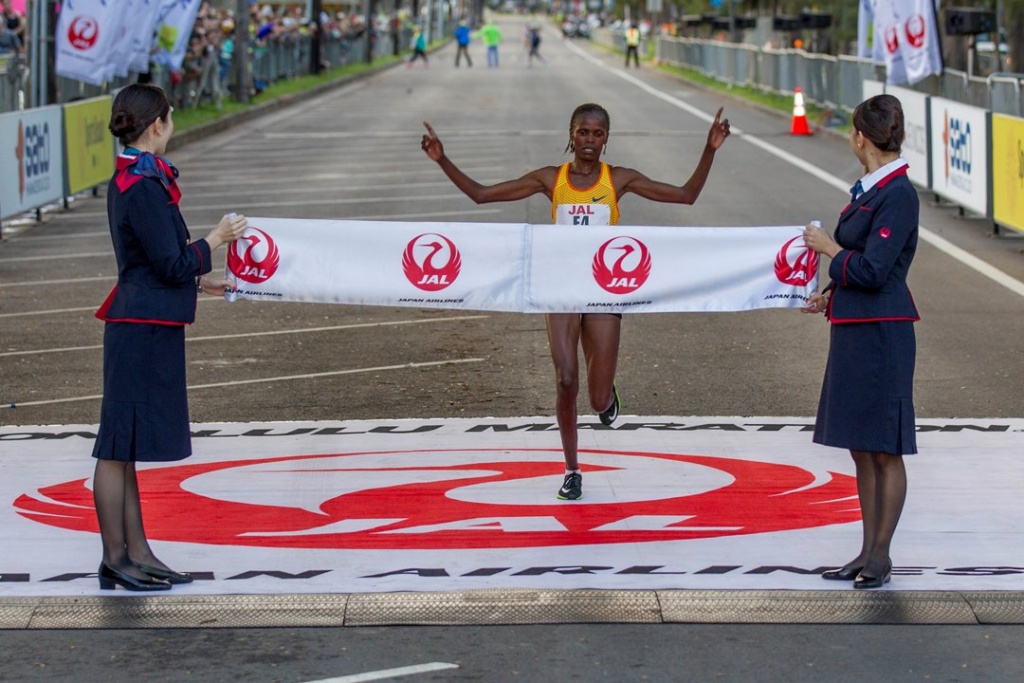 Brigid Kosgei became just the second Kenyan woman to win the Honolulu Marathon thanks to a deciding move at 30 kilometers (18.6 miles). Up until that point, American Lindsey Scherf, a late entrant, held control of the race, pushing out front as Kosgei ran just steps off her shoulder.
Reaching halfway in a solid 1:15:15, Scherf and Kosgei proceeded to drop pre-race favorite Buzunesh Deba by 16 miles. Deba, champion of the 2014 Boston Marathon and the fastest woman in the field, was suffering in Honolulu's soaking humidity, a far cry from the cold temperatures she's used to training in in New York City.
Scherf, 30, hit a rough patch at 19 miles. Scherf did not take any water through 14 miles, and did not have any of her own special fluid bottles on the course like the other elites. The lack of fluids seemed to catch up to the former Harvard University star with more than 10 kilometers to go.
Kosgei took advantage of Scherf's hiccup by running a 5:47 mile to gain daylight. She'd never be challenged again.
"I did not think she could catch me," Kosgei told Race Results Weekly. "I knew that I would win."
Kosgei's margin grew to nearly three minutes by the finish, crossing the line in 2:31:11. Scherf savored the crowd's spirit entering Kapiolani Park, giving high fives before taking runner-up honors in 2:34:05. Deba rounded out the podium in 2:35:34.
"I feel well because I was the winner of this year's marathon," said Kosgei. "The weather is very hot, that's why it affected me. But at 30 kilometers I was having energy and I pushed."
Just a week after winning the Singapore Half-Marathon, Scherf was delighted with the runner-up finish here. It was the first time an American placed in the top three here since Stephanie Rothstein Bruce was third in 2012.
"I went into it running my own race, within my own effort," explained the fast-talking Scherf.  "I knew that was my best chance at a good time and a good finishing place, but I wasn't anticipating second. I was thinking realistically a top five or maybe ambitiously snag third. "I'm very, very surprised and happy with my competitive place in second."
Defending their Honolulu Marathon Wheelchair titles easily were Masazumi Soejima and Wakako Tsuchida, both of Japan. Soejima won the men's race in 1:35:35 while Tsuchida took the women's race in 1:50:42.