By David Monti, @d9monti
(c) 2017 Race Results Weekly, all rights reserved
LONDON (06-Aug) — For the first time ever the IAAF World Championships marathons were held on the same day in back-to-back fashion, with the men running in the morning and the women in the afternoon.  The results were also historic.  Kenya's Geoffrey Kirui became the first man ever to win the Boston Marathon and World Championships marathon in the same year, clocking 2:08:27 here and claiming his first world title.  On the women's side Rose Chelimo became the first woman from Bahrain to win a world marathon title, stopping the clock at 2:27:11 after a compelling late-race battle with Kenya's Edna Kiplagat.
KIRUI MAKES HISTORY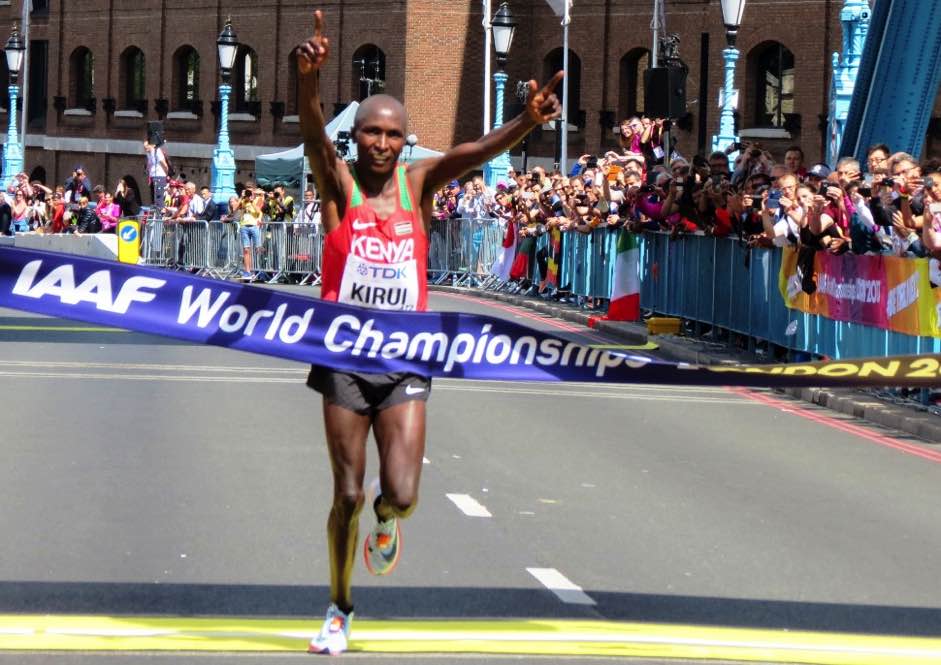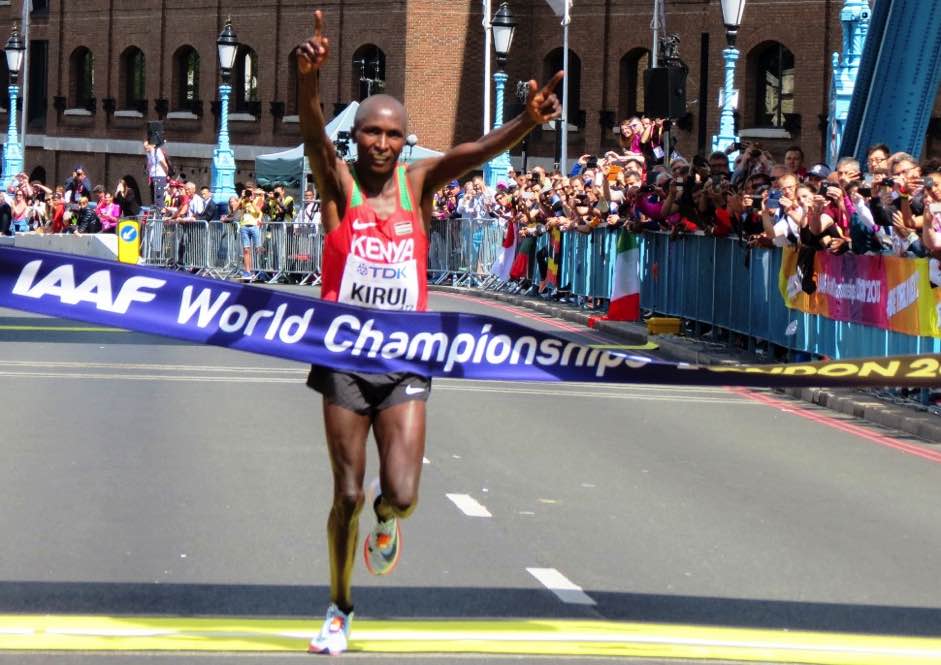 Kirui, 24, the surprise winner of the Boston Marathon last April, was content to run with the pack for the first 20 kilometers of the race and conserve his energy.  He was part of a group of nearly 20 athletes including teammates Gideon Kipketer and Daniel Wanjiru, plus the entire Ethiopian team of Tsegaye Mekonnen, Tamirat Tola and Yemane Tsegay.  Kirui was running comfortably and feeling confident.
"I was well-prepared, planning," said Kirui who is primarily self-coached.  "I was very prepared for this race."
The early kilometers passed uneventfully, but at the turnaround going into the third lap, Tola decided make a strong move.  He zipped through the 1.1 kilometers from 20-K to the halfway point in a snappy 3 minutes and 12 seconds, crossing the halfway mark in 1:05:28.  Kirui and Kipketer joined him, and by the 25-K mark (1:16:43) the trio were away and it looked like this threesome had the medals wrapped up.
Britain's Callum Hawkins watched from the pack.  He thought about trying to cover Tola's move, but checked himself.  He gambled that he might have a better chance to catch up later in the race.
"Maybe I shouldn't have left it that late, covered the move, the big move, at halfway more," Hawkins said later.  "I felt at the time that it would have destroyed me if I did it."
That surge eventually undid Kipketer's chances for a medal.  He started to experience pain in his left leg and fell five seconds behind Kirui and Tola.
"I had a problem, hamstring," he told Race Results Weekly.  "The leg's not going.  Then I slowed down."
At 30 km (1:31:28) Kirui and Tola were still together waiting each other out.  Less than two kilometers later, Tola decided he had waited long enough and surged, putting a 10-meter lead on the Kenyan.  Tola, the 2016 Rio Olympic bronze medalist at 10,000m, looked strong with his elegant, loping stride.
But before 35-K, Kirui had worked his way back up to Tola.  He could see that the tall Ethiopian had begun to struggle, and he decided to strike back.  He moved ahead of his rival and soon realized that Tola wasn't responding to his move.
"When I saw my friend was not coming, Tola was not coming, then I think that I'm going to win," Kirui said.
From that point, Kurui was never threatened.  He made the final right turn on to Tower Bridge Road with a comfortable lead, and had time to wave to the crowd and even give some high-fives before breaking the tape on Tower Bridge in 2:08:27.
"I'm totally, I'm very happy," Kirui gushed.  "That is also changed my life," he said, referring to his Boston Marathon victory.  "My life changes again."
Well behind Kirui, Tanzania's Alphonce Simbu had caught up to –and passed– Kipketer and had locked on to the struggling Tola ahead of him.  Remarkably, Tola slowed so badly that Simbu nearly caught him in the final stretch on the bridge just before the finish. In the end, Tola finished second in 2:09:49 to Simbu's 2:09:51.
"I feel very happy, very very happy," Simbu told Race Results Weekly.  "Because, you know, this is the first time to get medal at world championships.  I remember 2015 I was in Beijing, but I miss it.  And I went at the Olympics, and I miss it.  But, today I get it so I'm very happy."
Tola, who needed medical attention immediately following the race, said he was sick and also had an Achilles injury.
"I am very happy and proud with my result," Tola told IAAF interviewers.  "I do not feel like I lost the gold medal. Although I was in pain I was able to finish the marathon."
Hawkins, who said that the cheers of the crowd in the final kilometers were so loud that he couldn't even hear his footfalls, finished fourth in a personal best 2:10:17.  It was a bittersweet result for the Scotsman, who had finished tenth in the Rio Olympic Marathon last summer.  It would have been a dream come true to win a medal on British soil.
"I don't know if there's much I can actually say about it without ruining the interview," Hawkins said.  "It was tough.  It was crazy."
CHELIMO OUT-DUELS KIPLAGAT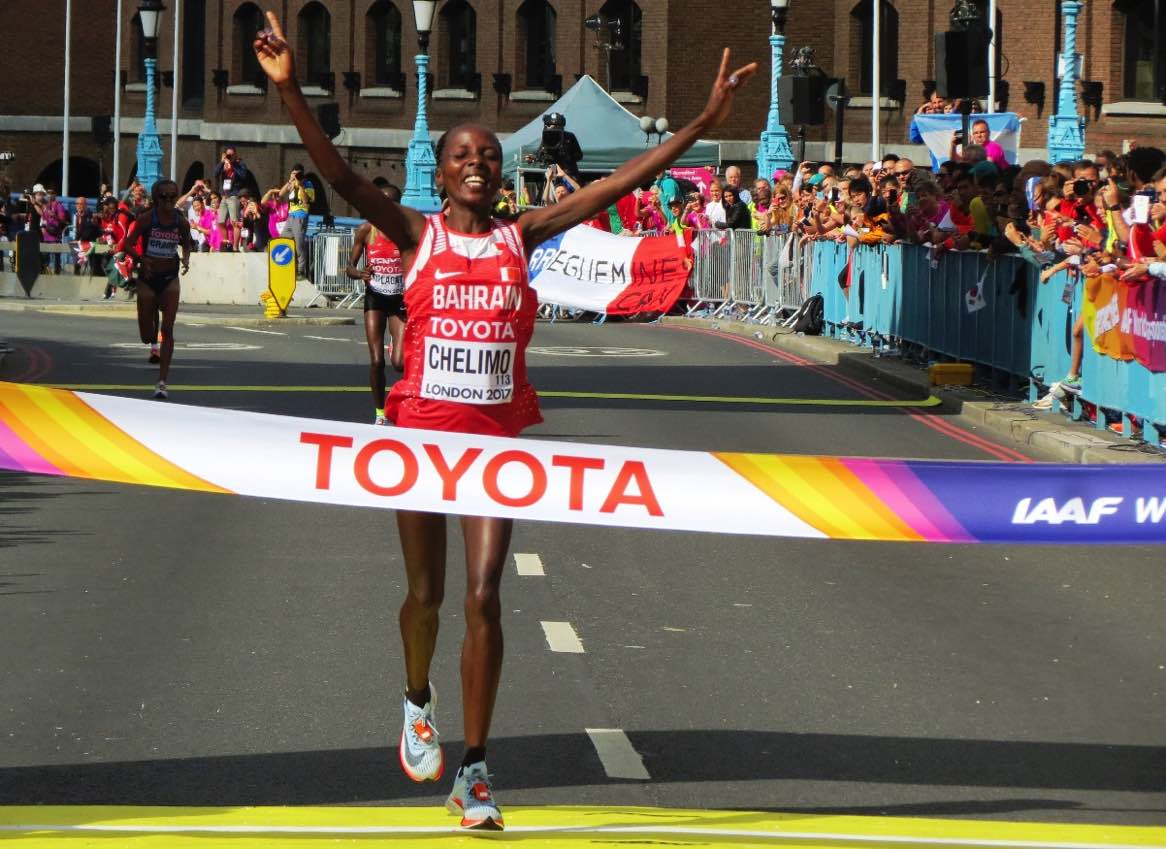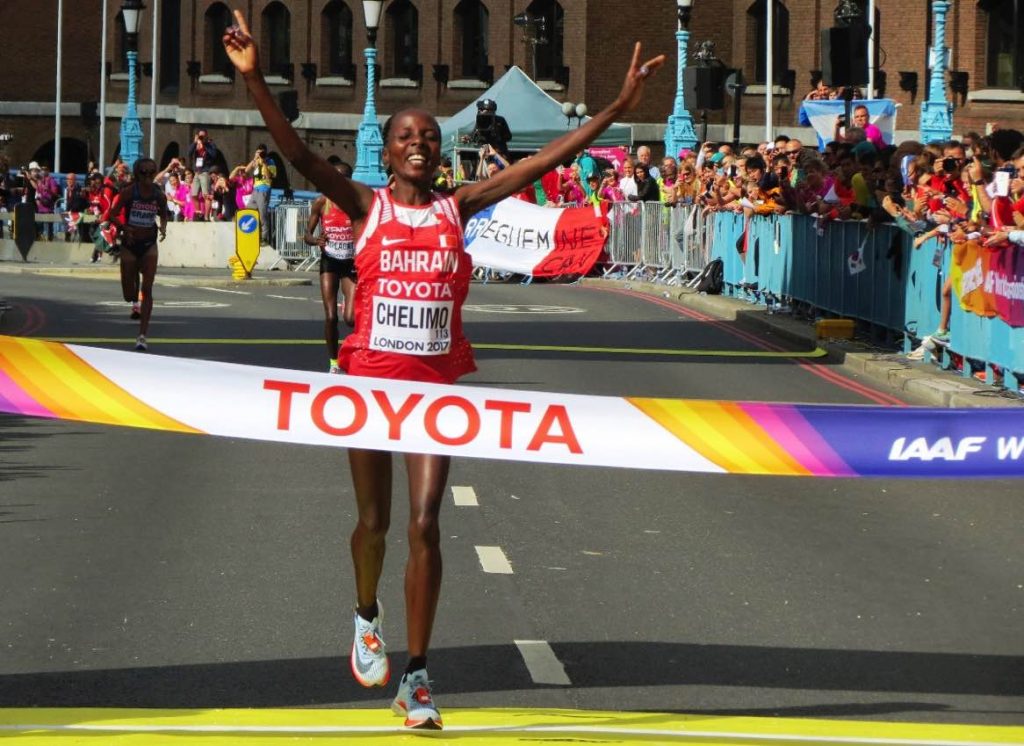 The women's race began with two solo breaks that didn't stick. The first was by Portugal's Catarina Ribeiro who led by 23 seconds at 5-K then six seconds at 10-K before being absorbed by the pack.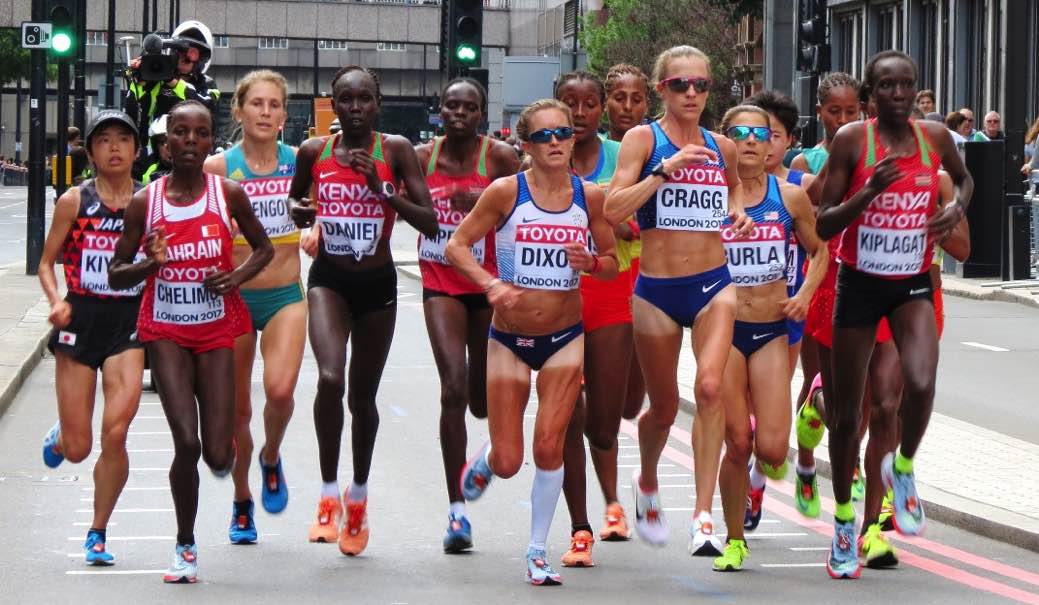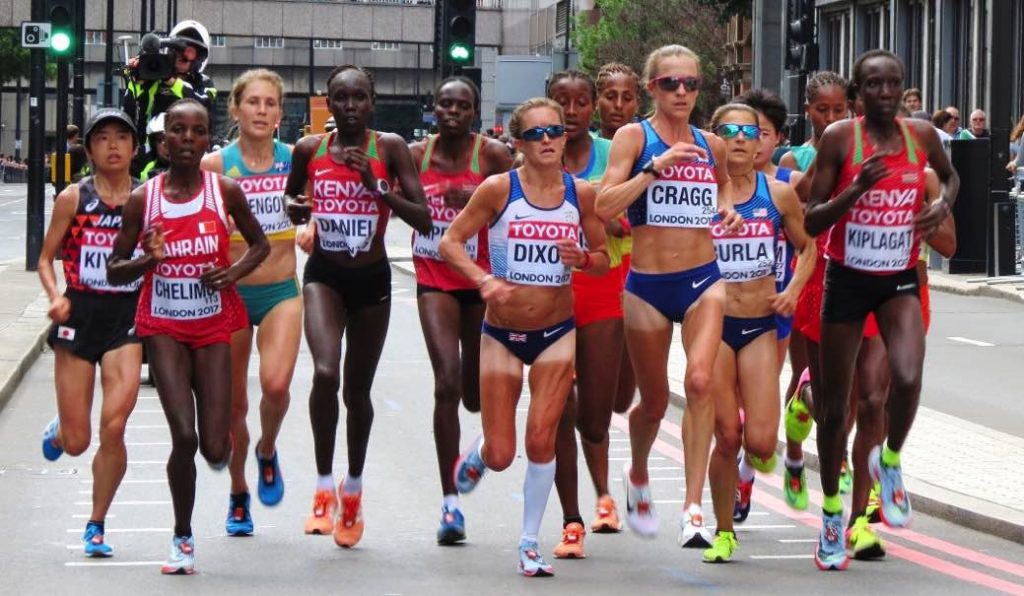 It was then that Britain's Aly Dixon took over.  Dixon, who lives in Sunderland in the north of England, led by 22 seconds at 15-K, 35 seconds at 20-K, and 32 seconds at the half (1:14:20), much to the delight of the British crowds.  Dixon gestured to the fans repeatedly, encouraging their cheers.
"The crowds were fantastic," Dixon told Race Results Weekly.  "All the support.  I have so many friends and family here.  You don't (often) get a chance to lead a world championships."
Dixon was still in sole possession of the lead at the 25-K mark (1:28:03), but the pack was closing.  She had only a 14-second lead, and was soon absorbed.  To her credit, she stayed with that lead group through 35-K; that's there the race started to get interesting.
Remarkably, there were still 14 women in the lead pack at 35-K, including the entire Kenyan and Ethiopian teams.  Also in the group was Amy Cragg of the United States, the 2016 USA Olympic Trials Marathon champion.  Nobody wanted to be the first to make a move.
"I couldn't believe it the whole time," Cragg told reporters after the race.  "I felt like the last, probably, 22-K, I was like, it's going to go at any moment now, any moment, any moment.  I was just waiting, waiting, waiting."
Cragg could wait no longer, and in the 36th kilometer she surged.  For the first time in the race the pack began to stretch out.  Chelimo went to the front at the next fluid station, and two-time world champion Kiplagat followed her along with her teammate Flomena Cheyech and Cragg.  Soon the foursome was running single file, and the pace was high.  There were four athletes now for the three medals.
Chelimo appeared to have the race under control, but Kiplagat reeled her in, passed her, and had a slim one-second lead at 40-K.  But Chelimo caught back up to retake the lead, and the Kenyan began to realize she wasn't going to win her third world title.
"All the way I tried so hard," Kiplagat said.  "I worked so hard.  The last two kilometers were too long for me, and it was slightly uphill, so I think I was a little bit tired."
With 2:24:36 on the race clock, Chelimo had passed Kiplagat for good, and ran up the slight hill on to Tower Bridge to get the win.
"I'm happy to be the winner," said Chelimo who finished second to Kiplagat at Boston last April.  "I was not expecting to win, but I tried my best from 35 kilometers.  That was the time that I pushed.  I said, let me try my best."
Kiplagat got the silver in 2:27:18, but only just.  Behind her, Cragg had won an exciting back-and-forth battle with Cheyech and had tried to run down Kiplagat.  Remarkably, Cragg was given the same time as Kiplagat, winning her first global medal and the first IAAF World Championships marathon medal for a USA woman since Marianne Dickerson took the silver in 1983.
"I am so thrilled with this," Cragg told reporters.  She continued: "It was really painful, but worth every little bit of pain."
Cheyech ended up fourth in 2:27:21.  Reigning world champion, Mare Dibaba of Ethiopia, finished eighth in 2:28:49.  She limped badly as she made her way through the mixed zone, holding the back of her right leg."