By David Monti, @d9monti
(c) 2017 Race Results Weekly, all rights reserved
(14-Nov) — Instead of relaxing and enjoying the warm sunshine of Tuscon, Ariz., on Thanksgiving Day with his family, five-time Olympian Bernard Lagat will instead face the bracing air of Manchester, Conn., and compete for the first time at the Manchester Road Race, America's most competitive "Turkey Trot."  The hilly, 4.748-mile race will be held for the 81st time next Thursday in cold, and potentially snowy, conditions.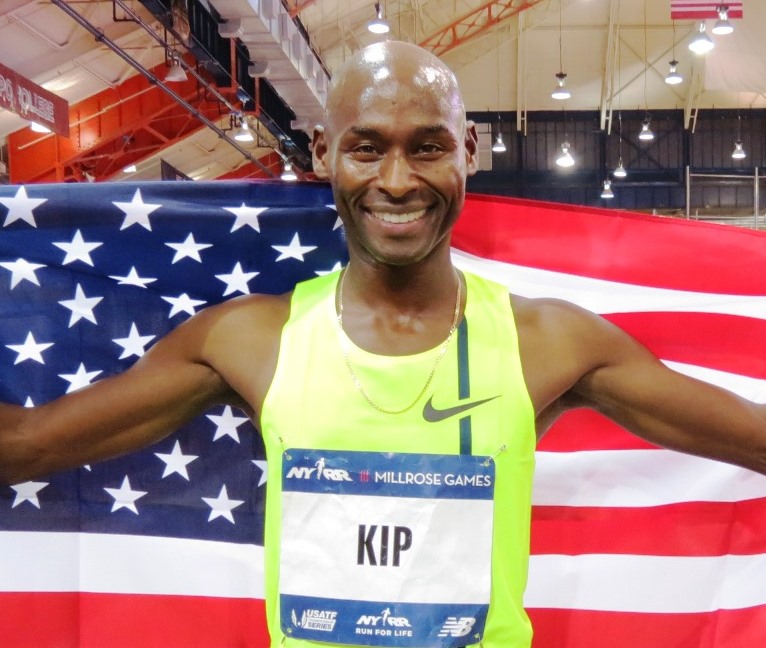 "I didn't know anything about the race, honestly," Lagat said in a brief telephone interview with Race Results Weekly.  He said he had always heard about it, but never had a chance to run as the race takes place during what used to be his off-season from track.  "I think the distance is like four-point-something," he added.
Lagat, 42, raced primarily on the track during his 20+ year career, but has had good success on the roads, including a still-standing world masters 10-K record of 27:48 set in 2015 in Manchester, England.  He's looked at previous results of the race, and while he doesn't think he can run near the course record of 21:19 (Phillimon Hanneck, 1995), he thinks he can make a good showing.
"If I run something like 22-something, that would be good," Lagat said.  "I think I'm in OK shape.  I did a lot of long runs… but I haven't really done short stuff.  My shape is OK."
Lagat will face a strong field led by Olympic 5000m silver medalist Paul Chelimo.  Chelimo, part of the U.S. Army's World Class Athlete Program, finished fourth at Manchester last year in his debut at the race. Also competing will be 2015 Manchester Road Race winner Will Geoghegan, two-time Olympian Donn Cabral, British Olympian Chris Thompson (third last year), the 2016 USA Olympic Trials 5000m runner up Hassan Mead.  Reigning Manchester champion Ben True will not be competing.
"This is going to be tough, man," Lagat said, after reviewing the elite field with a reporter.
The leading entrant in the women's race is 25-time USA champion Molly Huddle who just won the USA 5-K road racing title at the Abbott Dash to the Finish 5-K in New York City on November 4th.  Huddle, who lives in nearby Providence, R.I., hasn't raced at Manchester in ten years.  Back in 2007, in her only appearance at the race, she finished fourth in 25:06.
Other top women entered include Olympians Eilish McColgan (GBR) and Desiree Linden (USA), plus rising stars Molly Seidel (USA) and Liv Westphal (FRA).   Ethiopia's Buze Diriba, an excellent all-purpose road racer, is also entered and will make her Manchester debut.
"We are extremely excited that so many great elite athletes have entered this year," said Dr. Tris Carta, a dentist and President of the Manchester Road Race Committee, through a statement.  "We're predicting a very exciting and competitive road race."
The Manchester Road Race was founded in 1927.  Competitors run one, counterclockwise, hilly loop which starts and ends on Main Street.  The race challenges runners with a significant climb in the all-uphill second mile, before plunging downhill for the second part of the race.  The independent Association of Road Racing Statisticians gave Manchester's elite field a total point ranking of 1517 last year (789 men and 728 women) making it America's most competitive Thanksgiving Day race by a wide margin.  The race has a $38,800 prize money purse.