"It is so good to have a book that looks into the mindset of the athlete and analyses the critical questions of how to think about training to get the best out of yourself. Bryan Green accepts the 'how' and 'when' but provides the definitive 'why' that separates the best from the rest. I encourage you to 'make the leap', you won't regret it."
– Steve Moneghetti, Olympian, Commonwealth Games Marathon Champion
There is a great new book in town by well-known athletics writer and ex collegiate runner; Make the Leap: Think Better, Train Better, Run Faster by Bryan Green.   With glowing reviews from stars of the sport, check it – for sale today at the Runner's Tribe Shop.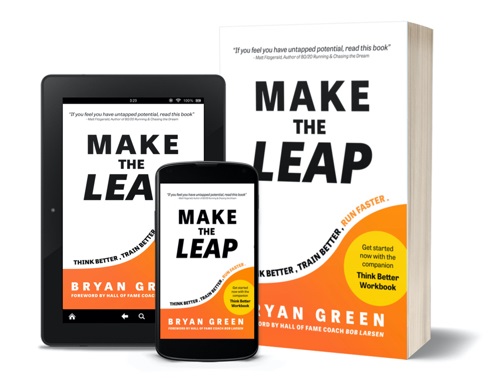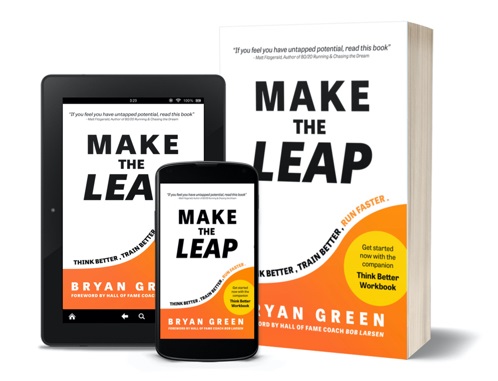 There are countless running books that give you training programs, workout templates, and conversion tables. Others are filled with heartwarming stories and philosophical quotes. 
This is not one of those books.
This book focuses on the most important aspect of running that nobody seems to talk about: how to think about training. Everyday countless runners put in the work to get better and yet they unknowingly hold themselves back. It's not the workouts! It's our approach to them.
I assume you've got the physical part of training covered. I want to help you improve the mental part.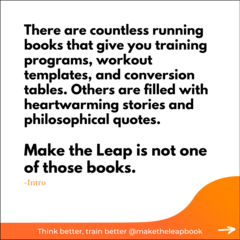 Mental Training Matters
This book is based on one simple premise: the better we think about our training, the better we will train. Think better, train better. 
Our brains are prediction factories, and our expectations are their outputs. We input raw materials: future goals, prior experiences, belief in our abilities, cognitive biases, enjoyment, doubt, responsibility, fear, motivation, and concentration. We turn the dial to some point in the future, the end of the season or next weekend's race. Then whirrr: out comes a shiny new expectation.
We create expectations about literally everything: the weather, the food we eat, other people, the news, the latest films, and everything in between. We get some new info, turn the dial and whirrr goes the factory.
This whirrr occurs in our training, too. We set expectations about what we will do, how it will feel, how important it is, what others will do, what our coaches think, what our coaches think we think. The minute you think about an aspect of your training, you've already formed an expectation about it.
So why does this matter? Because our expectations set the ceiling for our achievement. 
Our expectations guide how we train. How hard we work. How anxious, stressed, or excited we feel. How much we prepare. How much (and how) we analyze our performance. How we interpret success or failure and how we structure our days around our training program. Expectations influence everything.
As dedicated runners, we put in countless hours of hard work. We can't let our expectations limit our potential. We need a mental framework that ensures our expectations are guiding us toward excellence. 
I will give you that mental framework……
"Bryan Green was a great teammate to me at UCLA. He is a student of the sport both on and off the track. His education, experiences, observations, and insights will help get you to the next level. I highly recommend his book, Make the Leap."
 – Meb Keflezighi, Olympic marathon silver medalist, Boston and New York City Marathon champion, New York Times bestselling author