Chicago, IL — The Bank of America Chicago Marathon on Sunday witnessed a historic moment for American male marathoners as Conner Mantz and Clayton Young, both products of Brigham Young University (BYU), delivered stellar performances. Not only did they secure personal bests, but they also secured two coveted spots for Team USA at the upcoming Paris Olympics. This remarkable feat has not only buoyed the hopes of American long-distance runners but has also lightened the Olympic qualification journey.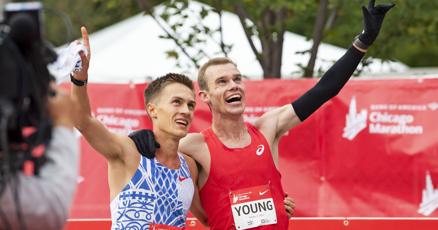 Until this event, the 2024 Olympic automatic qualifying standard of 2:08:10 had been elusive for American male athletes, adding anxiety with the Olympic Trials in Orlando looming just around the corner. To guarantee the United States the maximum of three spots for the men's marathon event at the Olympics, the Americans had to "unlock" each spot by achieving the qualifying time, securing a top-five finish in a Platinum Label Marathon, or through world rankings. The world ranking system, however, remains complex and uncertain, with final rankings not set to be revealed until April. Consequently, the primary focus had been on surmounting the time barrier, a daunting task considering that only six Americans had ever achieved it before this historic race.
The dynamic duo of Conner Mantz, 26, and Clayton Young, 30, emerged as the heroes of the day. They seized the opportunity presented by favorable race conditions, including temperatures in the 40s and a mild 8 mph wind, to establish new personal records in Chicago. Mantz crossed the finish line with an impressive time of 2:07:47, securing the 6th position, while Young completed the marathon in 2:08:00, finishing 7th. In doing so, they effectively earned two Olympic berths for the United States. The actual occupants of these spots will be determined by the selection policy of the USATF and the outcome of February's Olympic Trials. Nonetheless, their extraordinary performances have provided much-needed clarity and relief in the Olympic qualification process.
Their coach, Ed Eyestone, a former US Olympic marathoner from 1988 and 1992, expressed his pride and excitement, stating, "Our top priority was breaking the 2:08:10 barrier, opening the door for all American marathoners, and achieving personal records. Let's also celebrate the fact that we are guaranteed at least two spots for American athletes at the Olympic Games. I hope it's Conner and Clayton, but even if it's not, they can take pride in providing these opportunities."
View this post on Instagram
Although the race didn't yield the hoped-for three Olympic qualifiers, the possibility remains, contingent on how the world rankings evolve in the coming months. At the 35-kilometer mark, Sam Chelanga (running at a 2:06:59 pace) and Galen Rupp (2:07:17 pace), who were collegiate rivals 15 years ago, were well under the required pace before encountering challenges. Chelanga completed the final 7.195 kilometers in 23:20 (2:17 marathon pace), with Rupp close behind in 23:15 (2:16 marathon pace), finishing 8th and 9th, respectively.
Galen Rupp, the 2017 Chicago champion, noted that this race was a positive step after battling a back injury for the past two years. For the 38-year-old Chelanga, who had never run faster than 2:15 in his previous four marathons, his time of 2:08:50 represented a monumental breakthrough.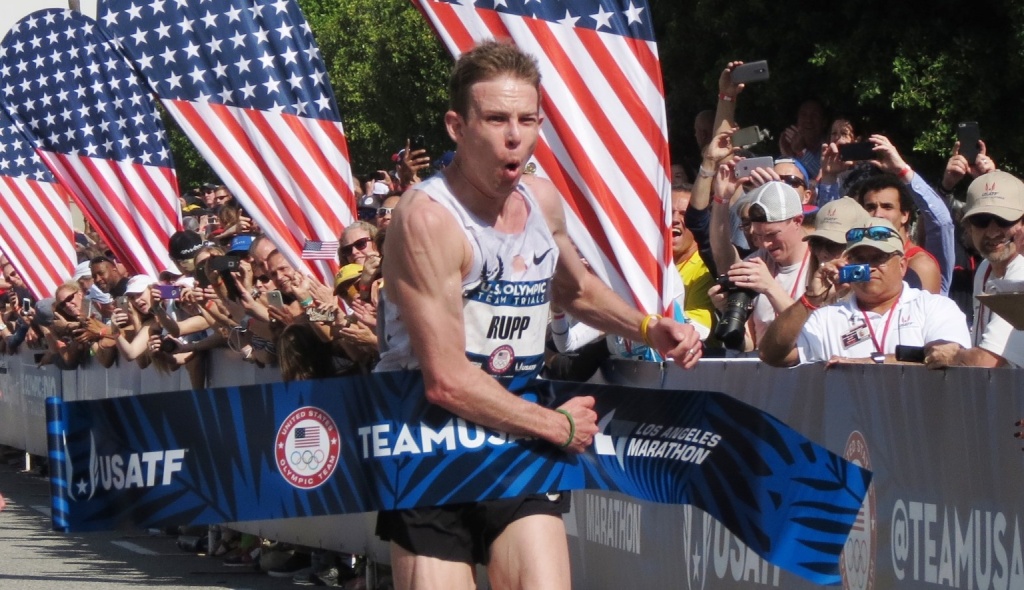 This race marked a historic moment for American marathoners, with four runners finishing under the 2:09 mark in Chicago. Such an achievement had been a rarity, with only one other instance of two Americans breaking 2:09 in a marathon, which occurred during the legendary Duel in the Sun in Boston in 1982, between Alberto Salazar (2:08:51) and Dick Beardsley (2:08:53). The era of marathoning has witnessed a transformation, thanks to the revolutionary super-shoes that have drastically improved athletes' times.
In their quest to meet the Olympic standard, several American runners displayed aggressive tactics in Chicago. Rupp, Mantz, Chelanga, and Daniel Mesfun, an Eritrean who earned US citizenship last year (though he didn't finish the race), passed the halfway point in 63:21. Mantz came the closest to maintaining that pace and was on track for his pre-race goal of sub-2:07 through 35 kilometers.
"I was very convinced I could run under 2:07 today, but my last 4 kilometers were a little brutal," Mantz explained, revealing that he had to run mostly alone from 30 kilometers to the finish. "Eventually Sam Chelanga caught up to me, but sadly, it was like a bouncy ball where he caught up to me and bounced right off. I was hoping to run with him some more. But it was really a good run. I'm really excited about my race."
Clayton Young adopted a different strategy, expertly navigating the balance between pursuing the Olympic standard and avoiding the blistering pace set by other runners. Coined by Eyestone as "patience, followed by destruction," Young hit the halfway point in 16th place with a time of 63:42, displaying remarkable patience. He went on to pass nine competitors in the second half, finishing the race in 64:18.
Conner Mantz has certainly lived up to his potential as a professional marathoner. After debuting in Chicago last year with a time of 2:08:16, finishing 7th, he improved his performance with an 11th place in Boston (2:10:25) and now this stellar 6th place finish in 2:07:47 in Chicago. This achievement tied him with Dathan Ritzenhein for 4th on the all-time US list. He remains confident that he is capable of even more, and given his form through 35 kilometers, it's a claim that carries weight.
Mantz now boasts the two fastest marathon times by an American since he turned professional, and while he's pleased with his current performance, he remains humble, acknowledging that Kelvin Kiptum's 2:00:35 world record sets a high bar for marathoners worldwide.