In an astounding display of talent and endurance, Sifan Hassan has left her indelible mark on the world of professional distance running by clinching an extraordinary victory at the 2023 Bank of America Chicago Marathon. Her finishing time of 2:13:44 is not just a personal achievement but a redefining moment for marathon running itself. What's truly remarkable is that she accomplished this feat a mere 43 days after a phenomenal triple win at the World Championships in Budapest, where she secured a bronze medal in the 1500m and a silver in the 5000m.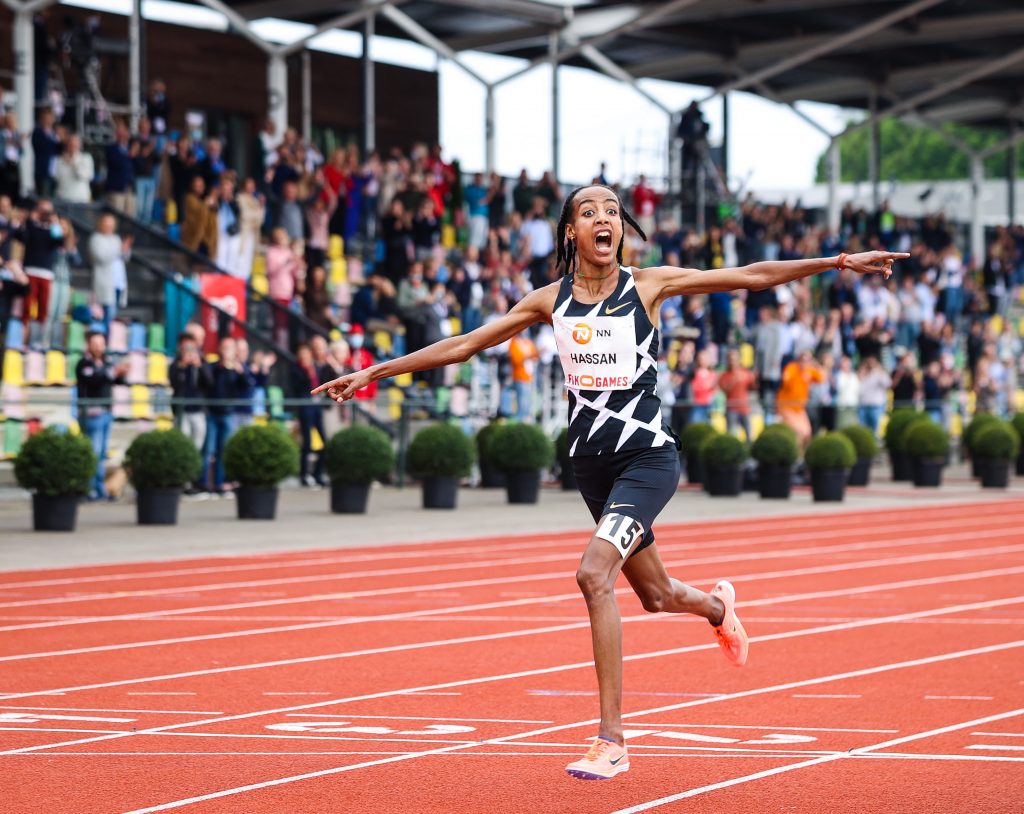 The two-time defending champion, Ruth Chepngetich of Kenya, who previously held the distinction of having the second-fastest marathon time ever with her 2:14:18 victory in 2022, graciously conceded to second place this time, crossing the finish line in 2:15:37, a time that ties her for the 8th-fastest marathon ever. Mergetu Alemu of Ethiopia, who had previously taken second place in the 2023 London Marathon, secured the third position with a career-best time of 2:17:09. The former New York and London Marathon champion, Joyciline Jepkosgei of Kenya, achieved a personal best by finishing fourth with a time of 2:17:23.
For Emily Sisson, who had previously set the American record in Chicago with a time of 2:18:29, the race was a grueling battle. She fought valiantly through a side stitch for the final eight miles to earn the title of top American finisher, ultimately securing a seventh place with a time of 2:22:09. Molly Seidel, the Olympic bronze medalist, delivered her best performance since her remarkable fourth-place finish at the 2021 New York City Marathon. She achieved a personal best with a finishing time of 2:23:07, securing the eighth position.
Nevertheless, not all participants had a smooth race. Emma Bates, who had started the race alongside Sisson and reached the halfway point in 69:31, encountered a plantar issue during the second half, resulting in multiple stops. She finished in 13th place with a time of 2:25:04. Des Linden, who celebrated her 40th birthday in July, crossed the finish line in 17th place with a time of 2:27:35, shaving 12 seconds off Deena Kastor's US masters record set eight years ago on the same course.
View this post on Instagram
The race itself witnessed a gripping battle between Hassan and Chepngetich. Chepngetich set a blazing pace early on, reaching the 5k mark in just 15:42 and the 10k mark in 31:05, equivalent to a 2:11:09 marathon pace. Hassan managed to stay on her heels but began to lose ground by the 15k mark, recording a time of 46:36 (equivalent to a 2:11:05 pace). However, Hassan remained in close pursuit of Chepngetich and her pacers.
At the 55-minute mark, Hassan surged ahead, but Chepngetich made a comeback, retaking the lead and extending it to six seconds at the halfway point (65:42 for Chepngetich and 65:48 for Hassan). However, at the 15th mile, Hassan managed to catch up with Chepngetich, and by the 17th mile, she broke free and never looked back.
At the 30k mark (1:34:00 for Hassan), she had established a 10-second lead over Chepngetich, even though it was her slowest 5k segment of the race (15:55). Notably, for the first time, the women's leader was no longer on world record pace, projecting to finish at 2:12:12, just behind the astonishing 2:11:53 achieved by Tigst Assefa two weeks earlier.
Hassan continued to widen her lead, prompting the question, "How fast can Hassan run?" She did slow down slightly during the latter part of the race, completing the 30 to 35k segment in 16:17 and the 35k to 40k segment in 16:19, before finishing the final 2.2k in 7:08, equivalent to a 16:14 5k pace. In the end, Hassan completed the first half in 65:48 and the second half in 67:56, becoming the second woman in history to break the 2:14:00 barrier.
For the top American runners, Emily Sisson and Emma Bates, the first half was a remarkable display of their pace, clocking in at 69:31. However, Bates faced adversity, falling behind by 21 seconds at the 25k mark. By the 30k mark (1:38:47, equivalent to a 2:18:56 pace), Sisson maintained a lead of 1:04 over Bates.
Sisson's race took a challenging turn as she battled a side stitch at the 18-mile mark. After maintaining a steady pace for the first 30k, with each 5k segment clocking in between 16:26 and 16:32, Sisson's speed dipped in the 30 to 35k segment, completing it in 17:25, and then ran 35k to 40k in 17:56 before closing the final 2.2k in 8:01 (18:15 pace) for a 72:38 second half. Bates, hindered by foot pain, struggled in the second half, completing it in 75:33 and ultimately finishing 13th with a time of 2:25:04.
Molly Seidel achieved a personal best with splits of 70:47 for the first half and 72:20 for the second half.
Sifan Hassan's remarkable achievements in 2023 have left the world of professional distance running in awe. She has not only excelled in marathons but has maintained her exceptional performance on the track. Her season this year, which includes a London Marathon victory, a bronze medal at the World Championships, and now a victory at the Chicago Marathon, is unparalleled in modern professional running.
Today's race has placed a substantial weight of expectations and pressure on Molly Seidel as she prepares for the Olympic Trials. Despite her struggles over the past two years, her personal record at the Chicago Marathon signifies her resurgence, making her a strong contender for the Olympic team.