A capacity field of 1,500 participants have etched their names in the history books having completed the fourth annual Margaret River Ultra Marathon on Saturday 1 May, 2021 along the Cape to Cape coastline in south west, Western Australia.
In an event that only one week prior was on the verge of postponement due to the recent COVID-19 WA lockdown, the finish-line moments were made even more memorable as participants turned pain into gains amongst an electrifying race atmosphere.
"This is by far the biggest and most enthusiastic race atmosphere we have experienced at one of our events over the past decade," said Race Director Sam Maffett from Rapid Ascent.
"The people, the places, the faces, the stories, the flowing celebratory beverages… it truly was an exceptional event that just kept on giving right through to our last finisher at midnight!" added Maffett.
View this post on Instagram
250 solo competitors completed the challenging 80km point to point course in perfect race conditions, with the remainder of the field running as part of a relay team of two to five members covering 10-20km each.
Setting one of two course records at the event by just under a minute was Victorian elite runner Matt Crehan, who took line honours in a blitzing time of 07:15:48; ahead of Joshua Kuhn in 07:36:26, and third placed Mark Hunter in 07:46:32.
Crehan, a course rookie, crossed the continent to take on the bucket-list event after placing second at the 100km Surf Coast Century in December, amongst a number of other recent notable performances.
Crehan pushed on to the finish line after a 50km battle to checkpoint three (CP3) with reigning champion Justin Scarvaci (WA) to score the win. Unfortunately Scarvaci had to call it a day at CP3 due to an old ITB injury.
"Had Justin stayed on, he definitely would have dragged me along a lot quicker to that finish line," said Crehan.
"I was going for seven hours; but when I saw that was off the cards after CP3, I took the foot off the gas a bit; but I'm very pleased with the time – I honestly didn't think I would get the course record!" exclaimed Crehan.
"80km is definitely my sweet zone so the race was perfect for me; that Karri forest was absolutely beautiful," added Crehan about the course.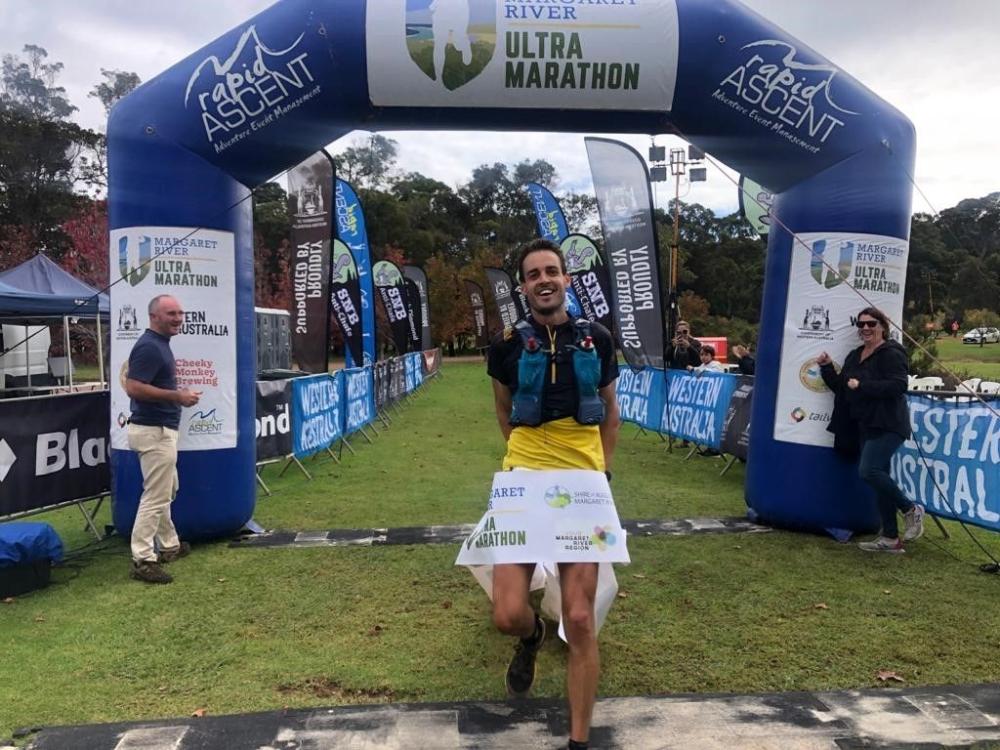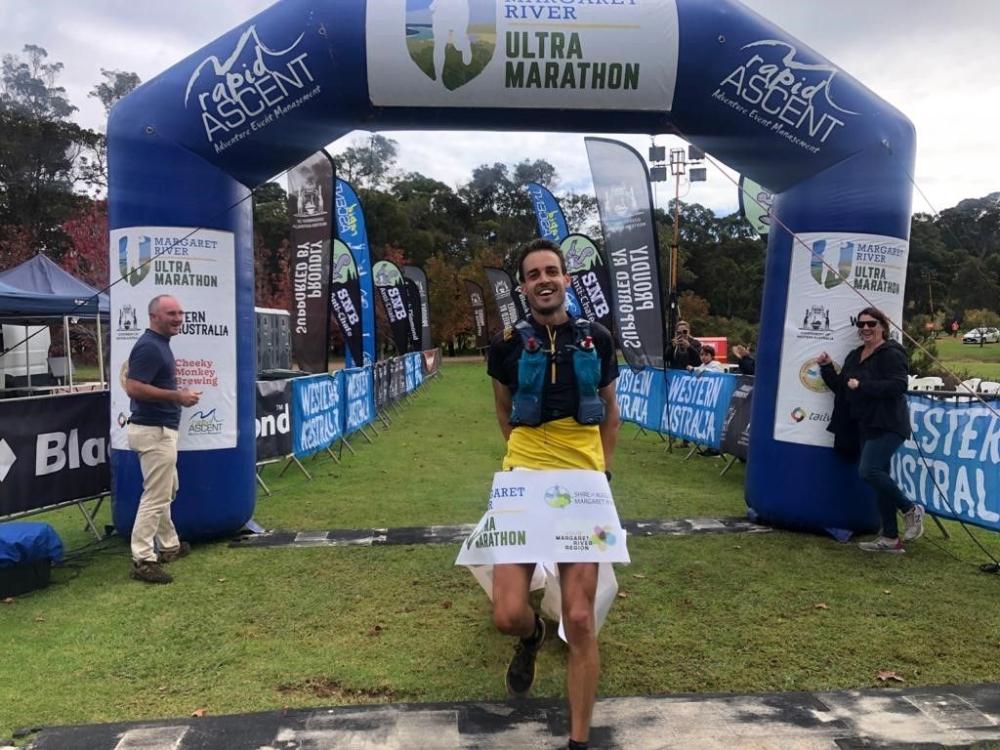 Meghann Coffey turned bridesmaid into bride, smashing her 2020 second-place time by almost an hour(!) to finish as the 2021 first solo female in our second course record of the event in a time of 08:24:58. Scarlett Duncan was second, also going under the previous course record in 08:39:44; Felicity Pidgeon was third in 09:23:15.
"I aimed for 9 hours, but when I got to Gracetown, I knew I'd be under 9 so I was pretty stoked and kept going," said Coffey.
The ultra marathon is fast becoming one of the most popular ultras on the Australian running calendar, reaching capacity six weeks out from the event in only it's fourth appearance. Organisers Rapid Ascent have a self-imposed entry limit to preserve the competitor experience for those running on the day.
First place team was 'The Settlers Express' clad in matching outfits with Jake Loffman, Neil Berry, Ethan Heywood, Sam Maxwell and Niall Tuohy, finishing in a flying time of 06:19:00.
The idea to run the event in a relay team came about when the guys were sharing a beer at Settlers – each having known each other from back in their track running days some 20 years ago.
"We are a bit older now and had many life changes, so when the idea came about over a few beers we thought why not – it'll get a few of us back in to shape… and we did, so here we are – with the win too!" said Tuohy.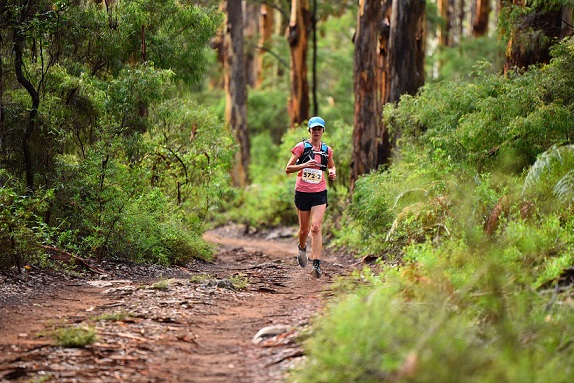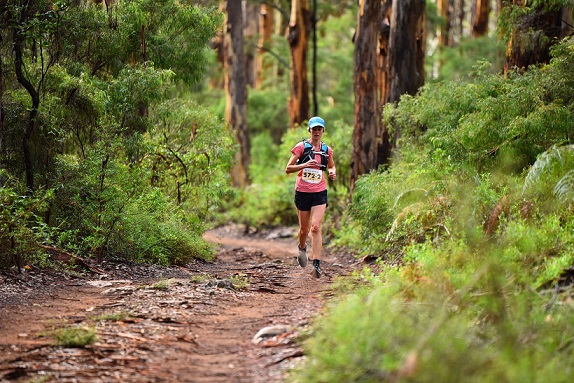 Competitors were treated to a spectacular course that wound its way from the start in Hamelin Bay to finish at the Cheeky Monkey Brewery in Wilyabrup – a journey that took them through tall karri forests, coastal trails, beaches and bluffs with sweeping views across the magical Margaret River region, much of it on the popular Cape to Cape walking track.
A 2km Kids Run was also held on Sunday morning prior to presentations.
"Well done to everyone who participated today; especially to all the supporters and team mates who helped make the finish line our best race atmosphere ever!" said Maffett.
"This is what makes ultra running so good – no matter if you're first, last or cheering on the sidelines, you are part of an incredible and forever memorable experience," added Maffett.
The 2022 Margaret River Ultra Marathon will be held on 7th May with entries to open in September. The event is expected to once again sell out.
For more information on the Margaret River Ultra Marathon visit www.MRUltramarathon.com.au or  www.facebook.com/RapidAscentUltraRunningEvents
RESULTS:
Top 3 Male
Matt Crehen                             07:15:48 (course record)
Joshua Kuhn                              07:36:26
Mark Hunter                             07:46:32
Top 3 Female
Meghann Coffey                      08:24:58 (course record)
Scarlett Duncan                        08:39:44
Felicity Pidgeon                        09:23:15
FULL RESULTS – TEAMS AND INDIVIDUALS – CLICK HERE