Melbourne, Australia; March 25 2021 –  Australia's elite track and field stars continued their quest for qualifiers tonight at the penultimate leg of the Coles Summer Series, the Melbourne Track Classic.
Commonwealth Games silver medallist Matthew Denny (QLD, Ben Thomson) made his return to the throwing circle after a string of injuries, including two rib injuries and a strained Costochondral joint, put a startling halt to his season in November.
Throwing 60.56m to take the win, his form in his comeback proves he is still a real contender for his second Olympic Games in Tokyo.
View this post on Instagram
"For me it was just a building thing. I'm just starting slow and that is because of the injury I had. While we would be wanting to throw 65 at this time, the injuries have just pushed my timeline back," he said.
"It was good to be out with all the boys and girls and actually chucking and having fun. It's been pouring in Brisbane for the last week and a half so I haven't touched the disc for that long, but it's good fun being back."
On the track, Genevieve Gregson (QLD, Nic Bideau) stepped down in distance to win the 1500m. After running the Zatopek:10 in January, Australian 5000m Championship last week and now the 1500m, Gregson showed off her range and her tactics, running 4:10.86 – just shy of her 4:09 personal best.
"Thankfully we had a young girl Amy Bunnage pace us, which was very selfless. I was able to sit back until I could take on the pace and kick away. I did want it to be a little slower – anything faster than 66 and I'm going to feel it so I keep staying to myself on the start line, 'let them go,' but I had a sniff for the win so I focused on that."
Gregson now turns her attention to the Queensland Track Classic this Saturday, where she will compete in her pet event, the 3000m Steeplechase.
Canberra's Jye Edwards (ACT, Dick Telford) continued his solid run of performances in the 1500m. Clocking 3:39.02, two seconds off his PB he ran last week, Edwards managed to hold off Adam Spencer (VIC) and Callum Davies (QLD) who placed second and third respectively, as well as 1500m heavyweights Ryan Gregson (QLD, Nic Bideau) and Jordan Williamsz (VIC, Nic Bideau), who all placed within 1.5 seconds of Edwards.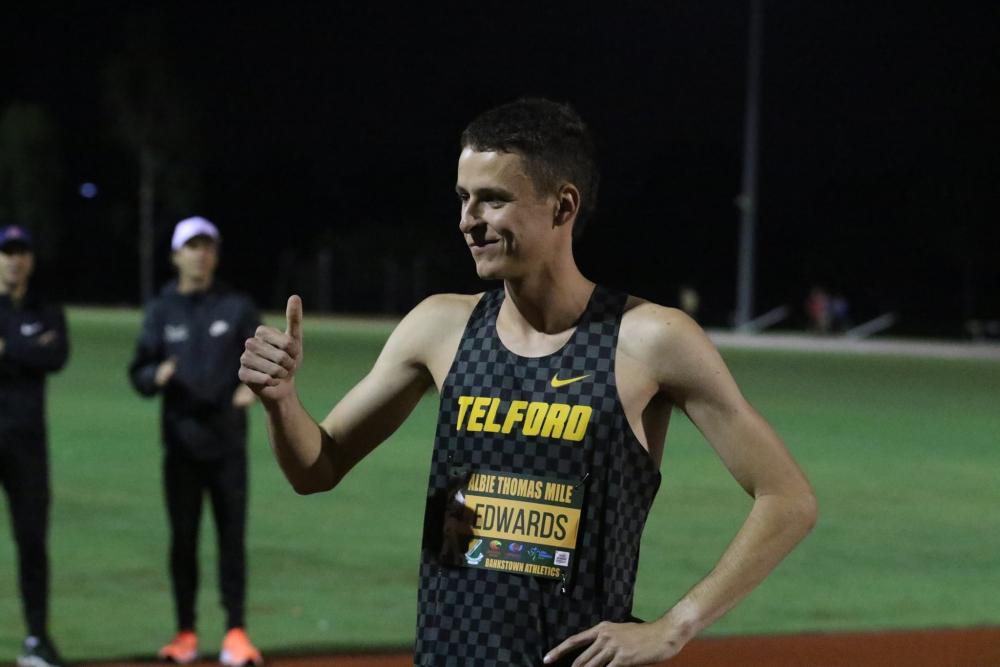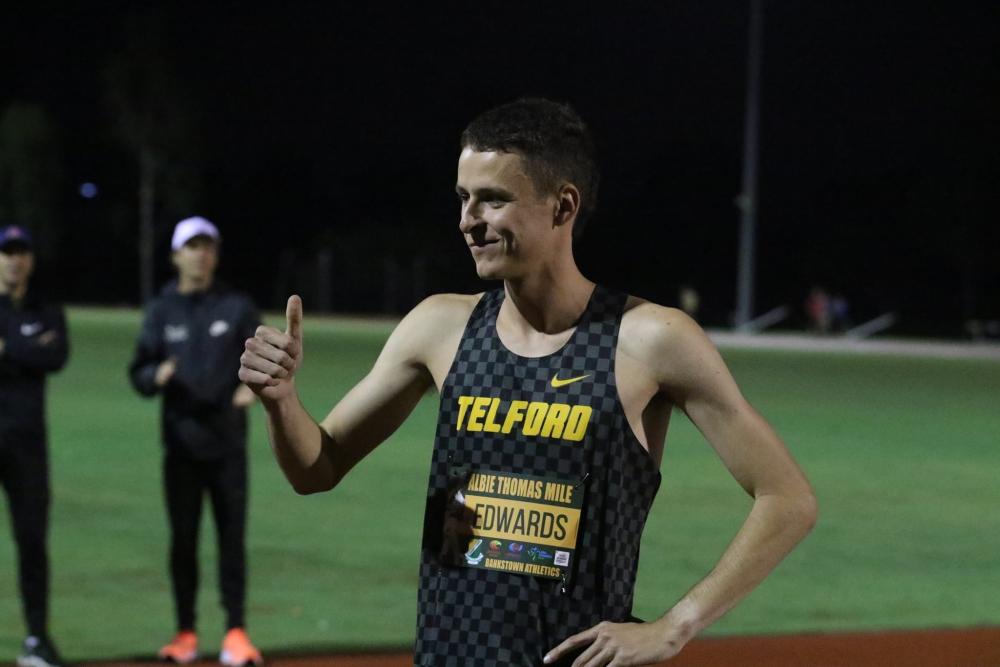 "I'm stoked with the time, and it would have been a PB if not for my run a few weeks ago. Just to be out there competing, it's the best feeling," he said.
"This race just goes to show the quality of men's middle distance running in Australia. It's just phenomenal to have so many guys so close."
On fire over the season in the secured shot put F33, Maria Strong (VIC,John Eden) put 6.52m – well over the Oceania record of 6.37m. Jessee Wyatt (VIC, John Eden) put of 9.76 showing consistency as he chases a Paralympic qualifier.
In other results tonight, Chris Douglas (VIC) continued his push for the Olympic qualifier in the 400m hurdles and broke the 50 second barrier for the first time, running 49.70.
"I wanted to come out there and go fast. The season goal is 48.90, it's a fast time, but if in each race I keep knocking time off, I think we're going to be able to get there."
After running 51.61 over 400m just a few weeks ago at the NSW Championships, Bendere Oboya (NSW, John Quinn) continued her winning streak running 53.01 as she prepares for her first Olympic Games.
Sophia Fighera (VIC, Matt Carter) ran 24.20 (-0.1) in the 200m, ahead of Jessie Andrew's (VIC) 24.45 and Jessica Payne (VIC) 25.02.
Teenager Ross Hyne (VIC, Dan Martin) took out the men's 400m in 47.16, highlighting he is one to watch over the coming seasons.
20-year-old Alexander Kolesnikoff (NSW, David Bruce) continued his rise in the men's shot put, with a huge 19.81 personal best ahead of reigning Australian champion Damien Birkenhead's (VIC, Scott Martin) 18.95m throw.
Australia's athletes will now look ahead to the last high performance meet of the season before the 2021 Australian Track & Field Championships, the Queensland Track Classic which takes place on Saturday.
For full results, visit: http://athletics.resultshub.com.au/