Mitchell Records Sizzling One Lap in Canberra
There is certainly one event that should be of great interest over the coming summer of athletics, and it's the 400m. With the likes of Steve Solomon, Craig Burns and Alex Beck all likely to go head to head in the coming months on the men's side, there will just as much interest in the women's one lap event.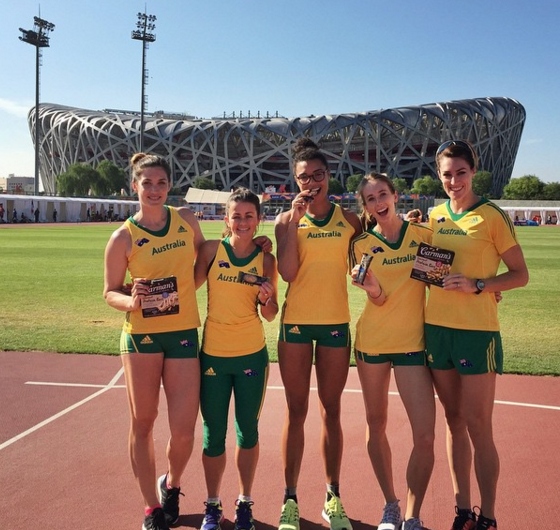 After the much talked about success of Anneliese Rubie at this years World Championships (51.69s, which was the fastest by an Australian woman in 6 years), all the talk on Saturday was about Morgan Mitchell's great early season form in Canberra over the weekend. Her time of 52.66s was her fastest time of 2015, and the second best time of Mitchell's career (only bettered by a 52.22s PB when winning the National title in 2014).
In the same event, as part of the ACT Multi Event Championships, another Victorian Monica Breenan came second in a PB of 54.18s. Brennan has recently decided to concentrate on the 400m leading into the Rio Olympics and will be one to watch over the coming months of track action.
Mitchell, Rubie (4x400m) and Brennan (4x100m) are all part of the Gold Coast GOLD Relay Program, which also includes Jess Gulli (Vic), Lyndsay Pekin (WA), Caitlin Sargent (Qld), Jessica Thornton (NSW) and Lauren Wells (ACT). The squad doesn't end there, and includes two past world champions in Tamsyn Manou (World Indoor Champion in the 800m) and Jana Pittman (two time World Champion over the 400m hurdles). Who will make the final squad for Rio – we can only sit back and watch some 'hot' action in the women's 400m over the coming summer.
At the same meeting Brennan took out the women's 200m in 24.04s (-2.5), beating home Wells (24.33s). While in the women's 400m hurdles Tessa Constantine took home the win in 62.28s.
Relay Records at NSW State Championships
The NSW state relay championships were host to some impressive performances, none more so than the Sydney University men's 4x100m relay team which equalled the fastest ever time run by an Australian club 4x100m relay team.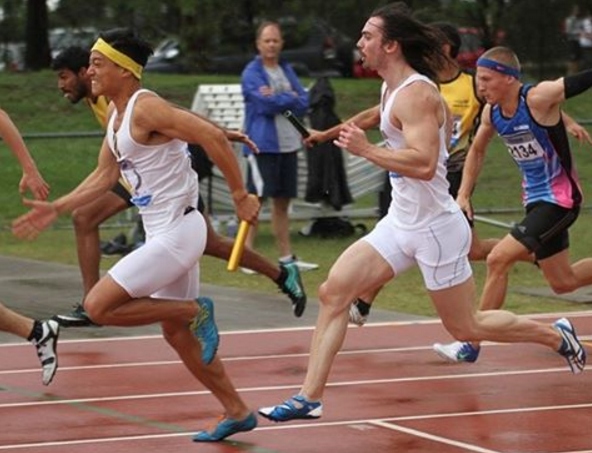 The time of 39.51s was produced by Josh Clarke, Jin Su Jung, Nick Hough and Jarrod Geddes, and was run on a wet track in Blacktown, Sydney. The teams initial target was the NSW club record of 39.65, a time they set in 2013, although they were always looking to better the national best on record set by WA's Curtin University back in 1995.
There was also a state and national record set by the Illawong 4x200m team of Abbie Taddeo, Jess Thornton, Luisa Healey and Elly Graf. The time of 1.36.40 took 0.01 seconds off the existing record set by Asics Wests in 1986, a team which included Olympic 400m finalist Maree Holland.
On Sunday afternoon, a Randwick Botany team of 16 and 17 year olds, finished a close second to Sydney University in the open women's 4x1500m championships, and were rewarded with breaking the NSW and Australian under-18 and 20 records. Lily and Amy Harding-Delooze, Georgia Evans and Emily Hopper combined to run 18:22.47 sneaking under the under-20 record held by Cumberland Ryde Hornsby set in 1990 with a team including Suzy Walsham and NSW official and former national steeplechase record holder Mary Fien. The under-18 national record was held by a Victorian team which included Olympian Natalie Harvey and Commonwealth games medallist Susie Power.
Thanks to David Tarbotton and Ron Bendall for Athletics NSW – with full coverage of the relay championships available at the Athletics NSW website
Other Highlights from Weekend Action
It was great to see some of our stars of track and field compete at the local AV Shield competition over the weekend. In action were:
Ashleigh Whittaker – fastest 200m of the day at Frankston (25.16s) in less than ideal sprinting conditions.
Tamsyn Manou – also competing in Frankston, Manou was second fastest over the 200m in 25.58s
Brooke Stratton – won her heat of the 200m at Nunawading in 25.03s (-1.3)
Alex Rowe – helped pace an 800m, finishing in 1.57.7h
Other highlights from around Melbourne in round 4 of AV Shield action included:
Mark Richards 1.50.3h in the men's 800m
Lachlan Mann second in the same heat in 1.51.9h
Timas Harik commenced his season with a 1.56.40 800m
Nana-Adoma Owusu-Afriyie ran 25.24s (-1.3) in the U/18 200m
Chris Mitrevski ran 21.48s in the U/20 200m
Daniela Roman took out the women's U/20 200m in 24.04s
In Adelaide, at the SA Interclub meeting, junior Kurtis Marschall cleared 5.00m in the men's pole vault while high school sensation Holly Beecham jumped 5.92m in the women's long jump (ed. note that Beecham will be absent from the upcoming Australian All Schools in December).
In Perth, at the WA Interclub meeting, Jeremy Andrews jumped 7.49m (+1.1) in the men's long jump. In the men's U/16 discus (1kg) Liam Gartlan threw 55.95m, a throw that will have him in calculations for selection at the 2017 World Youth Championships.
Remember that if you have any significant performance that we have missed don't hesitate in getting in contact with us.