MPs ON THE RUN BEFORE GENERAL ELECTION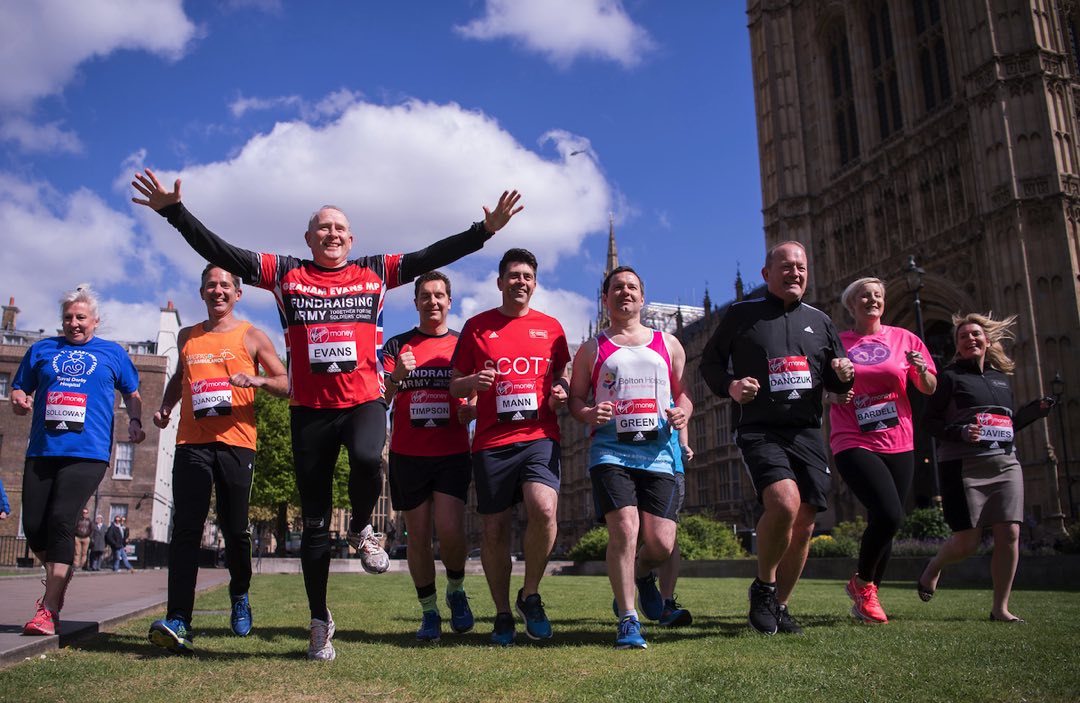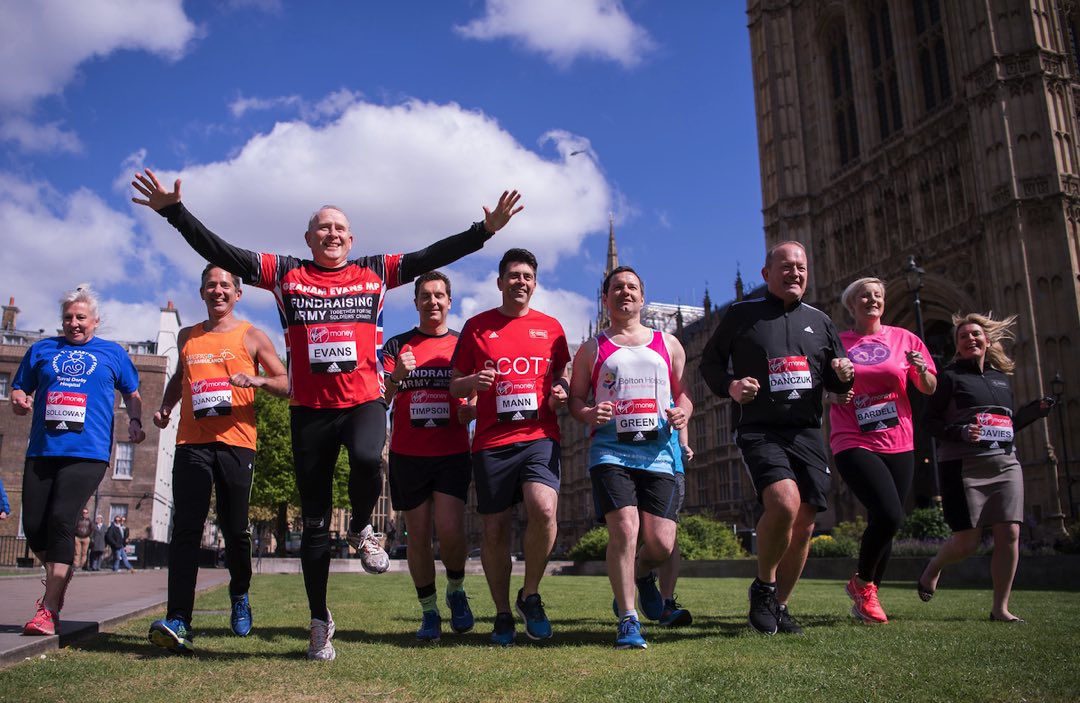 Members of Parliament of all political persuasions put aside their party differences this morning when they gathered on College Green in Westminster to swap words of solidarity and encouragement ahead of this Sunday's 2017 Virgin Money London Marathon.
A record total of 16 MPs are taking on the famous 26.2-mile challenge this year and 10 turned out in their running gear and race bibs to talk of training and togetherness on a day when Prime Minister Theresa May fired the starting gun for a general election in June.
Running for office may have been the talk in Downing Street, but just a short jog away outside Parliament the chatter among the London Marathon MPs was all about running for their chosen charitable causes in Sunday's race.
"I always look forward to this day, it's such a very special atmosphere," said Graham Evans, Conservative MP for Weaver Vale. "As a politician it's always nice to be cheered for four or five hours; it makes such a change."
As chair of the All-Party Parliamentary Running Group, Evans has played a key role in encouraging more Members to run this year than ever before, including eight first-timers, a record three women MPs and the first ever entrant from the Scottish National Party.
"This is the best marathon in the world in the best city in the world," said Evans, who ran a personal best of 4:25:36 in 2016.
"It's great that we've managed to persuade so many newcomers to run this year. We have MPs from right across the House, including the SNP for the first time, and to have three women is fantastic."
One of those is his Tory colleague, Amanda Solloway, who 'ran' for the first time 12 months ago and has returned in 2017 despite describing the experience as "horrendous". Solloway took more than seven hours to complete the course in 2016 and admits she will be walking most of the way again on 23 April.
"I can't really run at all, but I can raise nearly £2,000 for charity," said the MP for Derby North. "It was horrendous last year, but this is such a great event and such a great way of making money for charity and raising awareness."
Solloway, who's running for the Baby Unit at Royal Derby Hospital, added: "I do hope I've inspired more Parliamentarians to do it. I think a few of them looked at me last year and could see I'm not a runner.
"They thought if I can do it anyone can and now that means all their charities will benefit."
One of those who has been spurred to enter for the first time is Labour's MP for Leicester South Jonathan Ashworth, who admits to feeling a tinge of fear at taking on his "first race of any kind since leaving school".
"I do run regularly in Leicester but I've never done anything like this in my life before," said Ashworth, who's raising money for the National Association for Children of Alcoholics. "I've done no 10Ks, no fun runs, nothing. I just want to finish to be honest.
"It was a spur of the moment decision to enter and everyone looked at me as if I was daft as a brush. But there's no turning back now and as the child of an alcoholic I know I'm doing it for a fantastic cause.
"The amount raised for charity by this event is amazing and it will be great to be part of that."
Ashworth is one of five Labour MPs running this year compared to nine from the Conservative Party, while Hannah Bardell is making history as the first SNP MP in the event's 37-year history.
"I'm really proud to be the first," said the MP for Livingstone, who's raising funds for the Michelle Henderson Cervical Cancer Trust in memory of a local girl who died of the disease.
"Obviously, we've had MPs at Westminster since 1945 so to be the first one to do the London Marathon feels like a great achievement.
"I did the Loch Ness Marathon a couple of years ago, which is the hilliest marathon in Europe and there are no crowds," she added. "So I'm really looking forward to getting out there on the London roads with all that support.
"The London Marathon is iconic, but for us MPs it's a collective effort as well as a personal one. It's one day when our party political persuasion doesn't matter. We're doing it for our local charities and we'll all have those in our hearts and minds when we're toughing it out in the final miles.
"Sunday will be a day when we put party politics aside before it all kicks off in earnest again. People like it when politicians come together for a cause and this allows us to do that.
"It's great to stand together here on a day like today as part of something bigger than our party loyalties. On Sunday we will all run together, in spirit at least, before we all become political opponents again and start running for office."