By Rich Sands, @sands
(c) 2017 Race Results Weekly, all rights reserved
NEW YORK (10-Sep) — Experience counts on 5th Avenue.
Jenny Simpson and Nick Willis proved that here today with emphatic wins down the famed New York City boulevard. Simpson scored a record sixth title at the New Balance 5th Avenue Mile shortly after Willis notched his fourth victory in the event, staged by New York Road Runners on a picture-perfect day.
With the temperature at 70 degrees, low humidity and a generous wind at their backs, both the men's and women's professional races were exceptionally fast. Willis broke the tape in 3:51.3 while Simpson clocked 4:16.6 to equal the venerable event record set by PattiSue Plumer back in 1990.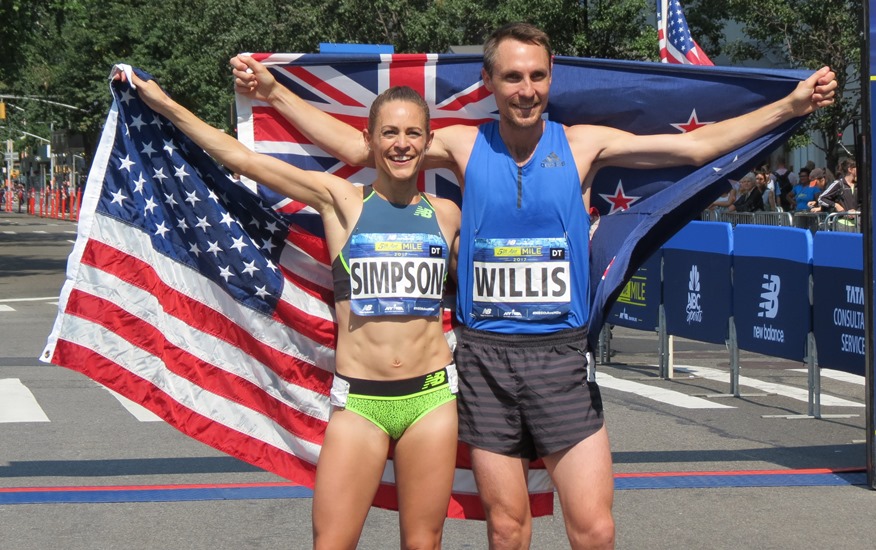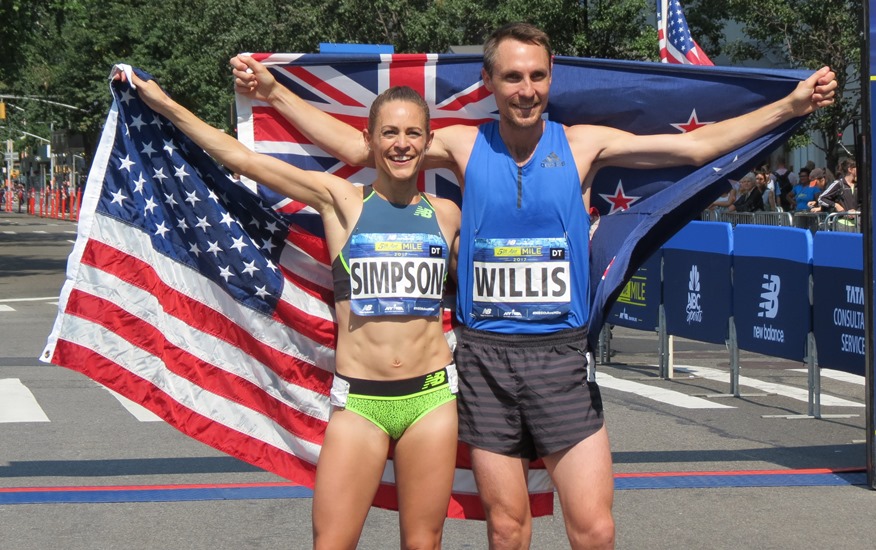 In the men's race, defending champion Eric Jenkins and Robby Andrews took the early lead for the opening downhill blocks. Craig Engels and former Oregon star Edward Cheserek, making his professional debut, joined them on the front line as they hit the first quarter in about 59 seconds. As the course flowed uphill, 800-meter specialist Drew Windle jumped out front, eager to snag the $1000 bonus given to the first runner to hit the half mile. He dueled with Engels and even dipped at the marker to hold a tiny edge as they came through in 1:58. (Alas, Engels would take home the prize, after Windle faded badly and didn't meet the requisite 4:00 finishing time needed to collect.)
Engels opened up a gap on the field during the third quarter as the road sloped down, but he was swallowed by the pack shortly after the three-quarter mile mark (2:56). Brits Chris O'Hare and Jake Wightman surged ahead, but Willis smoothly positioned himself towards the center of the pack, before launching a perfectly timed kick in the final 100 meters to grab the win.
"I think I ran over one of the manhole covers with 30 [meters] to go and I was already at my max so I was worried that I was gonna fall over there," said the 34-year old New Zealander, who previously won this race in 2008, 2013 and 2015.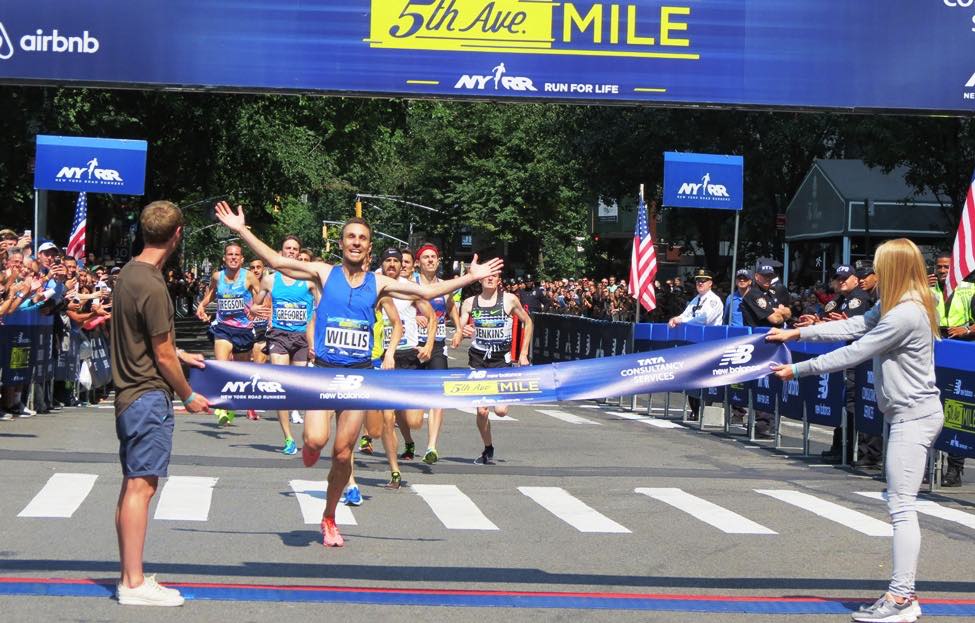 O'Hare (3:52.0) held on for second, ahead of Ben Blankenship (3:52.3), with the next five runners separated by only three-tenths of a second and a total of 19 men clocking sub-4:00 times.
"We had a really strong field, so I knew that I'd have to use my experience on this course to run my best," said Willis, who had run conservatively in the middle of the pack for most of the race. "I knew I had to wait and wait and wait and wait and be the last person to make the move. The finish line always looks closer than it really is, so I used the 1500-meter mark as my gauge to when I really got into fifth gear. I was able to slingshot off of them right at the end and thankfully it was enough."
A two-time Olympic medalist in the 1500, Willis placed a disappointing eighth at the recent IAAF World Championships in London. "This was a great way to finish what has been a pretty trying season for me with a lot of hiccups with injuries along the way," he said as he points to the 2018 Commonwealth Games in April where he is likely to move up to the 5000-meters.
Simpson took a more assertive strategy than Willis, immediately going to the front of the women's race. A pair of Brits, Laura Weightman and Jessica Judd, quickly joined her up front through a 62-second opening quarter.
Nobody seemed terribly eager to snag the halfway bonus, so Judd made a last-second decision to go for it, splitting 2:10 and picking up the extra cash (which she says she'll put towards her upcoming vacation to Hawaii). She continued to force the pace until Simpson and Weightman caught her about 200 meters from the finish. The American cruised home comfortably, with Weightman taking second in 4:17.6 and Judd holding off a late-surge from Brenda Martinez for the final podium spot, 4:18.3 to 4:18.4. In a mass finish similar to the men's event, 16 women broke 4:30.
"This race can be really different if the wind is at your back or in your face, and the road can be really uneven, and so just knowing how to time yourself and know when to look up at the finish and when not to look at the finish is really important part of timing it right," said Simpson, who took silver in the world championships 1500 last month, the fourth international medal of her career. "So over the years I think I've just gotten it down to a science. And the beautiful thing is, with 5th Avenue, when the road is clear it's pretty much the same every year, so I know where I want to put in my surges."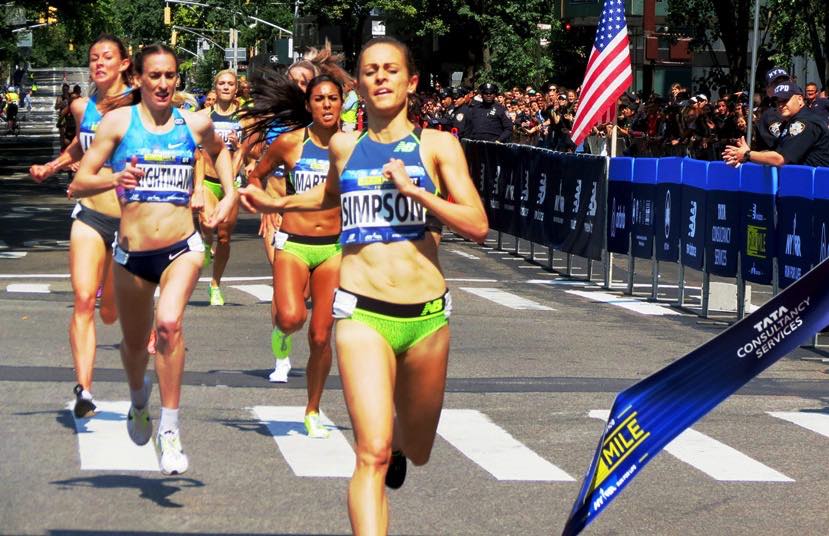 This was Simpson's unprecedented fifth straight victory down 5th Avenue, dating back to 2013. Her first win came back in 2011, but despite all that success, she knows she's going to be challenged. "The first quarter mile you're headed downhill and there's always this sense in your mind that maybe it'll feel easy," she admits. "And then it doesn't. And then you think, these girls are gonna make me run so hard this year. As I get farther into the race I believe more and more, the crowd gets incrementally louder and louder and I just can't let people down."
Simpson will resume training after a 10-day break, and this fall she'll take her first vacation since 2010 when she and her husband, Jason, spend a week in Hawaii prior to the wedding of her friend Emma Coburn, who finished ninth on Sunday.
Both Willis and Simpson earned $5000 for their titles, which capped a day of 23 heats featuring a record 7664 finishers over a variety of age groups and abilities in the 37th running of the event.