Tom Walsh joins Beatrice Faumuina and Dame Valerie Adams as world champions                                                      
Tom Walsh achieved his goal by winning the World shot put title with a consistent series of throws culminating with his final effort of 22.03m. 
It was a delighted Walsh who did a victory lap of the track draped in the New Zealand flag.
"It feels pretty good mate, that's exactly what we came here to do was to win and to do that and to throw so well through the whole comp it's something pretty special and it is pay back for all the time and effort the team behind me have put in," said Walsh soaking up the realisation that he can now add the outdoor world title to the indoor title won in Portland Oregon last year.
It was a surprise to Walsh that he was the first New Zealand male to win a medal at a World Championship.
"It's pretty good isn't it," was a surprised response from Walsh. 
"It's amazing it makes it even better doesn't it. It keeps on getting better."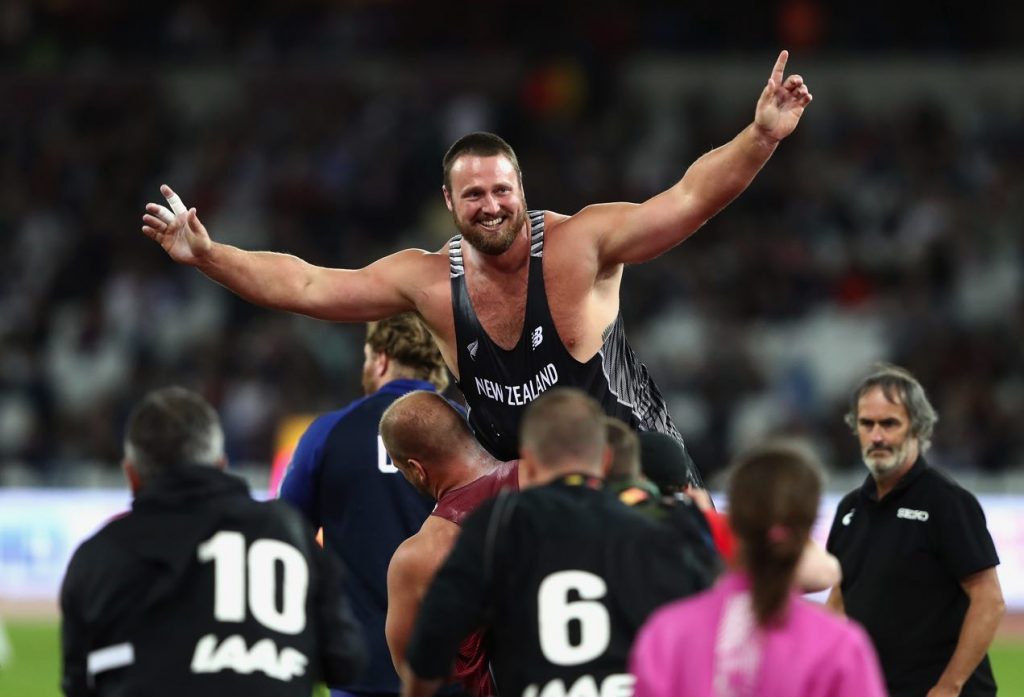 From Queen Bea, Beatrice Faumuina discus champion in 1997 to Dame Valerie Adams shot put champion, 2007, 2009, 2011 and 2013 and now to Tom Walsh in 2017.
He avoided two protests from his American rivals Ryan Crouser and Joe Kovacs. Crouser fouled a 22.31m throw in round three and Kovacs in the last round a 22.08m effort but both appeals were rejected by the jury of appeal.
The 25 year old Timaru builder opened with 21.38m to hold the lead until Kovacs further down the throwing order was out to 21.48m in his first attempt. Walsh responded in round two with 21.64m improving to 21.75m in the third round. Kovacs best of 21.66m in round three earnt him the silver and Stipe Žunić  of Croatia took out the bronze with 21.46m.
Walsh was competing after some anxious few days of treatment to an adductor muscle.
"There's been a lot of treatment in the groin area in the last few days, I tweaked the adductor a little bit during the last throws session before the championship.
"I thought I've come all this way and even if I've got an injury I'm going to go for it. If it's going to hurt it's going to hurt, if it doesn't it doesn't. The qualifying throw it didn't hurt at all but tonight it did hurt a little bit more. There was a lot of pain in the last few days in terms of getting it treated and trying to get it as free as possible," said Walsh.
Walsh knew that Kovacs was going to be his toughest competitor.
"I knew that Kovacs was going to go in there and attack that throw and throw as far as possible and I knew that I just had to stick to my routines and try and do exactly the same as he was trying to do and try and throw that shot put out of the park and I managed to do that which is pretty special to me," said Walsh.
He was also confident that he would beat his arch rival, Olympic champion Crouser.
"I knew what type of shape I'm in and I just thought I was going to get him one of these days, I managed to get him a few times after the Olympics last year when no one thought that anyone could and so that sought the confidence I had to take him off the top today," said Walsh.
"I did step it up during the competition but to knock it off with that last 22 metre throw was something pretty cool. I backed myself on my computer today and to pull it out and try and win it on the last throw is even better," he added.
Walsh and his coach Dale Stevenson, who he described as a hippie from Australia, have formed an formidable partnership over recent years culminating in this victory. One of the keys to Walsh's success is consistency, and that was a hallmark in London with three of his efforts good enough to win the competition and the final five throws all 21.63m or better. 
Walsh is good mates with the three Americans in the competition, Kovacs, Crouser and Ryan Whiting.
"I'm a little bit disappointed that some of the guys didn't go as well, but if I had to choose if I could win or not I'd take it. That sounds bad but that's alright," said Walsh with a chuckle.
"I thought any of those last five or six guys could go past me in the last throw, it was pretty nervous time mate. Look where ever I'm in the order I'm just trying to throw the shot put as far as I can."
Kovacs the defending champion and Rio Olympic Games silver medalist was disappointed not to pull it off again but was full of praise for Walsh.
"I wanted the gold but my hat's off to Tom Walsh with some great throwing He's had some consistent meets and he was at the level I expected him to be at, of course I wanted myself to be at a higher level. I think I was ready, because I warmed up pretty well outside the stadium. But the time in between I just couldn't put together with what I was doing outside the stadium. But I'm always happy to come away with a medal. I was happy to go down swinging, that last throw I did, I protested and had it was measured (22.08m), and it was far enough for the win," said Kovacs.
 Crouser also confirmed that Walsh was a deserved winner.
 "For me it was just a tough night, physically I felt good and mentally I felt like I was in a good spot, but the best way to relate it's just like a golf swing some nights you just swing away and everyone is going firing straight and some nights you just feel like you're hacking at it and no matter how hard you swing it's just not going anywhere. And tonight was one of those nights, the technique wasn't hitting right and I just struggled through it," said Crouser who holds the New Zealand all comers record of 22.15m.
 "I fouled a 22 meter throw, I didn't feel the foul, I protested it but it came back that they had made the right call.
"Tom is a great guy and a really hard worker and he definitely earned it tonight, he threw really well and was consistently at the top of the field," he added.
Whiting described Walsh as a douche in a joking manner but quickly came back saying he was a great guy.
"Tom is my best friend on the circuit, he's awesome he flies us to New Zealand every year, which getting to go to New Zealand for free is a pretty good perk.
"He's just good to be around, he's great to train with. He came to Arizona for two weeks and trained with me and I went to Georgia a couple of weeks ago and did a warm up meet with him at Athens where he threw that 22.04 and took the stadium record from me. He's a great guy and New Zealand is lucky to have him," said Whiting.
With Walsh now holding the gold medal Whiting said that Walsh's girlfriend Dana now deserves a ring.
Despite being a builder it's Walsh's mates that are currently building him a home.
"I meant to get back and supervise and tell them what they are doing wrong," quipped Walsh.
Žunić was a surprised third winning the bronze.
"This is my first World Championships and the first medal from a major event. I have only been a shot putter for three years. I did javelin before, I was ready for London 2012 as a javelin thrower but I suffered from a shoulder injury so I could not continue.
"This is amazing when I am among these big guys. I was 13th coming to this competition but I managed to handle this pressure well, stayed completely sound, stayed just two centimetres from my personal best and national record so I deserve this medal," said Žunić.
New Zealand's other shot putter in the final Jacko Gill just missed making the top eight that went through for a final three throws after his third round of 20.82m. 
"My last throw was one of the better throws I've done but it wasn't quite enough on the day. I missed the top eight on a count back (with Whiting) so a little disappointing. 
"I give it a pass to get ninth in the world so I'm pretty happy with that but you always want more," said Gill.
He'll have two more competitions in Poland and Germany before returning to New Zealand.
A recent Achilles tendon injury took its toll on Eliza McCartney as she bowed out of the final of the pole vault at the World Athletics Championships in ninth place after failing at her three attempts at 4.65m.
The darling of the Rio Olympic Games after winning the bronze medal opened at 4.45m took her second attempt to clear at 4.55m and missed out at the next height.
"I put everything out there but I don't really know what went wrong, I'll need to look at the video," said McCartney.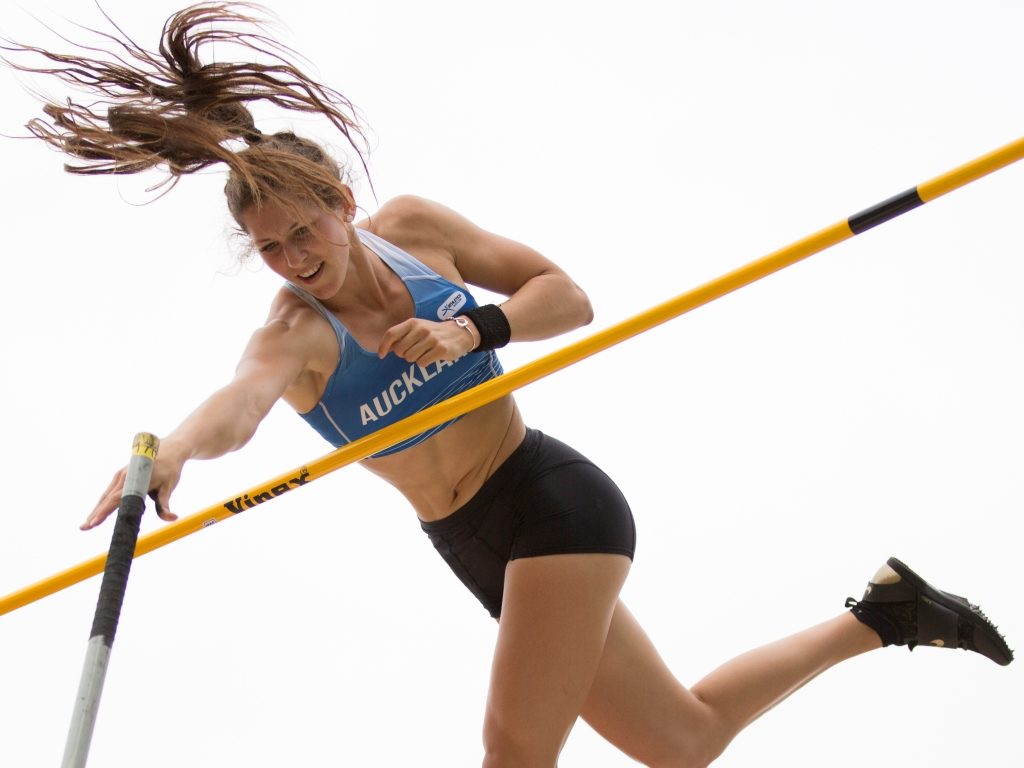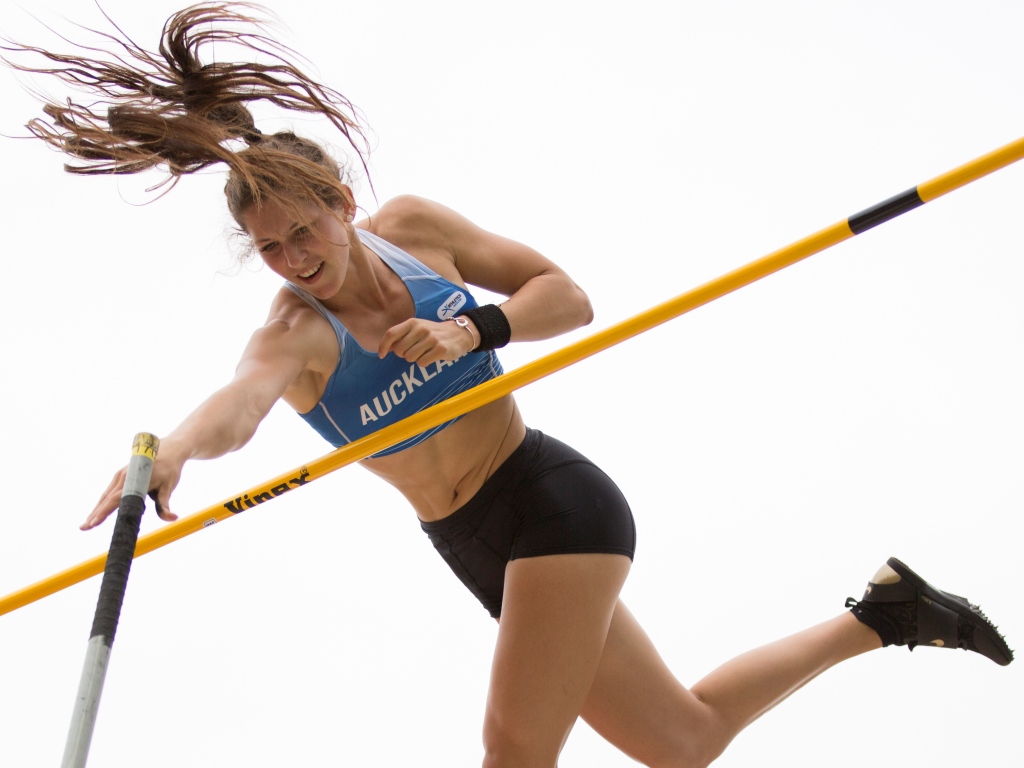 "The last attempt (at 4.65m) I put everything into it and I blew through which means that the pole was just too soft and there is no way I could have jumped it so it's kind of a good thing because it means that I jumped really well, just on the wrong pole," she explained. 
"The tendon is fine now but I guess what's hard to work out is all the training that I missed and how much effect that's had.
"My first world champs and to come ninth is pretty exciting," she added. 
Ekaterini Stefanidi from Greece won the gold medal, clearing 4.91m and American Sandi Morris cleared 4.75m for silver, replicating the first two positions from Rio. Venezuela's Robeilys Peinado won bronze at 4.65m.
Athletics New Zealand