"THIS book belongs on the bookshelf of every competitive athlete and coach…not just running/track and field. It's the thinking man's guide to tapping into one's potential."
–Mike Fanelli, USA National Team Coach 1992, 1996, 2000
This is an excerpt from the new book Make the Leap: Think Better, Train Better, Run Faster by Bryan Green. With glowing reviews from the stars of the sport, check it – for sale today at the Runner's Tribe shop!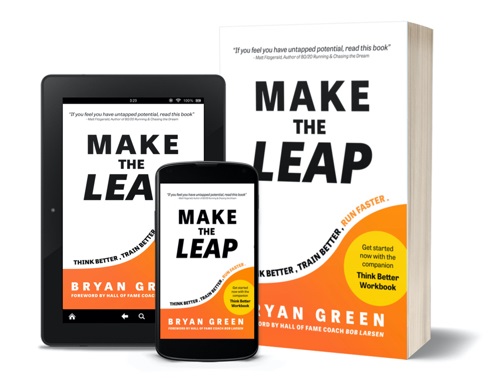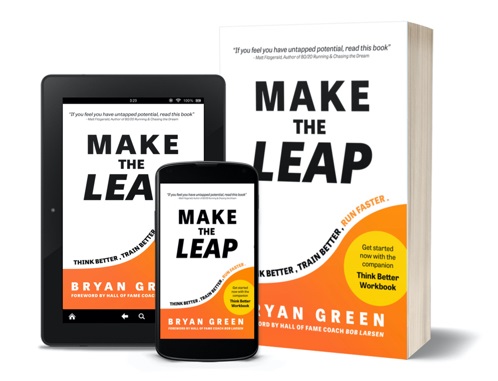 In my previous article I explained why our expectations guide our training. Here I outline the three key areas we need to focus on in our mental training.
A Better Prediction Factory
The idea of our brain as a prediction factory is what's called a mental model. A mental model is a way of simplifying real world situations to better understand them.
We all know how factories work. We can use that concept to better understand how our brains create expectations.
If you want to improve the product made at a factory, you have a few options: improve the machinery, improve your processes, or get better materials. In the context of expectation-setting, you can improve brain health, improve the way you process information and make decisions, or input better thoughts and beliefs.
Let's start with brain health. If you are too tired, undernourished, dehydrated, over-stressed, and consistently distracted it puts a large strain on your brain. Part of keeping any factory running smoothly is keeping up with the maintenance. The same applies to how you think.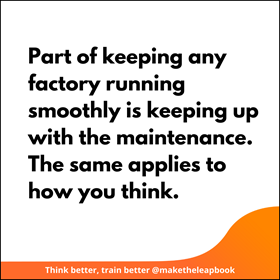 The way we process information and make decisions is our main focus. Some machines make higher quality widgets than other machines. Similarly, some thought processes result in better outcomes. Part of making better expectations is having the right mental frameworks for understanding the world and knowing when to use them.
But having the right frameworks in place isn't enough. How we use them is equally important. When do we turn them on and off? How do they connect with each other? What are we doing to calibrate them? We need effective processes and systems in place to ensure we get the most out of ourselves.
Lastly, we can input better thoughts and beliefs. You can't source crap materials and use them to create a luxury product. No matter how much you try, the result will be obvious. The same goes for our approach to training. If you input flawed ideas and unproductive beliefs into your head, you will produce unproductive expectations.
Here is the good news. We have a lot of influence over all three of these areas. We can live healthy lifestyles that keep our brains well maintained. We can gain a better understanding of how the world works, how our brains work, and how our thoughts tie into our real-world results. And we can cultivate productive thoughts and quickly identify unproductive ones.
When we create habits and systems around all of these areas, we build high quality expectations into the core of our training routine. The improvement that follows can be almost immediate.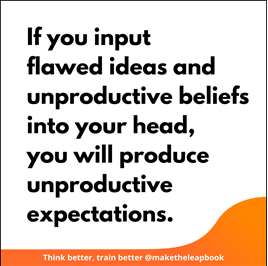 Make the Leap is not like other running books. It was written to be a complement to all your other training resources. It will help you get more out of the books you read, the workouts you do, and the habits and routines that make up the hidden training program. Read the book that coaches and Olympians agree will help you achieve your highest potential as a runner.
"Make the Leap will help runners prioritize what's important in their training. But this is not just a book for runners—it can help anyone on their athletic journey, or any mental or physical health odyssey."
– Christian Cushing-murray, 3:55 miler, Masters M45 1500m record holder, Century High School Coach
***********
Bryan Green is the COO of Go Be More, co-host of the Go Be More Podcast and author of Make the Leap: Think Better, Train Better, Run Faster. You can find his companion Think Better Workbook or subscribe to his Think Better Newsletter at his website. Bryan has been a frequent contributor to Runner's Tribe (dating back to 2008!) and believes thinking better about training is the key to getting the most out of our workouts and ourselves.