(c) Runner's Tribe
Back with another HOKA ONE ONE review. They just keep pumping out shoe after shoe, resulting in what must be one of the most comprehensive line-ups on the market.
The Carbon X SPE can be viewed as a special edition of HOKA's Carbon X road racing shoe.
HOKA took all the good traits from the original Carbon X and stuck with them, while replacing the things that needed some work.  The upper is high-end, providing a snug sock like fit with an in-built mesh bootie.  In terms of improvements from the original Carbon X; the heel pull tab is way better, and the heel cup seems to provide a better lockdown.
The midsole itself seems unchanged.  The ProFLY (EVA) midsole and the unique and innovative "Y" shaped carbon-fibre plate provides for a highly cushioned ride, that you come to expect from HOKA shoes, with a lot of extra snap and a sweet forward lean, thanks to the carbon plate.
Importantly for some, HOKA's ProFLY (EVA) foam is more durable than say Nike's Next% pebax foam, meaning the shoe is a great option for training as well as race day.

Specs
Km's run during testing process: 60
Testers: Two road/track runners.
Surface: Road.
Purpose:  Road trainer, great for long tempo runs. Road racer.
Pronation: Neutral.
Stack Height: 32mm heel. 27mm forefoot.
Heel-to-toe-drop/pitch: 5mm
Weight:

 Men: 9 US:  249g
Women: 7 US: 209g.
Men: 11 US: 277 grams (Nike Next% size 11US weighs 211grams)

Size 11US weights in at 277 grams

Upper: Mesh.
Midsole: Soft lightweight EVA foam.
Outsole: Exposed EVA foam, no added outsole rubber.
Flexibility: Stiff, like a carbon-fibre road racing shoe is meant to be.
Toe Box:  Standard, slightly wider than the original Carbox X.
Durability: More durable than the pebax based midsoles used by Nike Next% and Saucony Endorphin.
Density of midsole: Soft.
Heel cushioning: Soft.
Forefoot cushioning: Soft.
Heel counter: Soft to medium.
Fits: Runs true to size.
Marketing Hype: Low.
Does it live up to the hype: Yes.
Price: $299.95 AUD at Hoka Australia.
Against some rivals
| | | | | |
| --- | --- | --- | --- | --- |
| | Forefoot Stack height | Heel Stack height | Drop | Weight (size 9 US men) |
| Nike Vaporfly Next% | 28mm | 36mm | 8mm | 6.6oz/187grams |
| Nike Alphafly | 36mm | 40mm | 4mm | 7.4oz/209grams |
| Saucony Endorphin Pro | 27mm | 35mm | 8mm | 7.5oz/212grams |
| ON Cloudboom | 11mm | 20mm | 9mm | 8.1oz/229grams |
| Brooks Hyperion Elite | 25mm | 33mm | 8mm | 6.9oz/195grams |
| Hoka Carbon X SPE | 27mm | 32mm | 5mm | 8.8oz/249grams |
Nike's Next% is still the king when it comes to weight Vs. stack height comparisons.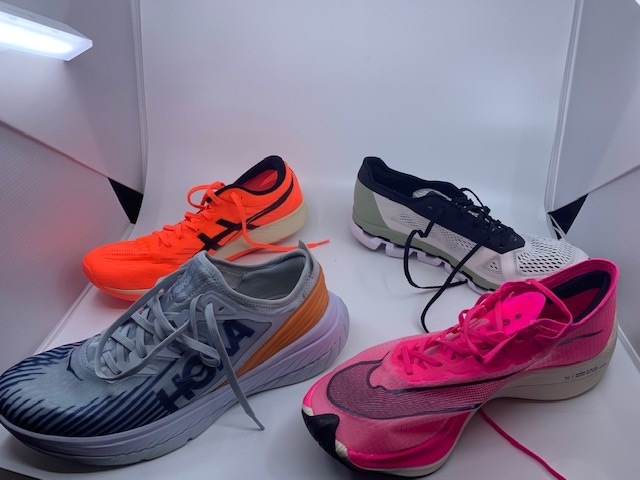 Cool things about this shoe
One-piece mesh bootie: Quality upper with no tongue, just a snug upper with a mesh bootie for a sock-like fit. It works.
Durable enough for long runs and training: HOKA's EVA foam used in the Carbon X may not be as light, soft, or bouncy as the pebax used in Nike's Next%. However, it is more durable. For those who wish to train in a carbon fibre racing flat, it's an awesome option. The midsole also has a nice forward lean, thanks to the carbon plate.
Uncool things about this shoe
Slippery in the wet: Hoka have avoided adding in extra outsole rubber to the shoe. Doing so, would no doubt make the shoe way heavier than its competitors. Efforts were made to mould a high-grip pattern into the bottom of the shoes EVA outsole, it works to some degree, but will never be as grippy as dedicated outsole rubber.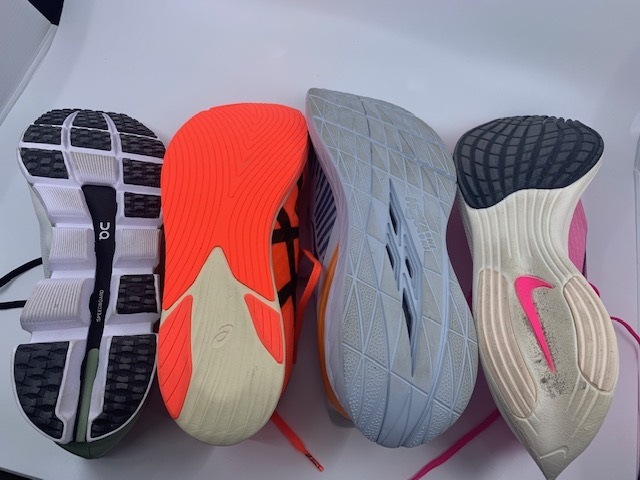 Neutral ponderings
PEBAX VS EVA: It is hard comparing road racing shoes made with EVA foam to say the Nike Next% with its pebax The two compounds are vastly different. EVA is more durable which is obviously a big win, but the pebax foam is hands down better for race day performance.
For those who care, pebax is a thermoplastic, which "yields cushioning that is not only lightweight and extremely soft but also exceptionally springy." Until the Vaporfly 4%, those three characteristics had proven nearly impossible to achieve.
EVA (ethylene-vinyl acetate) on the other hand  is "versatile, soft, flexible, and, importantly, cheap for manufacturers. The problem: it compacts fairly quickly and loses its cushioning power."  EVA is also less soft and far less bouncy.
When the day comes in which HOKA makes their racing shoes using pebax, then watch out.
To buy or not to buy?
If you are HOKA fan, it would be dumb not to.
Written and tested by Sam Burke for Runner's Tribe.
Disclaimer: Runner's Tribe were given a pair of Carbon X SPE for free.