By Chris Lotsbom, @ChrisLotsbom
(c) 2017 Race Results Weekly, all rights reserved
NEW YORK (10-Feb) — On Thursday, a winter storm steamrolled through the northeast corridor, dropping nearly a foot of snow on New York City. The 12-hour storm left flights cancelled and businesses and schools closed. With the NYRR Millrose Games under three days away, the show went on trying to get hundreds of athletes from around the world into Manhattan. Flights were delayed, cancelled, re-booked, then re-booked again by the dozen.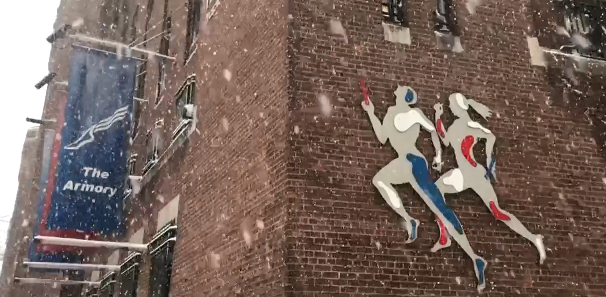 No event may have been more affected by the winter storm than the NYRR Wanamaker Women's Mile. Speaking to Race Results Weekly at the NYRR RunCenter, Shannon Rowbury, Amanda Eccleston, Kate Grace, and Katie Mackey detailed their travel woes. Another competitor, Leah O'Connor, hadn't yet made it into town (en route on a five-airport-in-two-days journey), while Brenda Martinez abandoned her trip California due to a cancelled flight.
"It's fresh in my mind, so it's definitely at the top of the travel [scale]," Rowbury said, joking with RRW. After departing her warm-weather training camp in Tallahassee, Fla., Rowbury's flights to Orlando and Newark were canceled, re-booked, canceled and re-booked again. She eventually made it to the meet hotel at 2:00 a.m. this morning.
"I've had some other bad trips, but this one may take the cake," she said. We'll give it a first place prize."
But when she arrived to Newark, her bags didn't make it.  Her husband, Pablo, went back to Newark to retrieve them.  He didn't get back to the hotel until about 3:00 a.m.
Smiling and happy to be in the city, the two-time NYRR Wanamaker Women's mile champion didn't let the exhausting trip faze her.
"I think the main thing I have to do now is just rest. I got some good sleep last night once I got in, the beds are quite comfortable, but I didn't want to get up this morning," she said.
On the advice of her coach Mike McGuire –known to monitor the weather closely– Eccleston decided to re-book her flight out of Detroit, Mich., from Thursday to Friday morning. McGuire's intuition was right: Eccleston's original flight was ultimately cancelled, and her Friday flight arrived at Newark Airport without any problems this morning.
"Coach called me Wednesday and he suggested I change my flight because of the snow, but I thought, 'Mike you're over-reacting.' I e-mailed just to check, and we chose to reschedule and they canceled just about everything out of Detroit. My coach knows what's up!" she said, amused. "It was very smooth and worked out."
Eccleston compared travel woes to just another thing that happens to track and field athletes.
"I think if you're someone who is flexible and go with the flow, then you'll be fine," she said. "It may psyche some of the people out, that'll be good I guess. But it's part of being a professional runner, knowing that things will change last minute. I was in Italy last year thinking I'm racing a 1500m and I found out two hours before that it was a mile because [Genzebe] Dibaba wanted to go after the world record. You just have to accept stuff like that, the changes. This is like that."
Kate Grace's flight from Phoenix to New York was cancelled, so she asked her airline to get her to another east coast city.  She flew to Baltimore last night, slept in a hotel there, then took Amtrak here this morning, making it in time for her press conference.
"I feel like I just got to New York!" she said when asked for her thoughts on the race. "I'm looking forward to having a day to rest before the race. I'm excited about this. Millrose is great, such a fun event."
Katie Mackey and husband/coach Danny Mackey flew out of Seattle a day early to avoid the delays. After all, the tandem didn't want a repeat of what happened two years ago, when storms kept Katie from making it to New York in time for the race. In 2015, Katie pleaded with airlines to get her to New York in time for the Saturday start, but was told there would be no way to arrive in the city before Sunday. With no alternatives, Mackey missed the Millrose Games.
"I'm glad we're here," she said, shaking her head. "I think we ran in the heaviest part of the storm yesterday in Central Park."
The award for Best Traveler of the Meet could go to Leah O'Connor. Originally the Michigan State alum was supposed to fly from Sacramento to Salt Lake City, then to JFK Airport in New York, arriving on Thursday. Instead, her travel went through through five airports: Sacramento to Salt Lake City to Atlanta on Thursday, then Atlanta to Richmond to New York (La Guardia) on Friday. If all stays as planned, O'Connor will be on the line come tomorrow's meet.
"I might be cursed," she joked in a text message.