Australia has a proud history of relay running.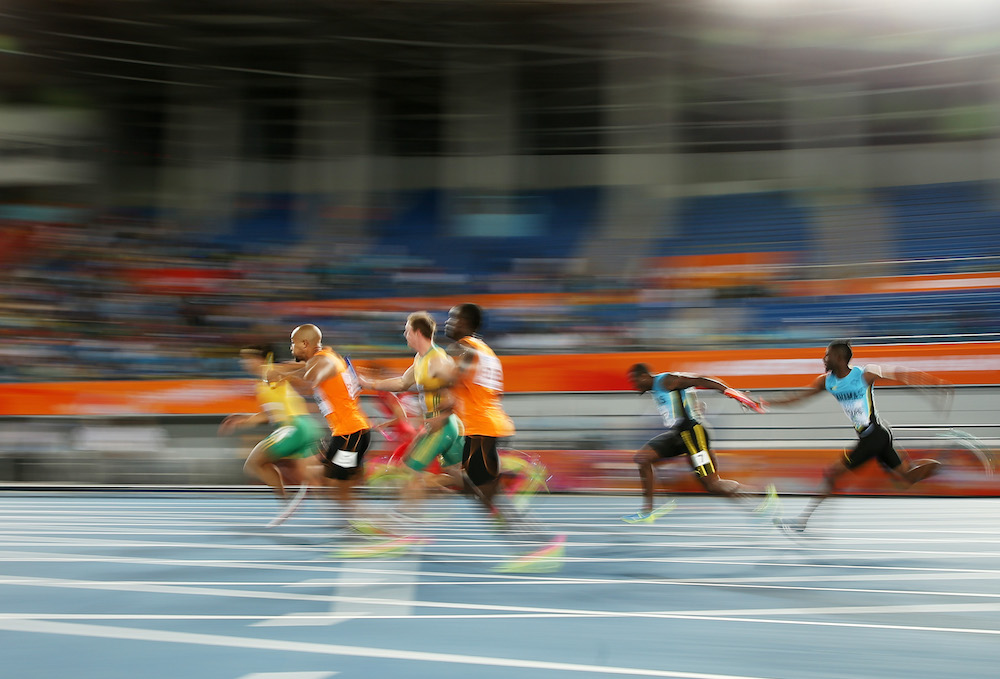 In 1956, it was Betty Cuthbert leading the green and gold to their first top-of-the-podium finish in a baton event at the Olympic Games and the tradition of success has continued until as recently as 2010, when a mock game of cricket was used to salute the victory the men's 4x400m relay team at the Commonwealth Games in Delhi (IND).
The IAAF World Championships have been a breeding ground for success, too, with silver to the men's 4x100m relay team in 1995 backed up by bronze in 2001, while the men's 4x400m relay stunned many with their bronze medal winning result in a time of 3:00.90.
At London 2017, Team Australia can provide yet another chapter to the nation's relay history, with the men's 4x100m and women's 4x400m relay teams both set to take on the world.
Ensuring their start after placing a commendable fourth at the IAAF World Relay Championships in Nassau (BAH) earlier this year, the men's sprint relay squad features Australian 100m champion Trae Williams (Qld), Rio 2016 Olympian Alex Hartmann (Qld) and debutants Nick Andrews (NSW), Rohan Browning (NSW) and Tom Gamble (Qld).
The winners of the men's 4x100m relay at the IAAF Diamond League in London (GBR) earlier this month, the team arrives at the IAAF World Championships after a period of dedicated relay training that featured continued efforts with baton changing and a one-off preparation race against Barbados at the Team Australia Preparation Camp in Tonbridge (GBR).
"Getting here has been a process. It started in November when we first came together again and we've been trying to rebuild a team culture that emphasises commitment to the relay and our understanding that if we do things right, we are a chance to win a medal at the Commonwealth Games next year," Gamble, who has been appointed relay captain by his running mates, said.
"Our result in the Bahamas highlights what we can do. We weren't expecting to do as well as we did, and since then we've run well at the Diamond League and have had plenty of good sessions here in the camp. The biomechanical support we've had here has been so valuable, understanding our performances in the change zone, and now it's about freshening up.
"Australia loves an underdog and we're probably that going in. That said, with confidence comes performance."
Browning is the youngest male member of Team Australia, with the 19-year-old relishing the opportunity to compete for his country at such a young age. An avid player of rugby union at high school, he most enjoys the group environment of relay running and commended the squad for their dedication to a team event in what is traditionally an individual sport.
"Most importantly, all of the boys get along well. It's probably rare to find a relay team made up of sprinters anywhere in the world that made the call to set egos aside and focus on the team event. It's been so important to us improving he way we have," Browning said.
"We are a young team and we've adapted to working with each other well. There's plenty more to come, but the chance to compete here is exciting."
The success of the men's 4x100m relay team has been made possible thanks to the continued support of Commonwealth Games Australia, via the Gold Coast GOLD Relay Program, and mirrors the rise of the women's 4x400m relay team.
In 2015, this squad made the final of the event at the IAAF World Relay Championships to ensure their start at Rio 2016, with Jessica Thornton (NSW), Morgan Mitchell (NSW), Anneliese Rubie (NSW) and Caitlin Jones (Qld) combining to again progress to the round-of-eight on the grandest stage of them all.
In 2017, Mitchell, Thornton and Rubie return, with the squad also featuring Rio 2016 OlympianElla Nelson (NSW), national 400m hurdles champion Lauren Wells (ACT) and debutant EllaConnolly (Qld), who won silver in the one-lap event at the Commonwealth Youth Games earlier this month.
Mitchell, Nelson and Wells will also compete in individual events at the IAAF World Championships, lining up in the women's 400m, women's 200m and women's 400m hurdles respectively.
They are joined in individual sprint and relay events by Steven Solomon (NSW, 400m), Riley Day (Qld, 200m), Sally Pearson (Qld, 100m hurdles) and Michelle Jenneke (NSW, 100m hurdles).
Team Australia is currently based at the Tonbridge School in Tonbridge (GBR) for a preparation camp that continues until 1 August. The squad will then move to the host city of London for competition across ten days at the Queen Elizabeth Olympic Park from 4 August.
At the IAAF World Championships in Beijing two years ago, Team Australia won two silver medals by Jared Tallent (50km walk) and Fabrice Lapierre (long jump), with three athletes featuring in the top-eight. The year following at Rio 2016, Team Australia won two medals in race walking, with 28 athletes placing in the top-16 for their event.
For more information on London 2017, please visit the Team Australia hub at athletics.com.cu– click here.
TEAM AUSTRALIA MEDIA GUIDE:
A Team Australia Media Guide, featuring the event timetable, event-by-event previews, athlete profiles and classification explanations, has been created by Athletics Australia with extensive support from renowned statistician David Tarbotton.
To view and download the Team Australia Media Guide, please click here.
TEAM AUSTRALIA – SPRINTS & HURDLES
 FEMALE (9):
200m: Ella Nelson (NSW), Riley Day (Qld)
400m: Morgan Mitchell (Vic)
100m hurdles: Michelle Jenneke (NSW), Sally Pearson (Qld)
400m hurdles: Lauren Wells (ACT)
4x400m Relay: Ella Connolly (Qld), Morgan Mitchell (Vic), Ella Nelson (NSW), Anneliese Rubie (NSW), Jess Thornton (NSW), Lauren Wells (ACT)
MALE (7):
400m: Steven Solomon (NSW)
110m hurdles: Nicholas Hough (NSW)
4x100m Relay: Nick Andrews (NSW), Rohan Browning (NSW), Tom Gamble (Qld), Alex Hartmann (Qld), Trae Williams (Qld)