Kibiwott Kandie, the accomplished silver medalist in the World Half Marathon, is poised to recreate his prior triumphs on the lightning-quick streets of Valencia as he readies himself for the upcoming Valencia Half Marathon, slated for December 3.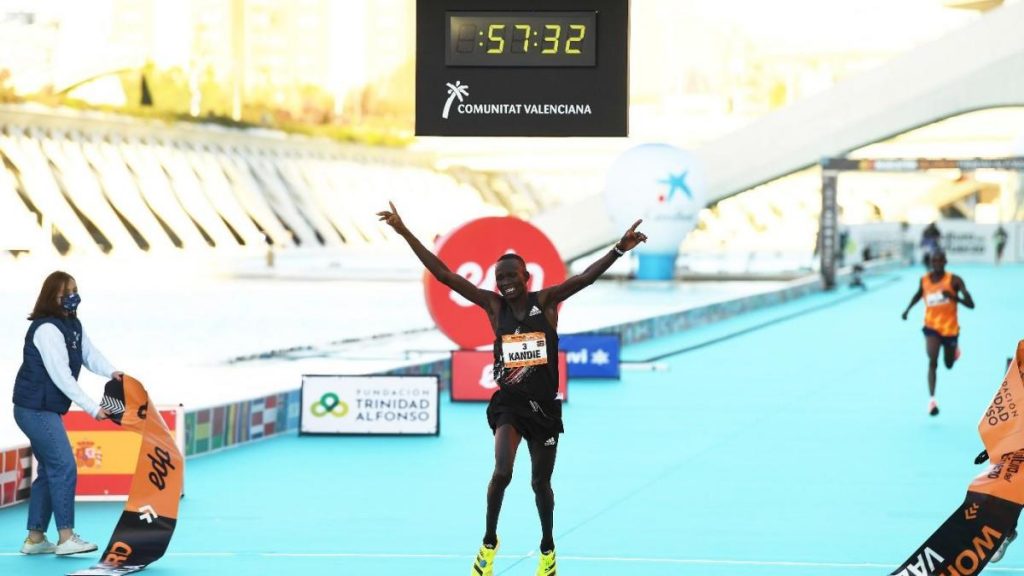 Anticipation mounts as the Valencia Marathon introduces its initial roster of international athletes, reaffirming its commitment to ambitious goals for the Ciudad del Running event.
Kandie, a seasoned performer on Valencia's high-velocity roads, will be setting his sights on conquering the full 42,195 kilometers, sharing the limelight with Uganda's emerging sensation, Joshua Cheptegei, who will be making his debut, promising an epic showdown for both spectators and participants alike. This challenge is not limited to Kandie alone, as it poses a formidable test for top contenders hailing from Kenya and Ethiopia.
Among the Kenyan novices striving to make their presence felt are the dynamic trio of Stanley Kurgat, Stephen Kiprop, and Vincent Ngetich. Additionally, accomplished Kenyan athletes Alexander Mutiso (2:03:29) and Titus Kipruto (2:04:54), Ethiopian stars Sisay Lemma (2:03:36) and Leul Gebresilase (2:04:02), and Romania's Chalu Deso (2:04:53) constitute a potent quintet, all boasting marathon times below the 2:05 mark. Their collective aim is to elevate their personal bests on a course custom-tailored for record-breaking performances.
View this post on Instagram
 The esteemed international elite coach overseeing the Valencia Marathon, Marc Roig, confidently asserts that this event will stand as the premier marathon on the global stage during this period. Roig underscores, "In this pre-Olympic year, the Valencia Marathon solidifies its position as the foremost global event. Myriad athletes are contending for their tickets to Paris 2024, with well over a dozen eyeing national records, while both the leading male and female contenders are intent on setting new course records. Valencia, once again, reinforces its reputation as the Ciudad del Running."
On the women's front, marathoners Tsegay Gemechu (2:16:56), Almaz Ayana (2:17:20), Worknesh Degefa (2:17:41), Joan Chelimo (2:18:04), and Hiwot Gebrekidan (2:19:10), all seasoned campaigners over the marathon distance, promise to engage in a fierce battle in Bosena Mulatie's highly anticipated debut.
The Valencia Marathon proudly maintains its standing as the world's third-fastest marathon for both men and women, with exceptional times of 2:01:53 and 2:14:58, respectively, achieved in the preceding year. As 2023 arrives, it remains steadfast in its mission to secure its position among the world's swiftest marathons.