Berlin, September 24, 2023 – September 24, 2023, will forever be etched in the annals of women's marathon history as the day Tigst Assefa, hailing from Ethiopia, not only won the 2023 BMW Berlin Marathon but also obliterated the existing world record. Running under ideal conditions in Berlin, Assefa crossed the finish line in an astonishing 2 hours, 11 minutes, and 53 seconds, a staggering two minutes and eleven seconds faster than Brigid Kosgei's previous world record of 2 hours, 14 minutes, and 4 seconds. In a groundbreaking achievement, Assefa became the first woman in history to complete a marathon in under 2 hours and 12 minutes, setting a new standard in the sport.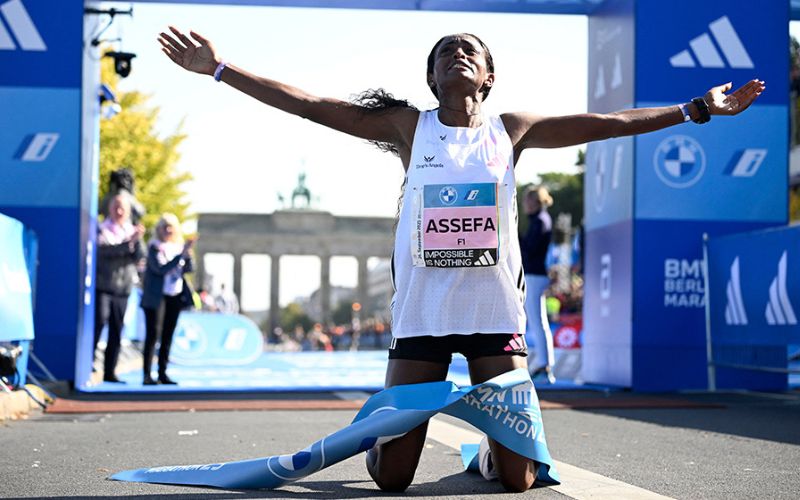 A Paradigm Shift in Women's Marathon
The significance of Assefa's accomplishment cannot be overstated. To put it into context, consider the journey of women's marathoning. Two decades ago, Paula Radcliffe ushered in a new era by slashing over three minutes off the world record over two races. Radcliffe's remarkable feats brought the record down to 2 hours, 17 minutes, and 18 seconds in Chicago in 2002, followed by 2 hours, 15 minutes, and 25 seconds in London the following spring. For 16 years, Radcliffe's record remained untouched, until Brigid Kosgei's groundbreaking performance in Chicago in 2019. Kosgei's achievement marked a pivotal moment in the history of women's marathoning, leading to a resurgence that saw three of the five fastest times ever recorded in the 2022 fall marathon season, including Assefa's own 2 hours, 15 minutes, and 37 seconds in Berlin. While the world record was expected to be broken in 2023, nobody anticipated the magnitude of Assefa's accomplishment.
What makes Assefa's achievement even more remarkable is her unconventional journey to the top. She began her athletic career as an 800-meter specialist, representing Ethiopia at the 2016 Olympics with a personal best of 1 minute and 59.24 seconds. However, an Achilles injury in 2017 forced her to transition to road racing in 2018. The challenges of training during the COVID-19 pandemic disrupted her progress, leading to an out-of-shape debut marathon in Riyadh in March 2022, where she finished in 2 hours, 34 minutes, and 1 second. Yet, in just 18 months, she transformed herself into the world record holder.
Under the guidance of her coach, Gemedu Dedefo, in Ethiopia, Assefa honed her talent and gradually started breaking records during practice sessions. Dedefo always harbored the belief that Assefa possessed the potential to break the world record if she remained injury-free, and her performance in Berlin on that historic day validated his belief.
A Surprising Highlight in Berlin
Assefa's race in Berlin was expected to be overshadowed by Eliud Kipchoge's attempt to defend his men's title. Kipchoge, the reigning world record holder from 2022, was widely anticipated to deliver another record-breaking performance. While Kipchoge did embark on the race with a record pace, eventually finishing in 2 hours, 2 minutes, and 42 seconds, it was Assefa's run that captivated the world. She started with an astounding first 10 kilometers in 31 minutes and 45 seconds, faster than the world record pace.
View this post on Instagram
 What sets Assefa's performance apart is her ability to maintain an incredible pace throughout the entire race. Her half marathon split of 66 minutes and 20 seconds, though incredibly fast, is not entirely unprecedented in women's marathoning. However, Assefa managed to maintain a pace significantly faster than the world record pace throughout the race, a feat that defied convention.
Here are Assefa's 5k splits for a detailed perspective on her incredible performance:
5k: 15 minutes and 59 seconds
10k: 15 minutes and 46 seconds (31 minutes and 45 seconds total)
15k: 15 minutes and 41 seconds (47 minutes and 26 seconds total)
20k: 15 minutes and 26 seconds (1 hour, 2 minutes, and 52 seconds total)
25k: 15 minutes and 48 seconds (1 hour, 18 minutes, and 40 seconds total)
30k: 15 minutes and 32 seconds (1 hour, 34 minutes, and 12 seconds total)
35k: 15 minutes and 29 seconds (1 hour, 49 minutes, and 41 seconds total)
40k: 15 minutes and 32 seconds (2 hours, 5 minutes, and 13 seconds total)
Assefa's final 2.195 kilometers were completed in 6 minutes and 40 seconds, equivalent to a pace of 15 minutes and 11 seconds per 5k or 4 minutes and 53 seconds per mile.
Factors Behind the Achievement
Assefa's achievement raises questions about the factors contributing to her extraordinary performance. Some suggest her latent, untapped talent, while others point to advancements in shoe technology. Notably, she raced in the newly-released adidas ADIZERO Adios Pro Evo 1 shoes, renowned for their remarkable lightness. However, it is important to stress that Assefa has never tested positive for performance-enhancing drugs (PEDs), and attributing her record-breaking run solely to PEDs is unfounded.
In the broader historical context, Assefa's accomplishment is a landmark moment for Ethiopian women in marathoning. While Ethiopian men have held the marathon world record in the past, no Ethiopian woman had previously achieved this feat. Tigst Assefa's remarkable achievement transcends generations and sets a new benchmark in women's marathoning. Her performance on September 24, 2023, will continue to inspire athletes worldwide to strive for greatness and redefine what is possible in the world of running. Tigst Assefa is not just a world record holder; she is a trailblazer who has left an indelible mark on the sport.