Berlin, Germany – Eliud Kipchoge, the celebrated Kenyan marathoner, once again asserted his dominance in the Berlin Marathon on a magnificent Sunday morning. In a remarkable display of athleticism, Kipchoge secured his fifth Berlin Marathon title, breaking the tie with the legendary Haile Gebrselassie. Crossing the finish line in a breathtaking time of 2 hours, 2 minutes, and 42 seconds, Kipchoge left his competitors stunned. This victory was a triumphant comeback for Kipchoge, who faced disappointment with a 6th-place finish at the Boston Marathon earlier in April, just ahead of his 39th birthday in November.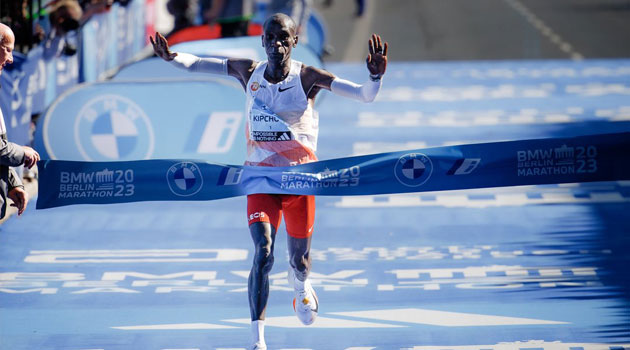 Kipchoge's most recent accomplishment solidifies his unmatched status in the world of marathon running. With a remarkable track record of 16 victories out of 19 marathon starts, he boasts an impressive 84% success rate. Notably, Kipchoge has secured 11 World Marathon Majors titles and earned two Olympic gold medals. Furthermore, he now stands as the proprietor of five of the eight swiftest marathons ever clocked in history. The average time of his five fastest marathons is an astounding 2 hours, 2 minutes, and 9 seconds, a feat only equaled by two other athletes in any single race.
The race day conditions were optimal for achieving record-breaking results, with temperatures hovering around 57 degrees, partly cloudy skies, and a gentle 6 mph breeze at the start line. Kipchoge took an early lead, covering the initial 5 kilometers in just 14 minutes and 12 seconds—two seconds faster than his performance in the previous year when he set the world record at 2 hours, 1 minute, and 9 seconds. At this point, Kipchoge had already left his competitors behind, with only his three pacemakers and Ethiopian athlete Derseh Kindie, who appeared to unofficially pace him, wearing the NN Running Team attire. Kindie boasted a marathon personal best of 2 hours and 8 minutes but dropped out of the race at the 32-kilometer mark shortly after the final official pacer stepped aside.
View this post on Instagram
 Kipchoge reached the halfway mark in an impressive 60 minutes and 22 seconds, marking the second-fastest opening half in marathon history, second only to his extraordinary 59 minutes and 51 seconds from the previous year. However, Kipchoge's quest for a new world record gradually faded as he ran progressively slower in the second half of the race. After maintaining an average pace of 14 minutes and 18 seconds for the first half, Kipchoge recorded splits of 14 minutes and 35 seconds from 20 to 25 kilometers, 14 minutes and 37 seconds from 25 to 30 kilometers, 14 minutes and 45 seconds from 30 to 35 kilometers, and 14 minutes and 56 seconds from 35 to 40 kilometers. By this point, Kipchoge's once-substantial lead, which had peaked at 1 minute and 17 seconds at the 30-kilometer mark, had dwindled to just 31 seconds. Nevertheless, Kipchoge maintained his composure and secured a comfortable victory without facing any significant challenges.
Today's victory reaffirms Eliud Kipchoge's status as one of the greatest marathoners of all time and sets him on a promising path to represent Kenya at the Olympics next year. Even in the face of potential setbacks in his upcoming spring marathon, Kipchoge's incredible career achievements, coupled with this triumphant Berlin win, make him a strong contender for selection by Athletics Kenya. Furthermore, this victory dispels any doubts about Kipchoge's career prospects, which may have arisen following his Boston Marathon disappointment.
Nevertheless, today's race also suggests that Kipchoge may be gradually slowing down after an illustrious career at the forefront of the sport. While his finishing time of 2 hours, 2 minutes, and 42 seconds is undoubtedly impressive, Kipchoge initiated the race at a slower pace than the previous year (60:22 versus 59:51 at the halfway mark) and concluded with a slower second half (62:20 today versus 61:18 last year). Despite favorable running conditions, as evidenced by a woman completing the race in 2 hours and 11 minutes, Kipchoge's competitors were gaining ground late in the race. Though he maintained a comfortable lead, it was not the dominating performance we have come to expect. Kipchoge was maintaining a pace of 2 hours and 6 minutes per kilometer from the 35-kilometer mark to the finish line, suggesting that he faced a more challenging race.
In conclusion, it is essential to recognize Kipchoge's incredible accomplishment while acknowledging the nuances of his performance. He completed the eighth-fastest marathon in history, and it is unrealistic to expect him to break the world record in every race. Nevertheless, the ideal race conditions on that day, coupled with a slightly diminished performance compared to the previous year, indicate that Kipchoge may not be at the same level as he was a year ago at this time.