By Chris Lotsbom, @ChrisLotsbom
(c) 2016 Race Results Weekly, all rights reserved
EUGENE, OR (08-Jul) — A short 36 months ago the Brooks Beasts Track Club was in its infancy, a three-person squad based in Seattle with hopes of competing on the global stage. Since then, the Beasts have grown rapidly and have carried that momentum into the second week of competition here at the USA Olympic Trials at Historic Hayward Field.
With a total of twelve athletes, the Beasts are ready to leave their mark on Eugene. Together, the husband and wife tandem of Danny and Katie Mackey have helped spur the Beasts on from a small start-up three years ago to the national power they are now. The team could be on the verge of their first Olympic spot, no small feat in the highly competitive arena of middle and long distance running in the United States.
"It really is like a snowball rolling downhill, gaining more and more momentum every year," Mackey began, speaking to Race Results Weekly at Brooks House near the track on Wednesday. "It really has come together really well."  He continued: "At the very beginning it was a very small group of us, and just every year we've had amazing people not only come onto the team but also come around the team."
After Coach Mackey and Jesse Williams, senior global sports marketing manager at Brooks Running, came up with the idea of an elite Seattle-based training group, they started small: Katie was the first athlete signed, having just graduated from the University of Washington. Joining her as teammates that first year as part of the Beasts TC were 800m specialist Mark Wieczorek and 2007 NCAA 1500m champion Brie Felnagle. (Felnagle is sponsored by adidas, though is coached by Mackey).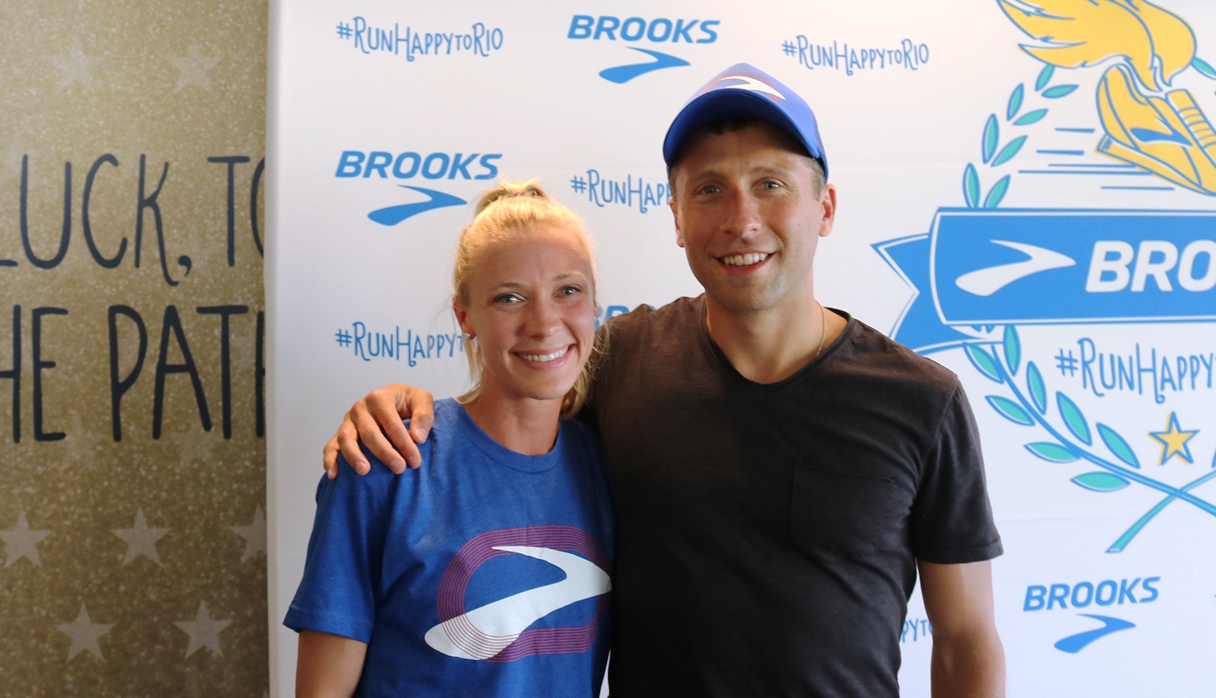 The early days left an impression on Katie, one she still carries as motivation to this day.
"It is really cool to see this really come full circle. I remember that day of my NCAA final of my senior year probably clearer than most days. I remember stepping off the track and Coach [Greg] Metcalf was like 'Well we are going to go meet Jesse Williams now from Brooks.' I didn't know the meeting was going to happen," Katie  recalled, looking towards Williams who was standing a few feet away. "I just remember sitting there and hearing you talk about this vision of how you wanted to build this team and wanted it to be middle distance, be one of the best teams in the country and the world. I think that's what Brooks has been able to build in Seattle with the support we have."
With each summer's national meet, more and more athletes turned up sporting the Brooks kit. Like a rising tide in Seattle's Puget Sound, the team's profile began to increase steadily with the acquisition of athletes like Cas Loxsom, Riley Masters, and Garrett Heath. In addition to Mackey's success –including a victory in the IAAF Diamond League in Stockholm last year and a 4:03.81 1500m PB– the Beasts' Loxsom has set the 600m national record indoors and run 1:44.92 for 800m. Heath has proven versatile on the track, roads, and in cross country, while Masters has successfully transitioned from the 1500m to 5000m. Heath and Masters are contending for Olympic spots in the men's 5000m final on Saturday against very strong competition from the Nike Bowerman Track Club, including 2016 IAAF World Indoor Championships silver medalist Ryan Hill and two-time Olympian Lopez Lomong among others.  Nike-sponsored Olympians Galen Rupp and Bernard Lagat will also be in that race, but it is uncertain whether Rupp will take a 5000m team spot given that he already holds team berths in the marathon and 10,000m.
"The group has progressed very quickly. The first U.S. champs in 2013 we had three athletes competing," Danny Mackey said. "That was just 36 months ago. Now I have 12 athletes here. It's a super quick progression… The goal four years ago –even on the first Olympic cycle– was to get people on World Teams. Five people on world teams [in the last three years] has been a progression, and going into this meet we have a handful of athletes who can make the team."
Katie Mackey and Loxsom already own global medals: Mackey took home silver at the 2014 IAAF World Relays 4x1500m, while Loxsom has won silver at the 2010 IAAF World Junior Championships 800m [before joining the Beasts] and gold in the 4x800m relay at the 2015 IAAF World Relays.
Both Katie and Danny Mackey said the team's growth and success is a direct result of the community support shown by those in the Seattle area. Their access to chiropractors, massage therapists, sports psychologists, physical therapists, rehab centers, and nutritionists have all served to bolster the team's ability leading into the Trials, not to mention their primary support from Brooks Running. Danny Mackey calls them vital to the team's success and positive camaraderie.
While the Trials started off a bit rough for the Beasts (with Loxsom finishing last in the 800m final and new team member Shaq Walker failing to advance out of the semi-final after being tripped), Coach Mackey looks at the second week with high hopes. Katie is one of the team's best shots at a podium position, and is coming off a strong training season with time spent at altitude. New team member Izaic Yorks advanced to the men's 1500m semi-final, and Gabe Grunewald (coached by Mackey though not officially a Beast member) also advanced to the women's 1500m semi after running poorly in the 5000m prelims the same day.
Though she never finished on the podium in high school or college championships, Danny believes his wife's time to shine is now. He's seen her develop first hand from the time she first donned the Beasts kit, and knows the 5000m is a great event for her.
"She figures out ways to win. A lot of that is attributed to her discipline and determination," he said. "I would say she's one of the most, if not the most, determined athletes I've ever been around. I understand because she's my wife that may sound a bit [biased], but I wish other people could coach someone like her because she really wants to do everything and is open minded to do it, but then God just made her where she's able to handle a lot as well. She doesn't just want to make the team; she deserves it, and she's good enough to do it, and she's shown she could do it."
Katie is one of the few athletes to have achieved the Trials qualifying standards in three events: 800m, 1500m, and 5000m. The decision to run the 5000m was based on preference and strategy; Mackey can close hard whether it's a fast race from the gun or a sit-and-kick, tactical race.  She finished sixth at last summer's USA Championships here.
"I'm feeling so positive and grateful and excited to be here," Katie began. "This is my job, this is what we get to do: step on the track and race in a stadium filled with thousands of people for a chance to represent our country at the Olympics. It doesn't get any more exciting than that. Sure there's a little bit of added pressure, but I think that just brings out the best in everybody, myself included."
With ease, Katie kicked her way into Sunday's final with a second place, 15:26.64 showing in her prelim here. The only athlete to beat her was 10,000m champion Molly Huddle.  Huddle, who may very well win the 5000m, probably won't take that team spot in Rio in favor of focusing exclusively in on the 10,000m; that's what she told reporters here yesterday.
"I got a final to get ready for so I'll keep this short. I feel as prepared as I've ever been and I've got business to do now," she told RRW in a short, 15-second interview post-race. "I'll see you in the final!"
From the outset, the Brooks Beasts TC goal was to get athletes on international teams and eventually take home medals. Both Mackeys agreed, that it's time to take the team one step further and get on the Olympic roster.
After all, that's been the ultimate team goal since day one.
"Largely to Danny and Jesse's credit, they had a vision and really stuck to it and created that and made it happen," said Katie. "This is the first Trials [as a team]. We're all excited for it."