By Rich Sands, @sands
(c) 2017 Race Results Weekly, all rights reserved
NEW YORK (04-Nov) — The men's and women's USATF 5-K road championships could not have played out more differently here this morning in Central Park. While Shadrack Kipchirchir only snatched the men's win in the final strides, Molly Huddle took control early and had a solo run to her 25th national title, breaking her own course record. The race was held in conjunction with the Abbott Dash to the Finish Line 5-K, which finishes over the same final stretch of roadway that will host the TCS New York City Marathon on Sunday.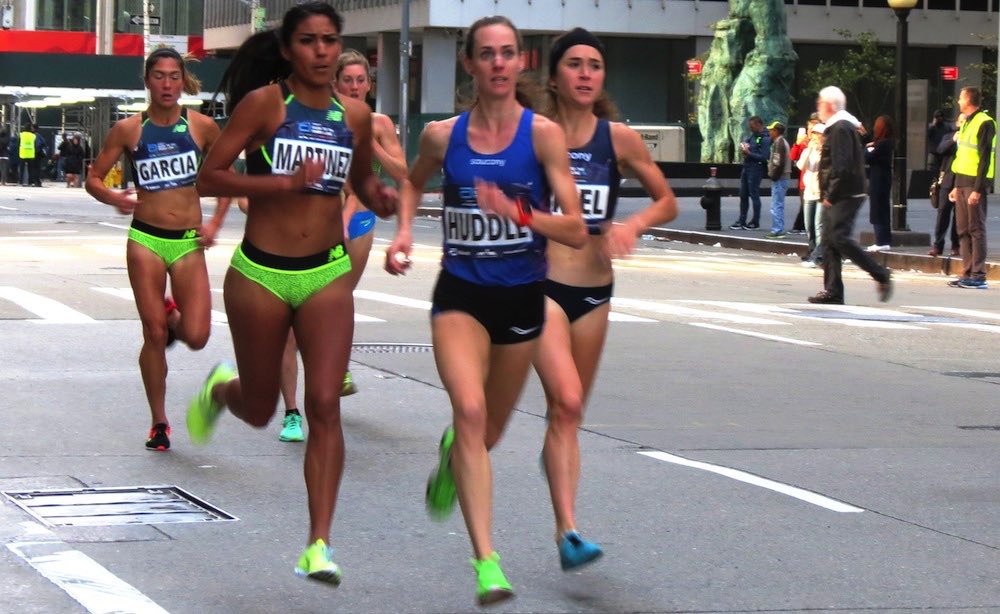 The men's race set off first from the United Nations on a cool morning (49F/9C), with the entire field in a giant pack for most of the first three kilometers, through midtown and into the park. Virginia Tech grad Tommy Curtin moved to the front with less than a mile to go and started accelerating, with Hassan Mead and Ben True close behind. Olympic silver medalist Paul Chelimo began to sneak up on the inside as the road curved north towards the uphill finish, which triggered another surge from Curtin with 200 meters to go as the still sizable field ascended the final climb to the tape.
In a mad sprint to the line, Curtin and Kirubel Erassa nearly tangled while Kipchirchir timed his kick best, coming through to grab the win in 13:57. Curtin, Erassa and Chelimo were all one second behind and the first 11 finishers were separated by less than seven seconds. It was the second USATF title of the fall for the 28-year-old Oklahoma State grad, who took the 10-mile championship as part of the Medtronic TC event in Minneapolis on October 1.
"When I saw the finish line my eyes were in front, I didn't want to look back again," said Kipchirchir, a member of the U.S. Army's World Class Athlete program in Colorado Springs. "I stayed wide and stayed out of trouble. I didn't want to give anyone an inch."
A 10,000-meter specialist who represented the U.S. at the 2016 Rio Olympics and the IAAF World Championships this summer, Kipchirchir was confident of his speed, but wary of his rivals with faster PRs. "I was running out of time to fight them, so I had to wait, wait, wait, see the fake moves and the real moves," he said. "But at the top of the hill I knew this was it."
Curtin, who placed sixth in the USATF Outdoor 5000 last June, was pleased with his effort. "I knew I was ready for this, coming up that last hill my coach was yelling at me, 'just charge after it,'" he said. "I could hear everyone around me and I felt like I was feeling better than they were. Made the charge up the hill and thought I had the win, but Kipchirchir just slipped by me."
Huddle made sure the women's race had no such drama. The 33-year-old Notre Dame grad took the lead early, pacing a breakaway pack that included Brenda Martinez, Molly Seidel, Natosha Rogers, Lauren Paquette and Stephanie Garcia. As they turned right onto Central Park South roughly halfway into the race, only 1500-meter specialist Martinez and Seidel were still in contact, but steadily losing ground.
"Molly (Seidel) was really quiet behind me, so I knew she was feeling good," Huddle said. "Brenda I could hear breathing a little bit. Until I made that hairpin I didn't realize that there was a bit of a gap. But then I had to keep pushing anyway."
She continued to hammer the final segment in Central Park, and hit the tape in 15:24. That improved her course record from 2013 by three seconds and earned her sixth national title in the road 5-K. Seidel broke away for second in 15:35, in her second professional race since graduating Notre Dame this year. Rogers (15:39) and Paquette (15:44) passed a tiring Martinez (15:47) on the long climb to the finish.
Huddle was a late addition to the field, using the race as a test of her fall fitness. "I knew my strength was good, just from some workouts we did," she said, as her collection of national titles over road and track continued to grow so high even she wasn't sure of the exact number. "I just assumed that everyone was still there at the end or could make a move, so I tried to just push all the way to the finish, just keep stretching at the end. The course record surprised me. I didn't think I would run that fast."
Both winners picked up $12,000 for their titles out of a total purse of $60,000, the largest ever for a 5-kilometer road race in history. Kipchirchir said he was finished competing for the fall, while Huddle will run the Manchester Road Race on Thanksgiving Day as she builds up to the Houston Half-Marathon in January.