By Chris Lotsbom, @ChrisLotsbom
(c) 2016 Race Results Weekly, all rights reserved
BOSTON (12-Oct) — With memories of last year's Boston Mayor's Cup Cross Country Meet fresh in their minds, both Liv Westphal and Jim Spisak were motivated to finish atop the podium at today's meet in historic Franklin Park. After placing second a year ago, the pair used experience to their advantage and surged to the top of the podium thanks to strong moves in the middle miles. Hosted by the the B.A.A. and USATF New England, the Mayor's Cup Cross Country meet brought together runners of all ages on a clear but extremely windy day.
In the Women's Championship 5-K, Westphal –a native of France and a Boston College alum– hung back while Northern Arizona Elite's Amy Van Alstine took the lead. Hitting the mile in 5:10, Van Alstine had ten meters on New York's Mary Cain, with Westphal another five steps behind.
Familiar with Franklin Park's notorious Bear Cage Hill and Wilderness Loop, Westphal gradually began to chase down Van Alstine and Cain while conserving energy for the final mile. Westphal charged down Bear Cage Hill and caught up to Cain by the two mile mark, yet Van Alstine was still ten meters ahead.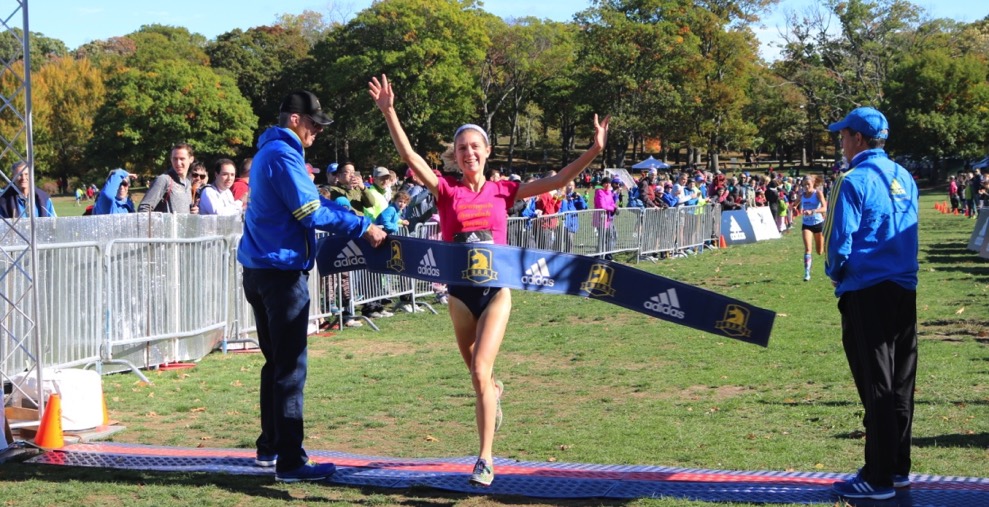 "I just tried to move up, move up," said Westphal, 22. "To be honest, this is my home course and it's here that I raced for the first time for B.C. in 2011. It's my seventh race at Franklin Park so I knew the course very well and when they started that fast, I was like, 'You know, it's such a challenging course especially Bear Cage!' So I knew when to make my move and where I can catch up to the girls."
Not one to panic, Westphal methodically chipped away at the gap until reaching Van Alstine's shoulder with a kilometer to go. Running by herself in third was Cain, 50 meters back.
Whether it was her familiarity with the course or motivation to win in her home city, Westphal moved away with ferocity in the final 800 meters. Van Alstine's early aggression proved to be costly, as she didn't have enough to match Westphal's kick. Westphal put four seconds on Van Alstine, breaking the finish tape first in 16:53. Van Alstine was second in 16:57 with Cain third in 17:08.
"I love New England, I love the New England Association and the convergence of professional runners, college runners, and those who love to run. That's why I'm trying to stay in Boston as long as I can, cause it's a runners city… This meet really represents the city's sports," said Westphal, putting the race into perspective. She even drew inspiration from the youth races before she took the line. "They were so fast and so cute. I was not sure if I could go as fast as them on Bear Cage but they were very impressive!"
The Mayor's Cup title was particularly rewarding since Westphal is just coming back from a debilitating injury. While racing her final season at Boston College, Westphal ran from January to May nursing a torn right hamstring. The injury was only discovered when she went back to France and had an ultrasound.
"I really pushed my body until I just could not," she said. "I'm really building back now…. I think today is very, very rewarding. It's a comeback… It's a true pleasure to run here pain free."
After formally announcing a change in coaches from Alberto Salazar and the Nike Oregon Project to New York's John Henwood yesterday through her blog, Cain ran well in front of a large contingent of fans. She was encouraged by the performance, and said the race was a good learning experience. She'll continue to race cross country and on the roads this fall.
"I haven't run a lot of race-pace this year, and a lot of the build-up has been slower and mileage. I think going into it I was probably a little too tentative, so I was often finding myself in no-man's land and almost not competing enough. I was almost trying to stay within myself more, and I think at the end I kind of felt that a little bit. By that point I had let the gap occur," said Cain, speaking exclusively to Race Results Weekly. This was Cain's second race since a disappointing 11th place finish in the Olympic Trials 1500m.
As for her change in coaches, Cain said it was only natural to decide to leave the Oregon Project simply because she lives in New York and is closer to Henwood. Cain appeared upbeat and excited with the decision, speaking at length about what it means for her future.
"It was kind of a natural transition in that for the foreseeable future I don't see myself leaving New York. It's good to have someone who is there to see you day to day, even hop into some runs with you. Having John be able to really take control of my training, I think it will be really imperative for my success over the next few years."
Cain reiterated that she has no regrets about training with the Nike Oregon Project, and cherishes the time spent with the group.
For the Men's Championship 8-K, New England Distance's Jim Spisak ran away with the title. In 2015, Spisak lost by three seconds to Trevor Dunbar in a sprint to the line. Not wanting to risk the same result, Spisak opened the race up with a 4:31 mile and instantly had a lead. The gap would grow to 10 seconds by two miles and a good 200 meters by four miles.
Spisak won in 23:37, a fast time considering the harsh winds and tricky footing on some parts of the course. Zap Fitness's Matt McClintock (formerly of Purdue) and Aaron Nelson rounded out the top three in 24:01 and and 24:10.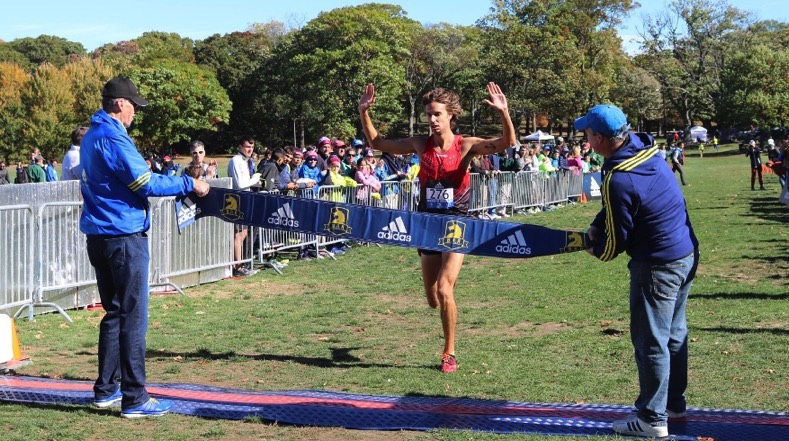 "Our coach wanted me to get out there today and have a really solid effort. The pace felt kind of middling, not really too hard and I wound up at the front," said Spisak. "Before I knew it a little bit of a gap opened up. From there I wanted to keep the pedal down a bit… To be able to win and open up a gap on some of these guys is a definite positive."
Spisak will now turn his attention to the EQT Pittsburgh 10 Miler, then the Manchester Road Race on Thanksgiving, and the USA Club Cross Country Championships in December.
Spisak helped NE Distance take home the team title, scoring a total of 19 points over the B.A.A. (55) and Battle Road Track Club (59). Spisak and his NE Distance teammates had a busy weekend: on Saturday, the team took middle school cross country runners they coach from inner city Providence and Woonsocket to the Rhode Island State Championships.
"The kids really had a blast. It's just rewarding," he said. "For a lot of these kids there aren't that many activities going on getting them out of their neighborhoods. It was a lot of fun and a good day all around."
The Mayor's Cup Cross Country races also included multiple youth events for local school and town clubs. Children raced a 1.1-mile course that included Bear Cage Hill.