By Chris Lotsbom, @ChrisLotsbom
(c) 2017 Race Results Weekly, all rights reserved
NEW YORK (11-Feb) — The mailman strikes again.
Ajee' Wilson brought the crowd to its feet here at the 110th NYRR Millrose Games, shattering the American indoor 800m record in 1:58.27.  Wilson and teammate Charlene Lipsey, coached by U.S. Postal Service mail carrier Derek Thompson, led a one-two sweep in one of several terrific races at the New Balance Track & Field Center at the Armory in Upper Manhattan.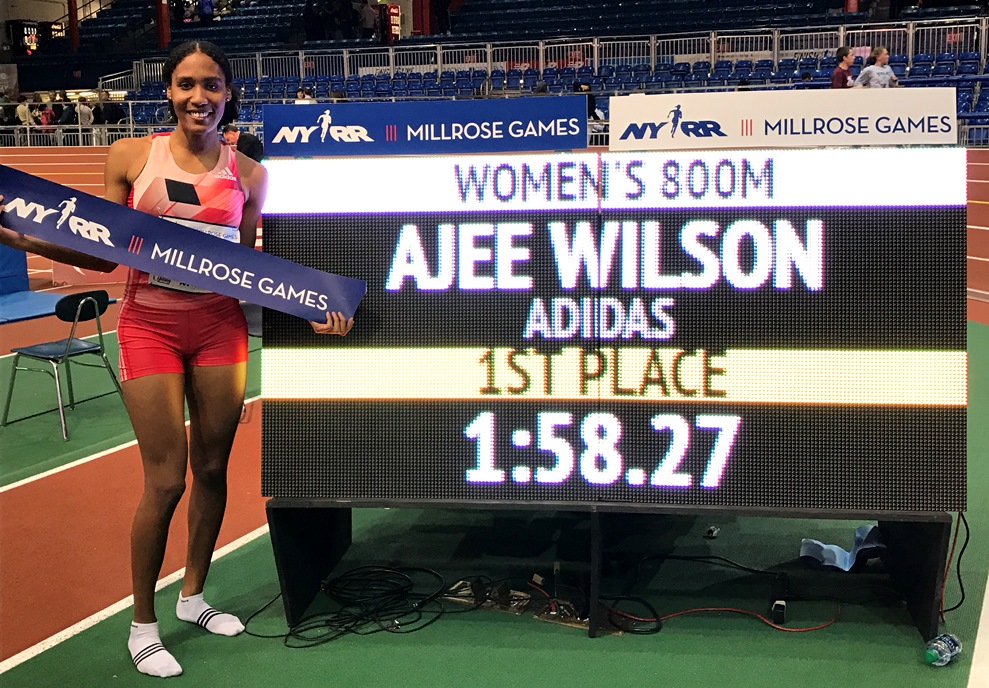 WILSON BREAKS 14-YEAR OLD 800M RECORD
"Before we came out here today, my coach knew we were going to go 1:58," Wilson said, speaking about herself and Lipsey, who became the second-fastest American ever indoors at 1:58.64.
Heading into every race, Thompson is known to give Wilson very specific directions. It has worked in the past, leading Wilson to national titles and global medals. This season, he's told her to simply run by feel.
With training partner Kimarra McDonald doing the pacing, Wilson and Lipsey both shot to the front and tucked in behind their friend. Just like in practice, the trio rounded the Armory oval and hit 400 meters in 57.15 seconds.
"The last 400m, when she peeled off, I just wanted to keep the momentum going and keep the pace going," Wilson said. "We knew we could have went 1:58. My coach told us we were in shape to do it so it was something that we were going for." Wilson emphasized the word "we;" if she was going to succeed, Lipsey would to.
In the final lap Wilson noticed Lipsey was right off her shoulder and closing in. Going to the well, Wilson dug deep and shot to the tape in 1:58.27. When the time popped up on the board, she noticed Lipsey's mark of 1:58.64. Together, both had dipped under Nicole Teter's 14-year-old American record of 1:58.71 (set here at The Armory in a national championships race without the benefit of pacemakers).
"I think that was more for my teammate than it was for me," Wilson said, speaking of her celebration with Lipsey. The pair began training before this season. "That's a huge PR for her. I'm just beyond excited. It was a big jump for her. She's come out and trained with us, and it's definitely been the biggest blessing to my career, to my training. We have a great friendship and I'm super happy for the both of us."
Instead of posing alone in front of the timing board that flashed her American record time, Wilson insisted Lipsey join her and that they pose together. The pair did not stop smiling and giggling for at least a half hour.
Also breaking a record was high schooler Sammy Watson. The Henrietta, N.Y., native finished sixth in 2:01.78, shaving .02 from Mary Decker Slaney's 2:01.8 national high school record.
"My goal was to try to be competitive," Watson said. "I was just trying to calm my nerves and get the experience of running with the professionals." She'd only learn she'd broke the record when speaking with members of the media.
"I knew if I could go under 1:30 [for 600m] then I could get close to two minutes, very close," she added.
NIKE OREGON PROJECT ATHLETES SWEEP WANAMAKER MILE TITLES
Only three women have won the NYRR Wanamaker Mile title in three straight years. Toeing the line, Shannon Rowbury was aiming to become the fourth. Teammate Sifan Hassan would end Rowbury's winning streak with a world-leading and meet record 4:19.89 time, the first time since the 4:20 mark had been breached indoors on U.S. soil since 1999.
Through halfway in about 2:11, a pack of four had formed: pacer Lauren Wallace led Norcal Distance Project training partner Kate Grace, with Hassan and Rowbury in their slipstream. When Wallace stepped off just past 1000 meters, the race was on. For the final three circuits, Hassan was in control.
Opening up her stride and letting her arms flail back and forth, Hassan pulled away from Rowbury and Grace. Her kick was untouchable. Breaking the tape alone, all eyes quickly darted from Hassan to the clock: the time read 4:19.89, a meet record (previous 4:21.45), facility record, a Dutch national record, and world lead. Hassan had come within three seconds of the indoor world record.
"I tried to plan to go the last 800m. The pace was very good so I just picked it up the last 600 meters," Hassan said. "It's nice… It's very good. I'm happy."
Behind Hassan, Grace passed Rowbury after the 1500m mark to get second in a career best 4:22.93 to Rowbury's 4:23.05.  Heather Kampf came from eight place at 1500m to finish fourth in 4:28.39, and South Africa's Dominique Scott-Efurd finishing fifth in a South African national record (4:28.47).
Hassan also ran a world-leading 4:03.05 at 1500m, with Rowbury running a U.S.-leading 4:04.56.
Eric Jenkins made it a clean sweep for the Nike Oregon Project milers, surging past hometown favorite Kyle Merber in the final lap to win in 3:53.23, also a world lead. Following coach Alberto Salazar's directions, Jenkins tucked behind the rabbit Daniel Winn and stayed in prime position lap after lap. Reaching halfway in 1:56, Jenkins was surrounded by Robby Andrews, Merber, and Clayton Murphy, the Rio Olympic 800m medalist.
The knowledgeable crowd yelled loudly when Long Island's Merber took the lead at the bell. Hoping to become the miracle story of the meet –going from Millrose High School Mile champion to Wanamaker Mile champion over the course of nine years– provided a surge of adrenaline. "You could hear my mom," he'd joke, saying that her cheers rose above the rest of the loud stadium.
Jenkins bided his time and struck with 120 meters left, snatching the victory from Merber. Jenkins broke the tape in 3:53.23, securing a third straight win for the Nike Oregon Project (Matthew Centrowitz had won the previous two editions). Murphy passed Merber in the final strides for second (3:54.31 to 3:54.67).
"I've been loving the miles out here. They feel good and I'll keep coming back as long as they do," Jenkins said. Last year he won the New Balance Fifth Avenue Mile in September. When Merber took over the lead Jenkins remained calm. "I felt really good and once I really started stretching it out and going, I was pretty confident I had it."
Jenkins was one of many Nike athletes wearing a shirt that read EQUALITY.
"I'm proud to be wearing it. It means a lot to me and I'm happy to see so many Nike athletes wearing them today," Jenkins said. "Equality to me just means everyone being treated the same. Kind of the Golden Rule, that's how I live. It means something different to everyone, but that's what it means to me."
Before having a chance to celebrate the victory, Jenkins was back on the track doing a workout under the watchful eyes of his coaches. He did laps for close to an hour while both Rowbury and Hassan each did their own respective workouts.
BEN TRUE AVOIDS DISASTER, TAKES HOME PAAVO NURMI TWO-MILE
With six laps remaining, the men's two mile was shaping up to be a battle for the ages. Scotsman Andy Butchart injected a hard surge to shake up the field, dragging with him Nike Bowerman Track Club teammates Ryan Hill and Mo Ahmed, as well as Saucony's Ben True. Consecutive 30-second laps of the 200m banked track only further distanced the quartet from the field.
Hill, a self-proclaimed lover of the 3000m, took off at the bell with hopes of securing a win with his lethal kick. Last year it led him to IAAF World Indoor Championships silver; today he hoped it'd be a big two mile victory.
Around the final turn, Hill and True drew even. Hill hugged the inside as True swung wide, avoiding a lapped runner, Kemoy Campbell. Then, in the blink of an eye, disaster seemed imminent. A woman holding the break tape was positioned on the line in between lanes one and two, directly in the path of both athletes (she was trying to avoid Campbell).
A collision was narrowly avoided. True drifted to the right, breaking the tape with force in a world-leading 8:11.33 to secure the win and a personal best Hill faded in the final steps and finished in 8:11.56, inches from the breaktape holder. He hadn't seen her due to his supreme focus.
"I didn't know where we were supposed to go, but I thought I'd go for the tape and luckily I had enough of a step that it didn't cost me the lead," True said, laughing about the near collision. "It's something special for sure, especially for how terrible the first lap went for me when I was second to back of the pack. I was thinking it was going to be a long race from back here."
Hill admitted he ran out of gas in the final 30 meters. Looking at Race Results Weekly's photo of the near collision, Hill laughed. "Let's blame the loss on her," he joked with a hearty laugh, clearly exaggerating. "I didn't even see her to be honest. She wasn't in the way at all. I just ran out of steam and Ben had that gear."
One consolation for Hill was that he set a world-leading time for 3000m, hitting that split in 7:40.80, just ahead of True (7:40.96).
BEST OF THE REST
Courtney Okolo ran an American record of 1:07.34 for the 500m, drawing a standing ovation from the crowd. Runner-up Alysia Montano, who is not running unsponsored, crossed the line in 1:09.55 for second. Less than 24 hours after being upgraded to the bronze medal for the 2011 and 2013 World Championship 800m, Montano spoke emotionally about her feelings.
For starters, Montano had immense trouble getting here due to a fierce snowstorm that came through the region on Thursday. Her travels were only exacerbated when she learned via Twitter that she had been upgraded.
"I found out in my tweet mentions. That's how I found out," Montano said, shaking her head. Without her family –and not receiving an official letter from the IAAF– Montano was disgusted.
"I should NOT be finding out from everybody else on twitter mentions. Like I said, I was on the flight over here and I knew I was going to compete here. I haven't even been able to deal with it myself," she said. "No, I haven't heard anything from them [the IAAF] ever. They sent me a tweet on my birthday last year. Happy birthday with my face blasted across their twitter, but no [other correspondence]."
Together Brooks Beasts Brannon Kidder and Cas Loxsom tracked down David Torrence as he tired with a lap left of the men's 1000m. Drawing even with 100 meters to go, Kidder passed with momentum and went on to win in 2:19.92, a world lead.
Kidder was pleased with the win and said he'd focus on the 1000m at the U.S. Indoor Championships, then shift to the 1500m outdoors. Torrence was third in 2:21.43 and Donavan Brazier fourth in 2:21.79.
"That was my first 1000m and I think you could tell," Brazier said. "I think you could tell by 600 meters it was my first one."
A last lap, final turn pass by Canadian Kate van Buskirk gave her the Women's 3000m title over Stephanie Garcia. Garcia was the only runner to go along with rabbit Ashley Higginson through the mile, and fought hard over the final kilometer to separate from the charging Canadian van Buskirk. A week ago van Buskirk lost in a one-mile race at The Armory in a late move by Charlene Lipsey; she didn't want the same thing to happen today.
"The goal was just to cover moves as they were made and be tough when it starts to hurt, because that's what it takes to be a solid 3000m/5000m runner," said van Buskirk. She'd move by Garcia entering the final straight, winning 8:52.08 to 8:53.48. Van Buskirk's time was a PB by more than 20 seconds. "I knew I was ready for something good, but this is a bit of a surprise. I'm really happy."
Though exciting, the Women's 3000m was plagued by unfortunate events: 2015 NCAA cross country champion Molly Seidel had to scratch less than an hour before the race after tweaking a muscle in her warmup, and Brie Felnagle withdrew after arriving in New York due to illness.
Earlier in the meet program, Cristian Soratos set a new PB to win the Men's Invitational Mile in 3:54.23, tying the world lead. After returning to his college roots in Bozeman, Montana, Soratos said he's reached unprecedented form this year. Abbe Goldstein of Germantown Academy (Penn.) was the Girls' High School Mile winner going away in 4:49.06, while Noah Affolder earned the Boys' honor in 4:07.24.
The Penn Quakers had a successful distance day. Chris Hatler broke four-minutes for the first time in the mile (finishing second to Soratos), and their quartet won the Collegiate Distance Medley Relay in a sprint over Fordham, 9:47.28 to 9:47.61.