Men's Track Preview
This second preview for the World Championships looks at the men's track events and race walk.
Nick Willis was one of four medallists at the Rio Olympics last year, in the blue riband 1500m for men.
The owner of two Olympic medals, 1500m silver at 2008 Beijing Olympics and bronze at the 2016 Rio Olympics, has never medalled an IAAF World Championships and would dearly love to get amongst the medals in London.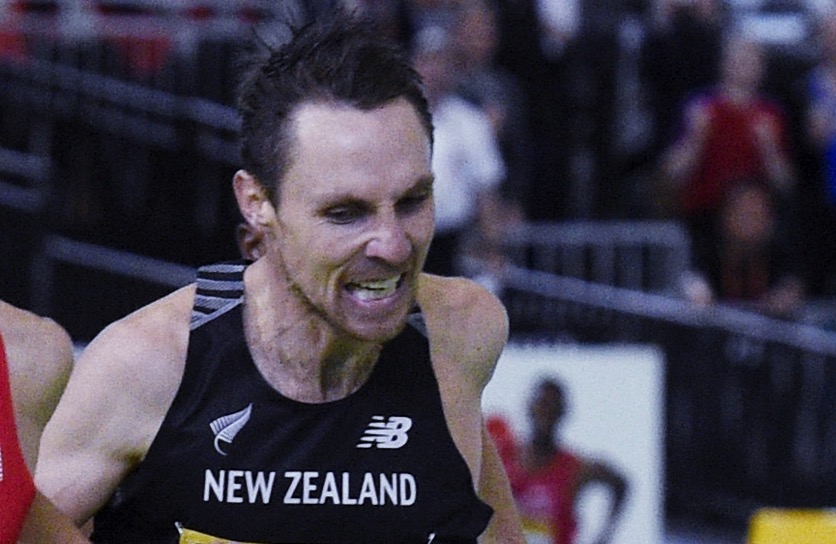 However, the 34 year old from Lower Hutt (now domiciled in Michigan) has had a somewhat interrupted preparation to the championships with injury affecting his training.
Shin splints in the early part of the season meant that he left it until the last possible race to qualify, running 3:34.74 at the Monaco Diamond League meeting in late July.
As is often the case at major championships, the challenge will be to make it to the final, negotiating the heats and semi-finals which can feature inconsistent pace and fast finishes. If Willis can get to the final there is every chance that he could improve on his best performance, a sixth in Beijing.
Zane Robertson has also had an interrupted preparation for his 10,000m race, but the last month has been very satisfying and he has indicated that he is in a better position than at the same time last year when he went on to place a highly creditable 12th, setting a New Zealand record of 27:33.67, slicing eight seconds off Dick Quax's previous record.
The 27 year old, currently based in Kenya has ambitions to improve his placing from Rio and set another national record before a debut marathon later this year.
Quentin Rew has had some top placings in the 50km race walk at major events recently, claiming  12th place in at last year's Rio Olympic Games with 3:49:32and tenth at the 2015 Beijing World Championships in 3:48:48.
The 33 year old physiotherapist who trains and works in Melbourne is aiming for improvement in London, where he finished 27th in his Olympic debut in 2012. He would also relish the capture of the New Zealand 50km race walk title, currently held by Craig Barrett at 3:48:12
Joseph Millar will be racing the 100m and his more favoured 200m at the London championships.
Millar had an outstanding New Zealand summer including setting a New Zealand national record of 20.37 for 200m and a resident record of 10.18 for 100m at the national championships in Hamilton, then taking out the sprint double at the Australian championships.
The 24 year old Tauranga athlete who has won the NZ 100m / 200m sprint double four times has fulfilled a long time goal of making a major championship event.
If he can replicate his form that he showed in New Zealand and Australia earlier this year he has a reasonable chance of making it to the semifinals the 200m.
Millar will be in action on the first day of the championships in the 100m heats on Saturday morning (NZ time).
Men's Field Preview
Three of the four Kiwi athletics medallists at the 2016 Rio Olympic Games will be lining up at the IAAF World Championships starting on Saturday morning (NZ time) in London.
This first of three previews looks at the chances of the male field eventers, all throwers, featuring two shot putters, a javelin thrower and a discus thrower.
Rio shot put bronze medallist Tom Walsh has had a strong series of results leading up to his second world championships event.
Since finishing fourth two years ago at the 2015 Beijing World Championships, the Canterbury builder has won gold at the World Indoor championships in March 2016, finished third in Rio, won the 2016 Diamond League shot put and raised his New Zealand record to 22.21, ranking him 16th all-time in the world.
Walsh's last two competitions have both yielded tosses of over 22 metres and he is rounding into some excellent form ahead of the world championships.
The biggest threats to the 25 year old Kiwi's aim to upgrade his Rio bronze come from US shot putters Ryan Crouser and Joe Kovacs.
Olympic champion Crouser, who threw in New Zealand earlier this year to claim two victories over Walsh, won in Rio and has been unbeaten in his last ten outings. His last defeat, which was to Walsh, came at a Diamond League meeting in Zurich in September 2016.
The giant American has a best this season of 22.65 at the US championships in June, the best throw in the world since 2003. Just behind him comes Kovacs who threw 22.57 in May and is the defending world champion.
Competing in the same event is Jacko Gill, eighth in Beijing two years ago and ninth in the Olympic final in 2016. The 22 year old Aucklander improved his best to 21.01m in January this year and will be aiming for another top eight finish.
The former world junior champion (2010 and 2012) is ranked 20th going into the championships but his ability to throw well in major events could see him finish much higher.
Javelin thrower Ben Langton Burnell will be competing at his first major international event at the London World Championships.
A late qualifier for the championships courtesy of his win at the Oceania Championships and a personal best of 82.44m, both in June, his prior international experience has been at the 2015 World University Games where he finished tenth.
The event looks like it will be dominated by Germans who hold the top three ranking positions this season.  Johannes Vetter (94.44 this season) and Thomas Rohler (93.90 also this season) will be hard to beat.
The 25 year old Cambridge accountant will need to throw above his personal best to secure a place in the final 12 and progress past the qualifying rounds.
Marshall Hall is a late bloomer who wasn't thinking about the world championships until he threw a big 64.55m in California in May. Going into the championships ranked 24th, the 28 year old Auckland social worker will need to replicate that performance to progress past the qualifying round.
Hall will be the first Kiwi in action at the championships on Saturday morning (NZ time) for the discus qualification round.
Athletics New Zealand