By David Monti, @d9monti
(c) 2017 Race Results Weekly, all rights reserved
LONDON (03-Aug) — When Jenny Simpson takes to the track at London Stadium in Queen Elizabeth Olympic Park here tomorrow night for the preliminary round of the 1500-meters at the IAAF World Championships, the 2016 Olympic bronze medalist can depend on a decade of world championships experience to steady her.  All potential distractions must be blocked.  She must finish in the top six of her heat or be one of the six fastest losers to advance to Saturday'ssemi-finals.  There are no do-overs.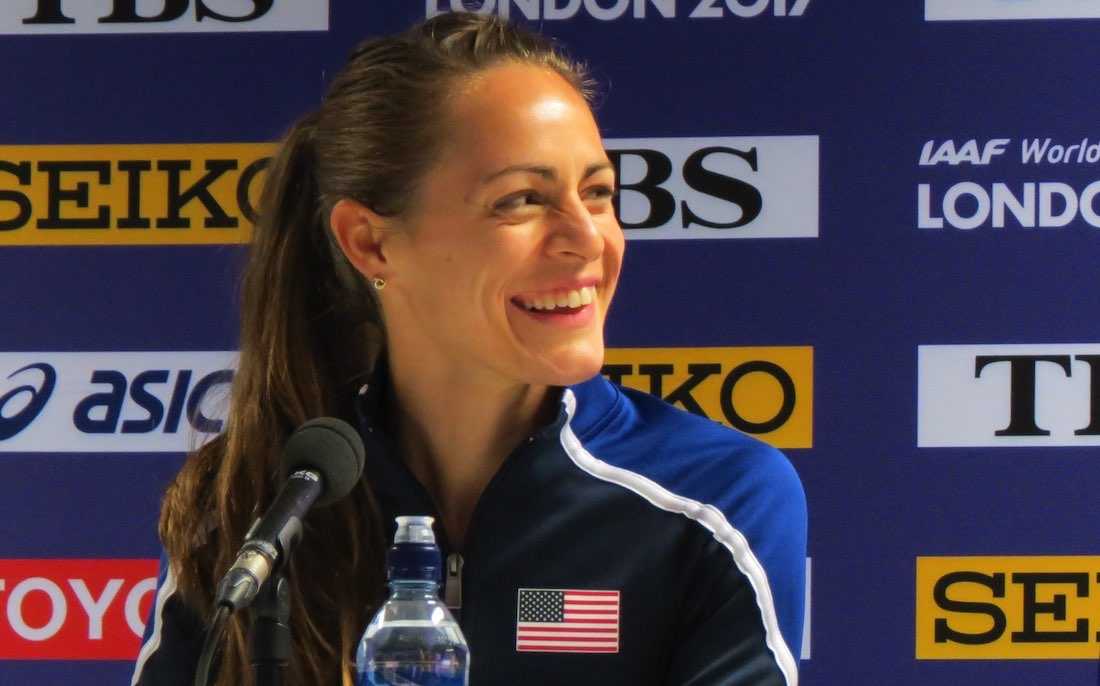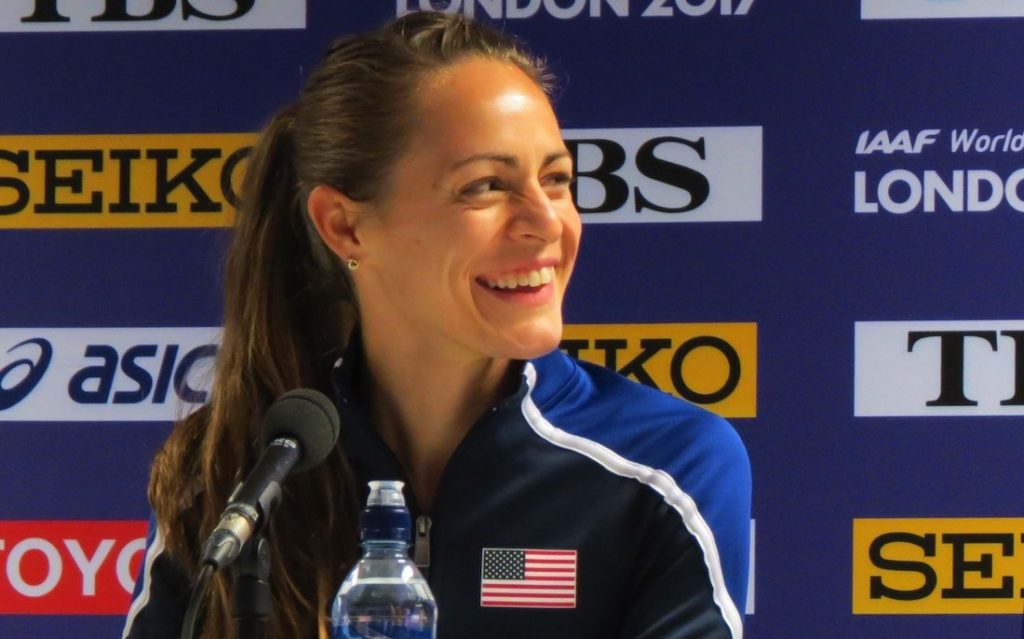 "My event is full of controversy this year," Simpson mused at a press conference here today.  "This isn't unique, 2012 wasn't unique, unfortunately.  That's something that we continue to face.  But I'm here, fit and worked really hard.  So, I'm excited to see how I can stack up with the competition that's been allowed to toe the line."
It was in this stadium at the 2012 Olympic Games that the so-called "dirtiest race" was contested.  In that women's 1500m final, both the gold and silver medalists, Asli Çakir Alptekin and Gamze Bulut of Turkey, were eventually disqualified for doping.  A further four athletes –Tatyana Tomashova of Russia, Abeba Aregawi of Ethiopia (now Sweden), Natallia Kareiva of Belarus and Ekaterina Kostetskaya of Russia– were convicted of doping, either before or after the race (Kareiva and Kostetskaya were both disqualified retroactively).
Simpson, who had come into the 2012 Olympics as the reigning world champion, did not compete in that final (she had only finished tenth in her semi-final). But that race represents a touchstone for her in the fight against doping.  She knows that the sport is still far from pristine, but she sees progress and hopes that the fans will help drive the clean-up.
"People are motivated to clean up the sport," said the five-time New Balance Fifth Avenue Mile champion.  "There's been a lot of awareness internally within the sport, but I'd like to call on a lot of the fans and a lot of the people who savor their love for the sport outside of kind of the inside-baseball crew.  You know, the fans are the ones who really drive the desire to see humans reach towards greater heights.  So, if we can do that with just what's inside of our bodies and how hard we can work, I think that the fans will be the next level of incorporating them into the progress towards a cleaner sport."
Should she make the semi-finals, Simpson cannot be distracted by a special awards ceremony which will be held just prior to her race, although it could give her additional motivation.  Kara Goucher, who like Simpson competed for the University of Colorado during her NCAA career,  will be receiving a silver medal from the 2007 IAAF World Championships 10,000m.  Goucher, 39, who is still an active athlete but who has battled injuries the last several years, will be elevated from the bronze medal position due to the disqualification of Turkey's Elvan Abeylegesse for doping.  Simpson said that the award ceremony will stir up conflicting emotions.
"It's difficult to watch an awards ceremony that's a decade in the correction-making," Simpson said.  "I think that my heart sinks a little bit when I know that you can be retired, and long gone, and kids, and an age away from the peak of your career and finally being given what you deserve.  And so, we've got to fix that.  This sport has to care about that and fix that, especially because as you build momentum in your career that really motivates you along the way, and really helps you along the way.  So, I want to start out there's a little bit of an ache in my heart when I see that.  It's certainly not just Kara or just the 10,000 meters.  This has been something that has had to be rectified over the years in lots of different events across the runs, jumps and throws.
"But, certainly, it's fun to be able to gather around and celebrate and make the record straight," she continued.  "I think my emotions are really evenly split between that ache and that joy.  One of the things I want to say that I really appreciate and applaud is that they're making a big deal out of it.  I don't know of another instance where they had an awards ceremony at a world championships.  It seems really appropriate, and it seems exciting, and right that they would fly the medalists in and say you deserve to stand on the podium in front of the crowd and get the medal around your neck.  Hopefully, this is a model for how they'll correct things as we move on in the future."
Simpson could face two-time Olympic 800m champion Caster Semenya of South Africa in her semi-final, another potential distraction which she must block out. The 26 year-old South African –whose body naturally produces more testosterone that most women due to a condition called hyperandrogenism– may be banned from the sport, or forced to have her testosterone level reduced through medication should the International Association of Athletics Federations (IAAF) prevail in a legal action now in front of the Court of Arbitration for Sport.  It's a very controversial issue, but Simpson must look past it.
"I'll be honest: I'm not especially well-versed in the controversy of the issue, especially because each athlete kind of has their way of staying in your own lane and preparing for your event," Simpson said.  "I've been very focused very much on my own preparation and training.  The announcement that she would be in our event was only, I think, maybe, two weeks ago or so?  It was relatively recent.  This is one of many in my long journey of having been in this sport, one of many controversies in the 1500 meters.  So, that's not new to our event to me.  According to the rules, she's allowed to toe the line so I'm going to try to beat her."
Simpson has shown good form this season.  She won her fourth straight USA 1500m title last June, and clocked a career best 4:19.98 for the mile at the London Diamond League meeting here last month, passing through the 1500m mark in 4:02.57.  She declared herself fit and ready to try for her third medal at these championships where, without pacemakers, superior tactical skills play a big part in success.
"I'm happy, I'm healthy," she said.  "Really my main goal is to toe the line at the final.  If you're in the 1500 meters and you toe the line at the final, I can be tough to beat."
PHOTO: Jenny Simpson of Boulder, Colo., speaks to the media prior to the 2017 IAAF World Championships (photo by Jane Monti for Race Results Weekly)