By Len Johnson reporting from the Gold Coast
You will find Nick Hough and Alex Hulley side by side in the Australian Commonwealth Games Media Guide, but hands up anyone who expected to find them, if not exactly next to each other, one after the other on the medals' podium.
Stranger things happen at sea, as they say, and with rain falling intermittently, and at times heavily, throughout the night, nautical analogies are appropriate here. Hurdles and throwing events are notoriously more difficult in rainy conditions and both these athletes faced them down with aplomb on Tuesday night at Carrara Stadium.
Hough took a bronze medal in the 110 metres hurdles, improving one place on his fourth in Glasgow four years ago. He likes the Commonwealth Games, it seems. He ran the fastest time by an Australian since Kyle Van Der Kuyp in 1996 and won the first men's hurdles medal since Don Wright took a bronze in Edinburgh in 1986. He was just 0.09 outside the Australian record Van Der Kuyp ran in the quarter-finals of the 1995 world championships in Gothenburg.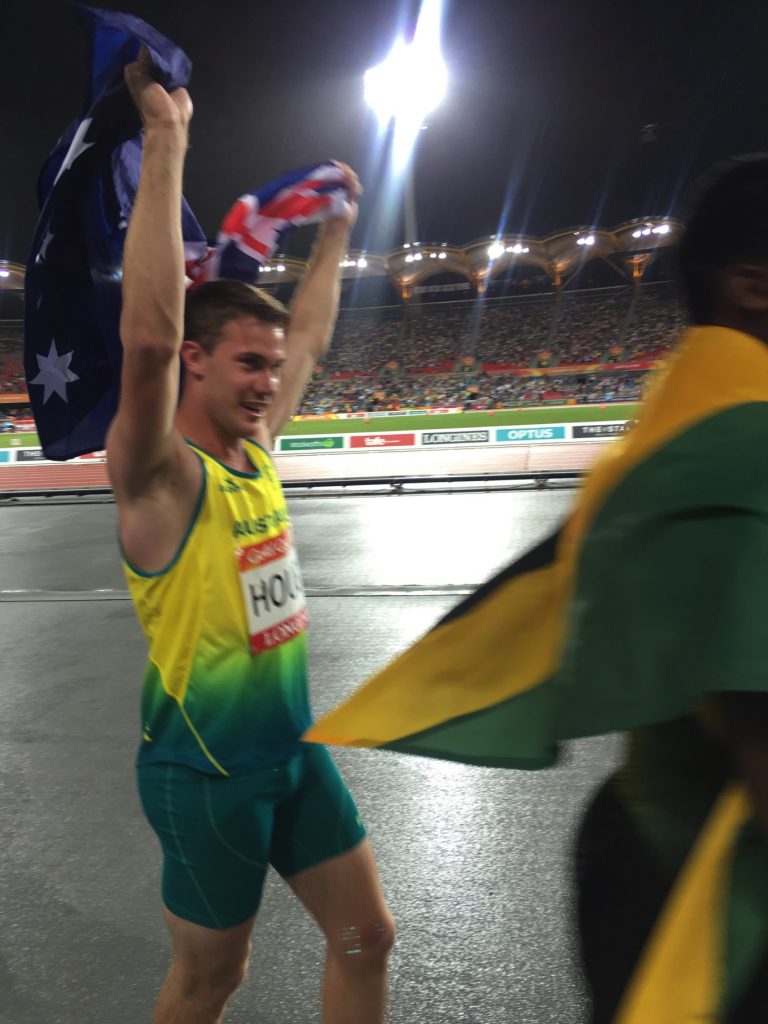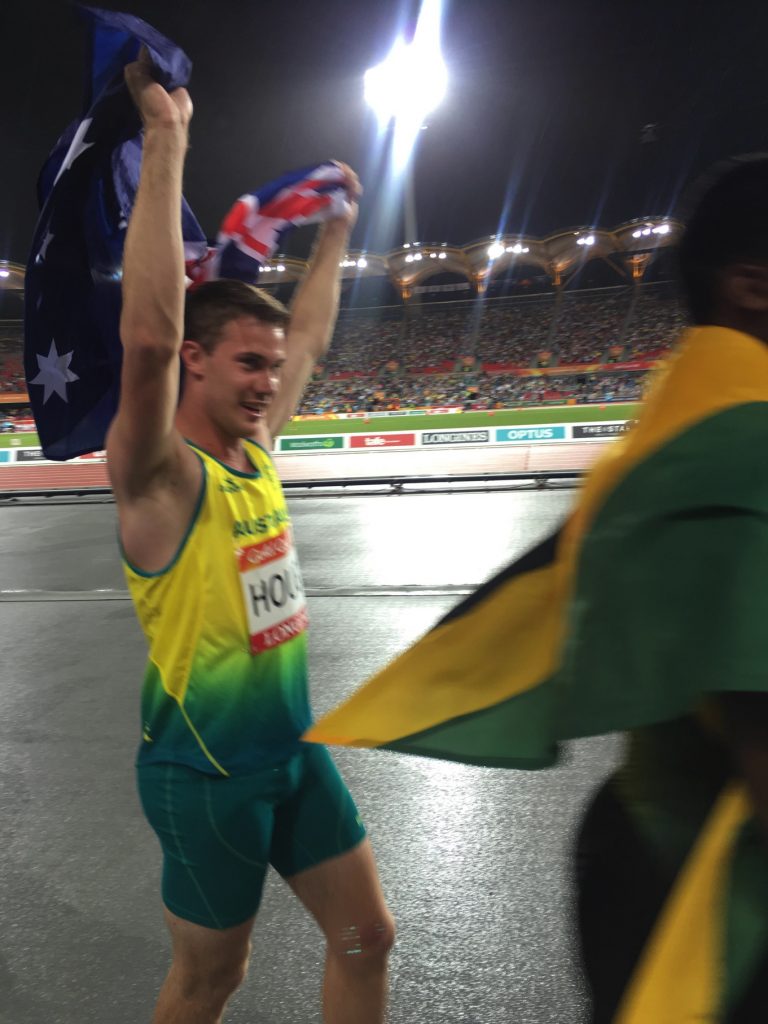 Not bad numbers.
Hough is a solid lump of a lad who attacks the hurdles with the aggression traditionally shown by some of the best American hurdlers. Not for him the silky smooth progress over the barriers of the likes of former world record holder Colin Jackson.
If Hough doesn't go over a hurdle cleanly, he makes sure he gives it a bigger whack than it is able to give him. His run in the final was smoother than his heat run the previous day, but there were still several barriers glad to see the back of him.
Jamaican duo Ronald Levy and Hansle Parchment finished one and two, but he left many more fancied ones behind, including England's Andrew Pozzi. Who would have thought we would get a hurdles' medal without Sally?
Alex Hulley has been throwing things around since Little Aths. She may have practiced tossing toys out of the cot, for all we know. But the 20-year-old has found her talent lies in the hammer throw. And on a wet night, in difficult conditions, it paid off with a silver medal.
Hulley took the lead in the first round with 68.20, then lost it next round to New Zealand's Julia Ratcliffe, the ultimate gold medallist. But she maintained a consistent form throughout, keeping her head and footing as more fancied rivals lost both. England's Sophie Hitchon,  rio Olympic bronze medallist, bowed out with three no-throws. Canada's 70+ thrower Jillian Weir did likewise.
Hulley's 68.20 held up throughout the competition for the silver medal and Lara Neilsen manged a 65.03 which sufficed for bronze.
If you fancied Australia for three medals in the high hurdles and hammer throw, good luck to you. You're a better judge than most of us.
Once again, there was plenty to like on this day from an Australian team that continued to compete well in depth.
Luke Mathews and joseph Deng thrived in the hot sun of the morning to make the final of the men's 800. Deng ran with one of the Kneyan favourites in the first heat and while he just lost second place (and an automatic qualifying spot), he was rewarded with a fast enough time to go through.
Mathews drew defending champion Nijel Amos and followed him through comfortably to take second place in the next heat. Only Josh Ralph missed out, and he gave it a pretty good shot in the third and final heat.
Henry Frayne broke the Games' record with a leap of 8.34 in long jump qualifying, and Fabrice Lapierre and Chris Mitrevski will join him in the final.
Cometh the evening, cometh the rain. The hot sun and 30deg temperatures gave way to showers and, occasionally, heavy rain. But Cedric Dubler held on to take a bronze medal in the decathlon, the first for Australia in the event since Jason Dudley in 2006. Both men share the same coach, Eric Brown.
Annaliese Rubie produced a personal best to go through to the final of the women's 400 metres. Steve Solomon was in the men's 400 final having run three quality rounds on three successive days of a championship for the first time since he broke through at London 2012. Hopefully this is a turning point for him.
Finally, the women's 1500 final in which Linden Hall, Georgia Grifiith and Zoe Buckman were chasing Australia's first medal since Melbourne 2006.
None will be entirely happy with the outcome – Hall fourth, Griffith fifth and Buckman 12th, but Hall and Griffith in particular can be satisfied they ran their best races. Hall was up on the pace with Beatrice Chepkoech of Kenya, Griffith was forward and then came home with a well-judged sprint. Interestingly, had anyone been able to deploy that change of pace against Caster Semenya, the result may have been different (but maybe not!).
Instead, Melissa Courtney of Wales slipped past Hall in the last 60 metres to take Wales' first 1500 medal since Hayley Tullett – in Melbourne in 2006. At least someone pulled that trick off!
Three medals, pretty well everyone who went round competed well. You can't ask for much more than that.