When I first ventured to the US back in 2007 to take up an athletic scholarship, there were a number of cultural peculiarities foreign to this skinny little runner from Melbourne. The first was the prominence of tattoos. Everyone had them - all my teammates, and all the kids around the university. Not surprising, seven years later, tattoos are not so peculiar anymore in Australia, as trends and behaviours traverse the rapidly shrinking barriers between different cultures and different lands. However, there was another rather confronting peculiarity among my many teammates and among the competitors I came across: a far more prominent and public declaration of religious faith. Teammates had bible verses tattooed across their chests, or on their arms. Facebook might better have been called Prayerbook at times. Conversations about running were punctuated with religious convictions - "Running is a gift from God". "I'll be praying for you to have a good race, Dave." Of course, the pride and conviction with which faith was held and shared didn't offend me - I'm not easily offended, and I attended a catholic boys school after all. But coming from a country and culture where the Aussie exterior tends to have been hardened by the heritage of an unforgiving land, and where such public declarations of faith outside of the confines of a church are almost queer - particularly among people my age - questions brewed, and I pondered faith in my own life. Why do I run? Why do we run?
I have known far more runners for whom a religious faith-construct plays no role in their running, than runners for whom it does. For many, running is fun and games; a way to stay in shape; an escape from the daily grind; a social intervention; or even a way to pay the bills. These are the runners that have always inspired me, and who drew me so deeply into the sport. But as I met more and more runners for whom their was a spiritual bond between their running and their faith, the perpetual optimist in me shunned away the judgemental voice in the back of my head. I wasn't really interested in their religious convictions - perhaps because I am not religious myself. What I was interested in and inspired by was their capacity to use their faith to find meaning in their running, and in turn use their running to build something greater. Faith after all is the unadulterated acceptance that there is no certainty in life. It takes courage to have faith. Religion is just one of a host of constructs within which faith can grow. Far be it from me or anyone else to judge someone for the religion they put their faith in. And really, what better metaphor for running is there than faith - to courageously embrace all that is uncertain. Running can certainly be an endeavour of uncertainty...will I make to the finish line? Will my body withstand the torture? For these runners, the question of "why do you run?" held a different meaning, and as a lover of the sport, I was intrigued by it.
RUNNER'S TRIBE PAYS OUR WRITERS & FILM MAKERS TO CREATE EXCITING & ENTERTAINING CONTENT. HELP SUPPORT THESE PROFESSIONALS AND JOIN RT PREMIUM NOW.
TO VIEW THIS CONTENT PLEASE SIGN-UP TO RUNNER'S TRIBE'S MEMBERS ONLY PREMIUM CONTENT. WE HAVE SOURCED THE WORLD'S TOP WRITERS AND FILM MAKERS TO DELIVER ANY ATHLETE, COACH, PARENT OR FAN THE ULTIMATE PORTAL FOR ATHLETICS EDUCATION, ENJOYMENT AND INSPIRATION.

$9.95 AUD Monthly ($6.59 USD)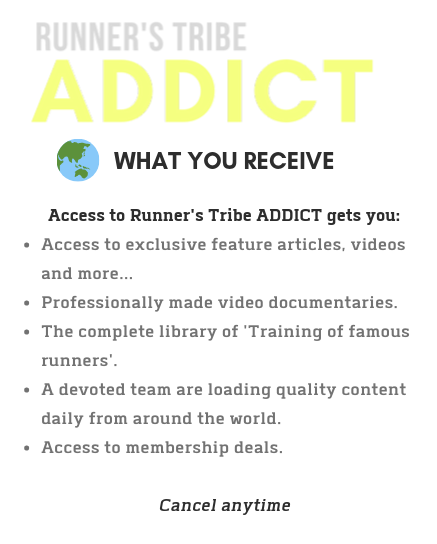 Yearly Plan (Worldwide) - BEST VALUE
$89.95 AUD Yearly ($59.56 USD)

$2.95 AUD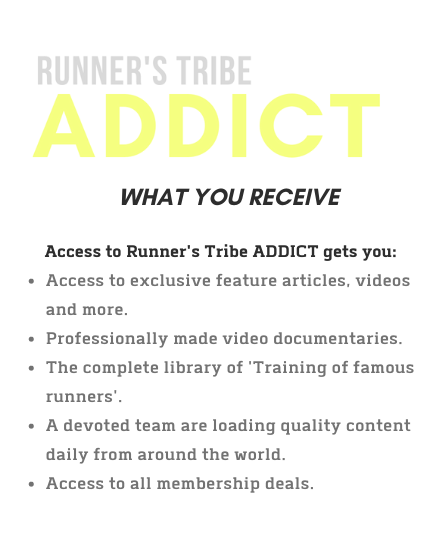 ALREADY A MEMBER? LOGIN BELOW