Date: Sunday, November 5
Location: New York, New York
The 2023 TCS New York City Marathon is gearing up to be a spectacular event in elite women's marathon running. This year's race features a much-anticipated clash among four exceptional athletes who have etched their names in the annals of marathon history.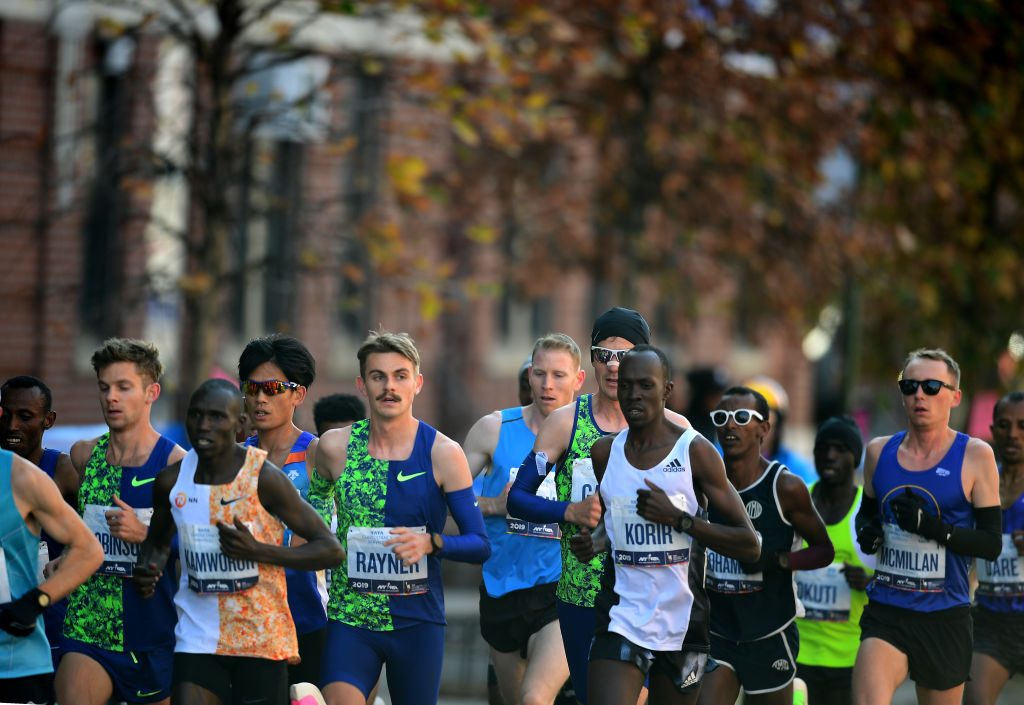 Introducing the Fantastic Four
The women's race is set to be a showcase of talent, with Brigid Kosgei, Letesenbet Gidey, Peres Jepchirchir, and Hellen Obiri, representing Kenya and Ethiopia, at the forefront of this star-studded field:
Brigid Kosgei: The former world record holder, the third-fastest woman in marathon history, and a two-time London Marathon champion, who also clinched the 2021 Olympic silver medal.
Letesenbet Gidey: The record-setter with the fastest debut time ever at 2:16:49, a reigning 10,000m world champion, and world record holder in both the 10,000m (29:01.03) and the half marathon (62:52). She was also the former world record holder in the 5,000m (14:06.62).
Peres Jepchirchir: The 2021 Olympic gold medalist and a three-time World Half Marathon champion (2016, 2020, 2023). Jepchirchir has an impressive record of victories in five of her last six marathons.
Hellen Obiri: The recent 2023 Boston Marathon champion, a two-time 5,000m world champion (2017, 2019), and the 2019 World Cross Country champion. Obiri's half marathon personal best of 64:22 ranks her fifth all-time.
It is indeed a rare spectacle to see such a concentration of top-tier East African talent competing in the New York Marathon. The credit for this star-studded lineup goes to the event's elite coordinator, Sam Grotewold, who has diligently curated a diverse field.
With many American stars focusing on the upcoming US Olympic Marathon Trials, this year's race offers increased opportunities for international athletes to shine. While a few American professionals like Kellyn Taylor and Molly Huddle will participate, the global elite will take center stage.
An Unpredictable Marathon Landscape
The landscape of women's marathon running has undergone significant transformations in recent years. Just three years ago, Brigid Kosgei was the undisputed marathon queen, securing back-to-back wins in Chicago and London, highlighted by her world record of 2:14:04 in Chicago. However, Peres Jepchirchir's victories at the Olympics and in New York and Boston in subsequent years have introduced uncertainty into the equation.
View this post on Instagram
Sifan Hassan, with wins in London and Chicago in 2023, has claimed two major marathon titles. Yet, the competition remains fierce, with Tigst Assefa's remarkable 2:11:53 run in Berlin and Amane Beriso's victory in Valencia. The 2023 TCS New York City Marathon may not provide all the answers, but it promises an enthralling time for women's marathon enthusiasts.
The Comeback of Brigid Kosgei
For Brigid Kosgei, Sunday's race holds particular importance, as she has not completed a marathon in 20 months due to injury. Her injury struggles began with a foot injury just a week before the 2021 Olympic marathon. Although she clinched the silver medal, subsequent events like an eighth-place finish in London and withdrawals from the 2022 London and spring's London Marathon have raised questions about her form. Her one marathon completion in the past year, a course-record-setting 2:16:01 in Tokyo in 2022, showcased her potential. But will we see that dominant version of Kosgei once more?
Kosgei's greatest success has come on flat courses, and she has never run in New York. Her only appearance in Boston in 2017 resulted in an eighth-place finish. While she has twice won on Honolulu's challenging course, Sunday's competition promises to be much tougher.
Peres Jepchirchir is not in the same position as Brigid Kosgei. Her recent victory in the Great North Run and the World Half Marathon Championships attests to her fitness. However, like Kosgei, she has not won a marathon since the spring of 2022, with a third-place finish at the 2023 London Marathon. The question remains – is she still the woman to beat?
Letesenbet Gidey and Hellen Obiri, despite their impressive marathon records, may not have reached their full marathon potential. Gidey's transition to the marathon is a highly anticipated moment, given her extraordinary half-marathon world record and her coach's aspirations of breaking the 2:10 barrier. Her marathon potential remains untapped.
Unpredictable Race Dynamics
The New York City Marathon's unique course, characterized by a lack of pacemakers and a cautious start, adds an element of unpredictability. The absence of pacemakers often leads to a conservative beginning, with runners biding their time. However, Gidey and Kosgei, known for their willingness to take the lead, might disrupt the traditional race dynamics.
Hellen Obiri, along with her coach Dathan Ritzenhein, believes she can run a 2:11 marathon under ideal conditions. Her unwavering dedication, rigorous training, and exceptional recovery capabilities have readied her for this year's race, as she seeks to improve on her previous New York performance.
Twelve months ago, Sharon Lokedi was the surprise winner of the New York City Marathon. This year, her journey to defend her title is an intriguing narrative. While Lokedi faced a foot injury earlier in the year and withdrew from the Boston Marathon, her coach Stephen Haas sees her returning to form. Her recent half marathon personal best of 67:42 in the Great North Run and improved training suggest a positive trajectory.
The 2023 TCS New York City Marathon promises to be a race filled with excitement, challenges, and the potential for historic performances. Elite athletes from around the world will compete on the iconic streets of New York, captivating the world as they pursue their dreams.