New York, NY – Hellen Obiri of Kenya left a lasting impression in the 2023 TCS New York City Marathon, claiming victory with an awe-inspiring final mile of 4 minutes and 52 seconds, narrowly besting Ethiopia's Letesenbet Gidey. Obiri completed the marathon in 2 hours, 27 minutes, and 23 seconds. This year's race was distinguished by a slow start, resulting in Obiri's winning time becoming the slowest in 13 years. The elite women's field remained tightly packed for the initial 10 kilometers.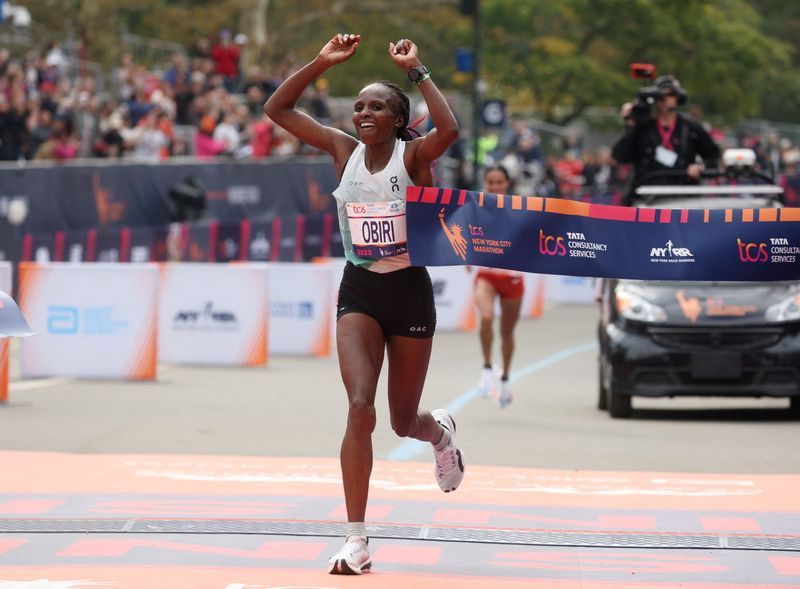 The New York City Marathon typically witnesses a surge in pace as runners enter Manhattan and receive a boost from the enthusiastic crowds on First Avenue. However, the 2023 edition deviated from this tradition with a consistently sluggish pace. Even at the 35-kilometer mark, the leaders were still on course for a 2-hour and 30-minute marathon.
As the race unfolded, Viola Cheptoo made the first significant move, covering mile 22 in 5 minutes and 18 seconds and mile 23 in 5 minutes and 4 seconds, creating separation among the front runners. The pace fluctuated as the race navigated the hills of Central Park, with mile 24 taking 5 minutes and 19 seconds and mile 25 a brisk 5 minutes and 2 seconds. During this time, Brigid Kosgei and Sharon Lokedi briefly fell behind but rejoined the leading pack.
A thrilling sprint finish materialized, with Lokedi securing third place in 2 hours, 27 minutes, and 33 seconds. This set the stage for Hellen Obiri and Letesenbet Gidey to rekindle their rivalry from the World Championships. In the end, Obiri, with a personal best of 3 minutes and 57 seconds in the 1500 meters, outpaced Gidey, the 10,000m world record holder, with a final mile of 4 minutes and 52 seconds compared to Gidey's 4 minutes and 58 seconds.
Hellen Obiri's transition from a versatile track star to an exceptional marathoner has been truly remarkable. With her victory in New York, she became the first woman in 34 years to conquer both the Boston and New York City Marathons in the same year.
View this post on Instagram
Determining Hellen Obiri's ranking among the world's best remains an ongoing debate. Sifan Hassan also secured two major victories this year, and Tigst Assefa set a world record of 2 hours, 11 minutes, and 53 seconds in Berlin. However, comparing races with varying dynamics poses a challenge, leaving room for anticipation in the upcoming spring marathon season or at the Olympics in Paris.
As the race drew to a close, Obiri executed her winning strategy of patience, refraining from pushing the pace prematurely. Her disciplined approach paid off as she surged ahead in the marathon's final stages.
A noteworthy factor that distinguished Obiri's 2023 victory from her 2022 performance was her enhanced approach to hydration. This year, she ensured proper fluid intake by holding onto her bottles for extended periods, a significant improvement over her performance in warmer conditions the previous year.
In the end, Hellen Obiri was celebrated as the marathon champion, securing her place in history as an extraordinary athlete with an exceptional ability to excel in both track and road races. Her performance in the 2023 TCS New York City Marathon will undoubtedly be remembered as a thrilling and hard-fought victory.