New York – In a remarkable display of talent and determination, Ethiopia's Tamirat Tola, the reigning world champion from 2022, clinched a resounding victory at the 2023 TCS New York City Marathon. Tola's triumph was nothing short of extraordinary as he not only claimed the top spot but also shattered the longstanding course record, finishing in an impressive 2 hours, 4 minutes, and 58 seconds. This remarkable feat erased the previous record of 2 hours, 5 minutes, and 6 seconds, set by Geoffrey Mutai back in 2011. Tola's victory was accentuated by near-ideal running conditions on the day, with a temperature of 52 degrees, clear skies, and a gentle 2 mph breeze at the starting line.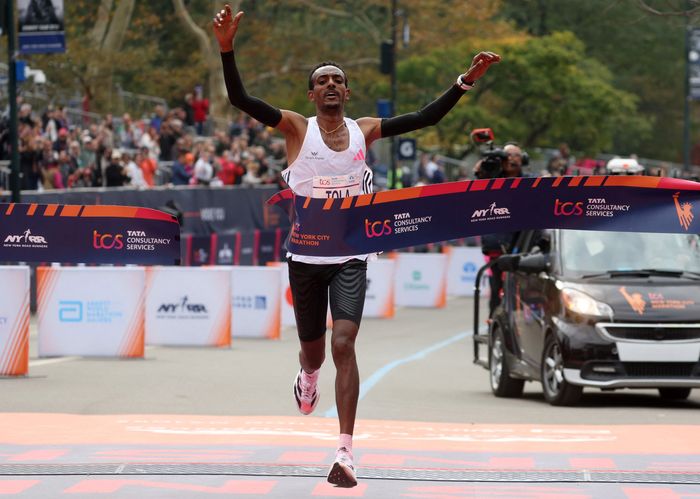 Tola's victory was historic in more ways than one, boasting a margin of victory that hadn't been seen in New York since the year 2000 – a staggering 1 minute and 59 seconds. In stark contrast, Jemal Yimer, also from Ethiopia and the former national half-marathon record holder, struggled and ultimately finished in 9th place, completing the marathon in 2 hours and 11 minutes.
The elite male runners left no room for hesitation, quickly establishing a commanding presence on the course. They reached the halfway point in a swift 1 hour, 2 minutes, and 45 seconds. Tola, Jemal Yimer, defending 2021 NYC champion Albert Korir, 2021 Olympic silver medalist Abdi Nageeye, and Morocco's Zouhair Talbi formed a formidable lead pack. Tola led the way, meticulously wearing down the competition, and it was only at the 16-mile mark that he and Yimer remained in contention. The race took a dramatic turn as Tola unleashed a series of remarkably fast miles, clocking 4 minutes and 28 seconds, 4 minutes and 46 seconds, and 4 minutes and 26 seconds for miles 17 to 19, ultimately leaving Yimer behind.
View this post on Instagram
As Tola approached the finish line, the only questions that remained were how much he would lower the course record and whether he could catch up with the women's leaders, who had surprisingly run at a slower pace for much of the race. Remarkably, despite starting 25 minutes behind the women, Tola came within a mile of them, ultimately crossing the finish line just 2 minutes and 29 seconds after women's champion Hellen Obiri.
Yimer, though he faded slightly towards the end, managed to secure a remarkable time of 2 hours and 4 minutes and 48 seconds, nearly two minutes ahead of 2021 champion Albert Korir, who finished second with a personal best of 2 hours, 6 minutes, and 57 seconds. Shura Kitata, who had a challenging start, mounted a stunning comeback to claim the third spot in 2 hours and 7 minutes and 11 seconds. Edward Cheserek, making his marathon debut, finished in 8th place with a time of 2 hours and 11 minutes and 7 seconds. The top American finisher was Futsum Zienasellassie, who secured 10th place with a time of 2 hours and 12 minutes and 9 seconds, while North American record holder Cam Levins of Canada surprisingly dropped out just before the 20-kilometer mark.
Before delving further into Tola's remarkable achievement, it is essential to take a moment to appreciate Geoffrey Mutai's extraordinary run in 2011. Mutai's time of 2 hours, 5 minutes, and 6 seconds was a feat that had remained unmatched for many years, a testament to his exceptional abilities, achieved without the aid of modern "supershoes." Tola's outstanding performance today only serves to highlight the significance of Mutai's accomplishment. Even with the advent of advanced shoe technology, Mutai's record had remained untouched in recent times, underscoring the need for a talented runner with the courage to set a blistering pace from the outset.
Tola, indeed, ticked all the boxes, setting a rapid pace from the start with a 1-hour, 2-minute, and 45-second first half and an astonishing 1-hour, 2-minute, and 13-second finish. Tola's winning time of 2 hours, 4 minutes, and 58 seconds was actually one second faster than his third-place finish in the London Marathon earlier in the year. His previous struggles with leg pain in his two prior New York appearances in 2018 and 2019 were partially attributed to his choice of footwear. However, advancements in shoe technology since then provided the necessary support and comfort, enabling his stellar performance in this year's event.
Regarding his strategy, Tola's primary focus was on clinching victory rather than breaking the course record. "I did not think about the course record," he emphasized. "I thought about winning, and how I could achieve that."
Albert Korir's extraordinary journey in the NYC Marathon adds a unique layer of intrigue to the race's history. Despite his seemingly modest personal best of 2 hours, 6 minutes, and 57 seconds, Korir has secured three top-two finishes in New York, establishing himself as a formidable presence on this demanding course. While his personal best may not be the fastest, the unique challenges of the NYC terrain, combined with the level of competition, have enabled Korir to showcase his marathon talents and emerge as a consistent force to be reckoned with in the running world.