Following a remarkable display at the Chicago Marathon, where he broke the 2:01 barrier with a record-setting time of 2:00:35, speculation has arisen regarding Kelvin Kiptum's inclination toward taking on the formidable sub-two-hour marathon challenge.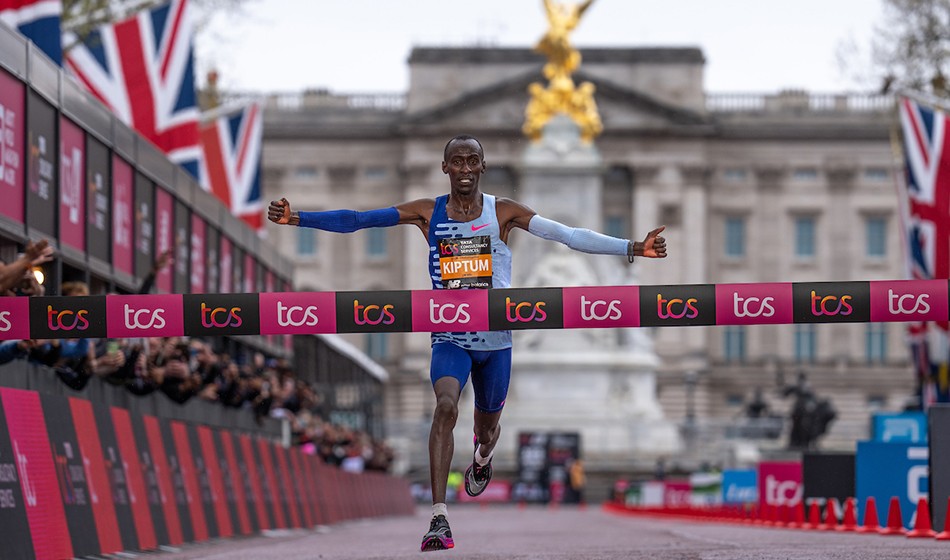 Kiptum's extraordinary performance in Chicago not only etched his name in the marathon history books but also stirred curiosity regarding his future objectives. His outstanding accomplishment eclipsed Eliud Kipchoge's prior world record of 2:01:09, established during the 2022 Berlin Marathon.
During a post-race interview, when questioned about his prospects of pursuing a sub-two-hour marathon, the 23-year-old runner negated any such notions, stating, "A sub-two-hour marathon is not a current aspiration of mine."
While it may be premature to delve into Kiptum's forthcoming undertakings, the likelihood of him eventually contemplating the sub-two-hour marathon remains an intriguing prospect.
The solitary other athlete to have surpassed the sub-two-hour marathon milestone is Eliud Kipchoge. Kipchoge famously accomplished this historic feat during the INEOS 1:59 Challenge on October 12, 2019, at Vienna's Prater Park. He completed 4.4 laps of the Hauptallee in a record time of 1:59:40, thereby becoming the first individual in recorded history to break the two-hour threshold over a marathon distance. However, Kipchoge's remarkable time was not officially recognized as a world record due to the distinct nature of the event.
View this post on Instagram
Should Kiptum opt to undertake the sub-two-hour marathon challenge under the right circumstances, his achievement would assuredly be acclaimed as a world record, solidifying his status as the inaugural individual to officially break the two-hour benchmark according to the standards of World Athletics.
Kiptum's journey in the realm of marathon running has been nothing short of extraordinary. He inaugurated his marathon career at the 2022 Valencia Marathon, where he established a debutant record for the swiftest time and secured victory. This year, he continued to impress by triumphing at the London Marathon with the second-fastest time. Remarkably, the Chicago Marathon represented his third marathon appearance, marking his debut on American soil.
As the world awaits Kelvin Kiptum's forthcoming plans, the tantalizing prospect of witnessing a sub-two-hour marathon from this emerging star holds the promise of reshaping the boundaries of human endurance in the sport.