They have been branded the fastest growing sneaker company in the world, it makes sense when you think about it, they are one of the youngest. The ON company argue their shoes are like running on clouds. Hell, Roger Federer has reportedly invested an undisclosed sum into the young brand, launching his own shoe, 'The Roger'.
But do any elite runners race in their shoes? We had no idea, so we did some digging. The answer; they have a largish stable that includes some huge name triathletes and ultra-trail runners,  with the odd elite track/road star thrown in.
The On Cloudboom represents ON's fastest shoe, a lightweight, carbon-fibre-infused shoe engineered for fast marathons and road races.
Runner's Tribe were lucky enough to put a pair of Cloudbooms through 60km of road running (road sessions: tempo runs and long reps). Below is our review.
Specs
KM's covered in testing: 60km on the roads.
Type: Road racing shoe. Build for marathon and shorter road races. Suitable for fast sessions too.
Cushioning: Mild.
Upper:  High quality mesh, very thin, feels expensive.
Midsole: Rubber/EVA based cloud pods. Infused with a carbon 'speedboard' (ie, a carbon fibre plate).
Midsole density:  A firm yet snappy ride.
Flexibility: A lot more flexible that other carbon fibre shoes. Shoe can be easily bent at 90 degrees.

A lot more flexible than all other carbon-fibre racing shoes we have tested

Weight: 251g in a men's US11. For comparison, the Nike Vaporfly Next% weighs 214grams in US men's size 11.  See the below table for brand comparisons.
Outsole: Strategically placed high grip outsole rubber.
Stack heights: 20mm heel, 11mm forefoot (this has been verified by ON Running).
Drop: 9mm.
Heel width: Narrow.
Heel counter: Relatively soft.
Sizing: True to fit length wise. Quite a narrow shoe width wise.
Toe Box width: Narrow.
Toe box height: Medium.
Is it quick?  It's snappy and quick.
Bouncy:  Not as bouncy as Next% or Endorphin Pro. But equally as snappy.
Rocker:  A distinct rocker midsole shape. The shoe provides a lovely free flowing roll to maximise efficiency and speed.
Cost: $299.95 AUD at ON's Australian website.
ON Retailers: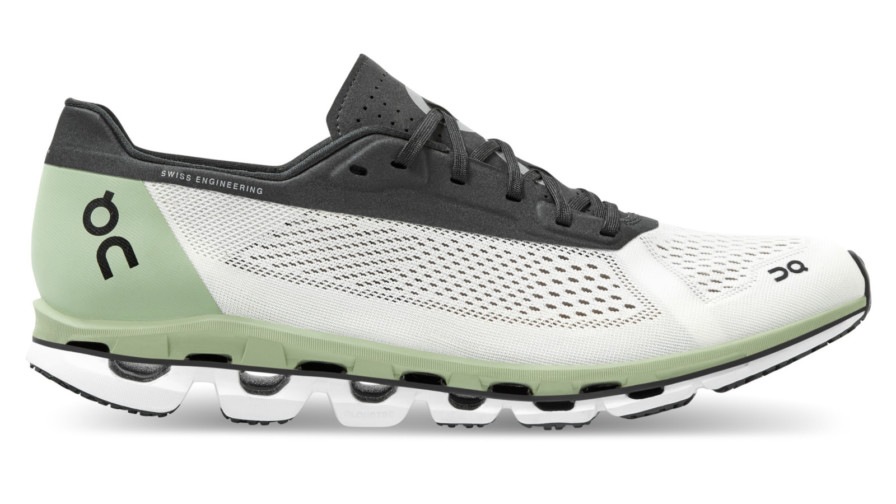 Stack Height Comparisons
Everyone remembers the controversy over Nike's Alphafly stack heights.  The theory simplified, a greater stack height leads to more bounce (when coupled with the right midsole foam and a rigid carbon fibre plate).  ON with the Cloudboom have not followed the traditional path to higher and higher stack heights. Below is a comparison of the main road racing shoes (that have anything resembling a carbon plate within them).
| | | | | |
| --- | --- | --- | --- | --- |
| | Forefoot Stack height | Heel Stack height | Drop | Weight (size 9 US men) |
| Nike Vaporfly Next% | 28mm | 36mm | 8mm | 6.6oz/187grams |
| Nike Alphafly | 36mm | 40mm | 4mm | 7.4oz/209grams |
| Saucony Endorphin Pro | 27mm | 35mm | 8mm | 7.5oz/212grams |
| ON Cloudboom | 11mm | 20mm | 9mm | 8.1oz/229grams |
| Brooks Hyperion Elite | 25mm | 33mm | 8mm | 6.9oz/195grams |
| Hoka Carbon X | 30mm | 35mm | 5mm | 8.8oz/249grams |
If a higher stack height is correlated to more speed, then ON must have another theory in mind. The Cloudboom is more of a traditional racing flat. There is ample ground feel, and the cushioning feels mild. A vastly different feeling to the Vaporfly road racing shoes so many are used to. Horses for courses.
              
Cool things about the ON Cloudboom
–       Upper:  ON make amazing mesh uppers. The quality of their uppers in our opinion exceeds Nike, Adidas and all the major brands.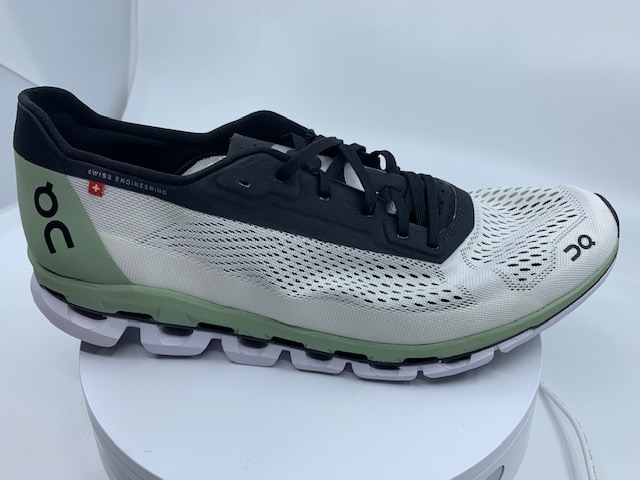 –       Looks cool:  The subtle colourways, the proprietary pod midsole. If you need to choose between rocking a pair of ON shoes, compared to say a pair of Mizunos, to the local café. I mean it is a no brainer.
–       Durability:  The Cloudboom's midsole is a lot harder than say the Nike Vaporfly Next %. Generally speaking, physics will dictate that harder substances breakdown slower than softer ones. It is argued the Cloudboom can cover around 500 miles before retirement. Significantly more durable than most pebax based midsole racing shoes.  Therefore, the Cloudboom's are suitable for training as well as racing, making them much more of a versatile shoe than both the Nike Next%/Alphafly or the Saucony Endorphin Pro.
–       Grippy in the wet:  The strategically placed outsole rubber provides better traction on wet roads than any other road racing shoes we have tested (all of them).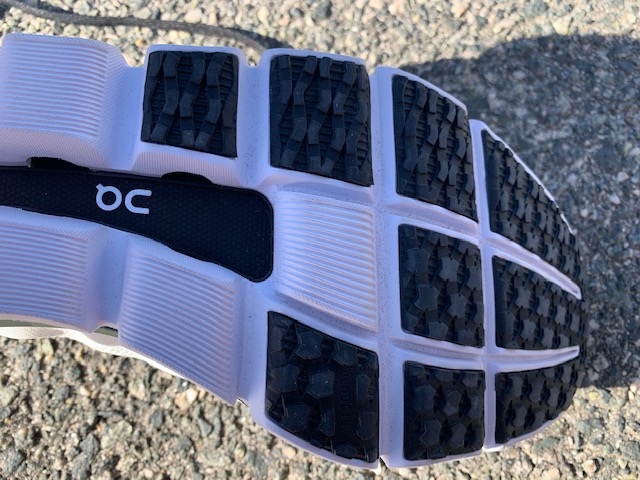 Neutal Ponderings
–       Hard foam: Many runners will love this. The shoe feels like shoes used to feel. A firm, responsive, snappy ride. It's a move away from the overt softness of say a Next%.  The Cloudboom foam is a lot harder than the leading road racing shoes. Take Nike's Next% or Alphafly shoes, or Saucony's Endorphin Pro. Their soft pebax foam is coupled with a carbon fibre plate. The soft foam is counteracted by a carbon plate that stiffens the ride.  There is nothing soft about the Cloudboom's foam, it feels more like a traditional racing flat, with a little bit of an extra snap thanks to their carbon-infused-speedboard.
Uncool things about the ON Cloudboom
–       Very narrow toe box: It's a little reminiscent of putting on a pair of spikes. Where Nike have moulded more of a wider toe box for their Next% and Alphafly shoes, ON have done the opposite with the Cloudboom. Definitely not intended for runners who enjoy some room for their toes to splay.  If you ever ran in the Nike Vaporfly 4%, it's a similar feeling toe box (but with mesh not knit).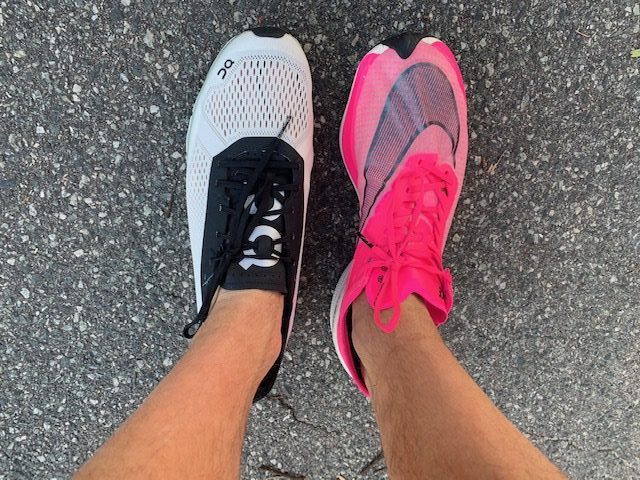 –       Rocks get caught in outsole: The gaps between the pods are perfect dimensions for rocks.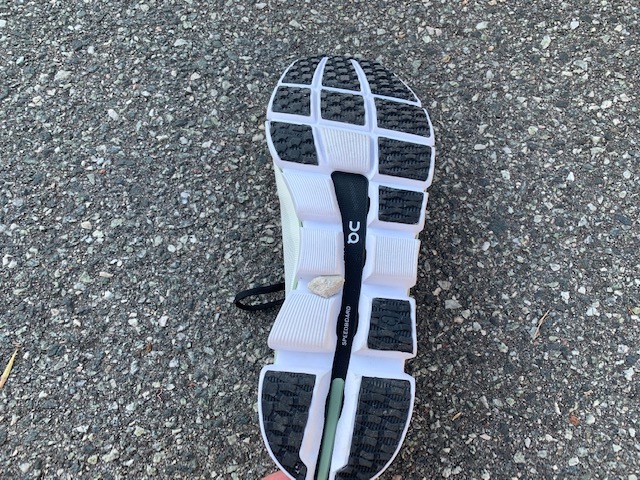 To buy or not to buy:
If you are after a fast racing flat with a lower stack height than its competitors, then the Cloudboom is the shoe for you. If you enjoy feeling the ground and hate the huge levels of cushioning that the Nike Vaporflys or other similar shoes have, then the Cloudboom is a great option, whilst retaining some of the advantages of carbon-fibre technology.
Written and tested by Sam Burke for Runner's Tribe.
Disclaimer: Runner's Tribe were given a pair of Cloudboom for free.