Ready for Action in London!
World Championship Preview – by Chris Wainwright (RT StatsCentral)
With only days to go until the start of the 2017 World Championships, it's hard to know exactly how to rate the 24 Australian men lining up in individual events in London. There will be high expectations linked to our top walkers in Jared Tallent (50km walk) and Dane Bird-Smith (20km walk), while it will be exciting to see the next generation of Australian stars – Kurtis Marschall (pictured right) (Pole Vault) and Patrick Tiernan (5000m/10000m) do battle both on the track and in the field. Overall the men's team is a mixture of senior, experienced athletes right through to athletes who will be looking at London as the perfect stepping stone to the 2018 Commonwealth Games and beyond.
Below I have rated each athlete, but as with any major championships there will be athletes who will surprise and there will always be disappointment in some shape or form. All we can hope for is that every athlete lines up feeling confident and ready to give their all for the green and gold, and regardless of the result we can all sit back and say 'Well done!'
Personally I'm looking forward to seeing Tiernan in action in both the 5000m and 10000m (in form and ready for something 'special'!). Another athlete on the rise is Peter Bol (800m), and there are signs that a sub 1.45.00 is just around the corner.
Outside of Bird-Smith and Tallent in the race walks, are there any other Australian medal chances? Not really, but strange things do happen and I will be crossing my fingers that the 'Little King' comes storming down the outside in the men's 1500m final – now that would be something! Good luck to all!
[wpdatatable id=40 table_view=regular]
* ER = IAAF Entry Ranking ** No mark in 2017
Thoughts on Our Aussie Stars – Men
Solomon: 17 sub 45sec athletes, will need a low 45sec heat run to make it through to semi final stage. 45.76 & 45.19 in last 3 races, looks like he still has more to give. Is Solomon back to the form that took him to the London Olympic final in 2012? Only time will tell!
Bol: 19 sub 1.45.00 athletes, but the 800m heats can be slow. 2015 WC a 1.48.59 went through to SF, with Jeff Riseley moving through with a 1.46.79. It's not inconceivable that Bol could run sub 1.45.00 and make a final, and he has that something special that has him as my dark horse of the Australian team.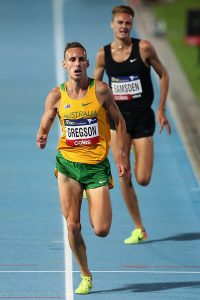 Gregson: Gregson's last race was a 7.42.19 3000m which has given me great confidence of a big showing in London. Hard to line up last year to this year, but has shown enough with two sub 3.35.00 performances and a 4th placing at the London DL in 3.36.17. Once in the final anything is possible – just ask Kiwi Nick Willis (twice an Olympic medallist, including winning bronze in Rio after entering the competition with a SB of 3.34.29).

Mathews: The 22 year-old looks better prepared than when he ran in Rio, although hasn't had the perfect lead in with a 3.40.86 1500m plus a 1.50.26 800m. Prior to that however he produced a 3.54 mile, and two 3.35.6 1500m – all in the space of 2 weeks. On that form he could make the semi final stages.

Williamsz: Williamsz has mixed his form, in a season that has already seen him race 11 times over the 1500m. Four times under 3.38.00, including a 3.36.97 recently in Lignano (Jul 12), does suggest that on his day he can join both Mathews and Gregson in the semi finals in London.
Tiernan: Has joined Gregson in regards to his results on the track, and has still so much to show the Australian public. A little extra pressure will accompany him in London, but there is every suggestion that he can mix it with the very best. Still only 22, Tiernan was 4th at the London DL over 3000m (7.37.76), and that performance has me excited of what he may produce at the WC. Even a top-8 result wouldn't surprise.
McDonald: A great story for an athlete that missed the NCAA Championships, only to come over to Europe and produce a stunning 13.15.83 PB. Nothing to suggest he couldn't sneak through to a final.
McEntee: Interesting athlete, who has had mixed form leading into London. At his best he produced a 7.41.03 for 10th behind Tiernan at the London DL, but hard to know if he's coming into the competition with enough form to make the final. Was 18th last year in his heat in Rio, so experience will play a part this year in London.
Tiernan: Day 1 (6:20am AEST to be precise), Tiernan will see if he can mix it with the very best over 25 laps. He lines up against 6 athletes with lifetime bests of under 27 minutes, so a top-10 finish would be a fantastic effort.
Marathon: Milosevic, Harris and Colreavy all know that a top-50 finish would be an excellent result. Maybe some PB's on the offering if the conditions are kind for the kings of the road. 39 Aussie men in history have gone sub 2:15:00 for the marathon, would be great to see that rise to 40!
McSweyn: An athlete on the rise, looking for the experience of running at the very highest level. Wouldn't surprise to see McSweyn dip under 8.30.00 in London, especially after a superb 13.19.98 PB over 5000m recently in Dublin (July 12)
Hough: Super effort for Hough to make it to the start line in London, especially after coming up short for Rio. The WJ silver medallist from 2012 just missed making the semi finals at the 2015 WC, so look for him to make amends in London. 5 times (legally) under 13.60s in 2017.
Marschall: A star in the making, and only added to this with excellent performances in his Diamond League competitions in both Lausanne (5.73m PB, 4th place) and Monaco (5.72m for 6th). Ranked in the top-20 leading into London, but surely will push for a finals appearance and a top-10 position.
Frayne: The preparation hasn't been ideal (hamstring issues after his SB of 8.21m in France on July 2). If all OK then he could easily match or better his 7th placing at last years Rio Olympics. Surprisingly Frayne has only ever jumped over 8.20m on three occasions in his career, including an 8.23m jump indoors to win silver at the 2012 WIC.
Lapierre: Would love Lapierre to put a tough year behind him and make the final in London. The 33 year-old 'veteran' of the team last jumped on July 16 (7.99m), and would need something similar to make it through qualifying. Did jump a windy 8.50m in April, just underlying the enormous talent continues to show across a fantastic long jump career.
Birkinhead: Everything suggests that Birkinhead is ready for something special in London. The only problem is that he's up against 4 guys who have already thrown over 22m in 2017! In saying this he is ranked in the world's top-20, and one big throw in qualifying (something around 20.75m) should see the young Victorian through to his second major final at senior level after a 10th place finish in Rio (20.45m).
Harradine: It's just great to see Harradine back wearing the green and gold, with everything else a bonus. Nothing to suggest that a throw close to his SB of 64.67m will not see him make the final – which would be the third time at a WC (including a 5th place finish at the 2011 WC with a throw of 64.77m, not dissimilar to his best mark in 2017!).
Cooper: Cooper follows McDonald over from the US College system, where he placed 6th at the NCAA Championships back in June (59.12m). At his very best he could fight his way through the qualifying rounds, although at only 22 he has a very bright future regardless of the final result in London.
Peacock: London will be Peacock's 4th major championship (3rd WC), and as yet has never made a final. This being said he is shown some great signs leading into this years WC, with his last competition being a 7th placing at the Paris DL (83.87m). Overall he has thrown 6 times over 82m in 2017, and knows that a similar mark should see him advance to the final in London.
Dubler: It's hard to know what to expect from Dubler in London. The one thing you do know is that he can improve greatly from his 7,779 point performance from the Nationals back in March. In that competition he 'only' jumped 7.25m in the long jump (he's jumped 7.74m as a junior), and was well below his best in the shot put (11.14m, best of 12.30m). The one big performance from the Nationals was his fantastic 5.10m pole vault. So overall expect a performance closer to his PB of 8,114pts.
Bird-Smith: T&F News has Bird-Smith as the no.1 pick for London, although it will be a tough event with many top class walkers on the start list. There are certainly faster walkers on the start list for London than Bird-Smith, but as in Rio the winner doesn't need to walk a 1:18.00 to win the title. The interesting athlete will be 18 year-old Russian Sergei Shirobokov, who boasts a best this year of 1:18.25 – crazy walking from a junior athlete (2nd fastest all-time junior).
Cowley: Is definitely a great walker in how own right, but certainly overshadowed by the likes of Bird-Smith and Tallent. Every expectation that he can place in the world's top-30. Placed 39th at last years World Cup and followed it up with a 33rd placing at the Rio Olympics.
Tallent: A superstar of our sport, what more can you say. A strange race this year, without the Olympic champion from 2017 and still missing the top Russian walkers due to suspension. Therefore Tallent will go into the race as warm favorite, but will have the likes of Yohann Diniz (PB of 3:32:33) and Robert Heffernan (PB of 3:37:54) to contend with.
4x100m: Everything to gain and nothing to lose for this tight knit 4×100 squad. Would need something special to make it through the heats, but as we know anything is possible in a 4x100m relay. Get the baton around and run sub 39sec, and maybe just maybe a lane in the final will be granted.