Melbourne Marathon
Sunday, 18th October 2015
Three Olympic qualifiers, a fantastic comeback to racing and an early season sprint highlight – that's what happened over an interesting weekend of racing across Australia.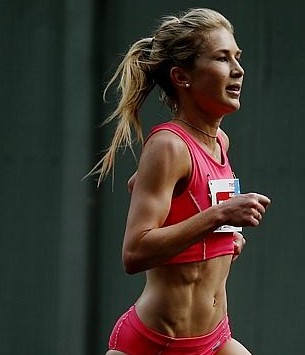 The top highlights from the Melbourne marathon were the two Olympic qualifiers, where both Jess Trengove and Brad Milosevic both collected PB performances and tickets to Rio 2016. Trengove always promised so much after bypassing the 2015 World Championships specifically to concentrate on the Melbourne marathon, and she didn't disappoint with a time of 2:27.45. The time smashed her previous PB of 2:30.12 (when winning bronze in Glasgow last year at the Commonwealth Games) and now places her in a perfect place to aim high at next years Olympic Games. The time also places her 6th on the Australian all-time ranking list, just behind another 2016 Olympic hopeful in Lisa Jane Weightman (2.26.05).
It has been a terrific 2015 for the 28 year-old Trengove, which has included PB's in both the half marathon (71:31 on the Gold Coast) and the 10000m (32.17.67, when she ran in Palo Alto, USA back in May).
On the men's side it was the fantastic news story of Milosevic. The 26 year-old hadn't exactly set the world on fire prior to Melbourne, with a modest PB of 65:33 for the half marathon, but it didn't stop him from stealing the show with a quality 2:16.00 for the 42.195km race.
One thing Milosevic did have was big race form coming into Melbourne, after winning the Sydney City2Surf in 42:15 back in August (after placing 2nd in the same event in 2014). This belief in winning big races carried onto Melbourne, and now has the Oceania Half Marathon champion ready for bigger and better things in 2016.
Weightman Back on the Big Stage
It was a great site to see Lisa-Jane Weightman back doing what she is best known for – winning road running events. This time it was a win in the half marathon in Melbourne, with an excellent first up performance of 71:00, less than a year after giving birth to her first child, Peter at the end of 2014. Weightman defeated another star of distance running in Australia, Eloise Wellings, who finished 2nd in 72:39.
Weightman was 17th at the London Olympics in 2012, and is expected to join Trengove in pushing for a top-10 finish in Rio next year. Her time in Melbourne was only 2 minutes from her PB for the distance, and suggests that everything is moving along perfectly leading into 2016.
Amsterdam Marathon
Sunday, 18th October 2015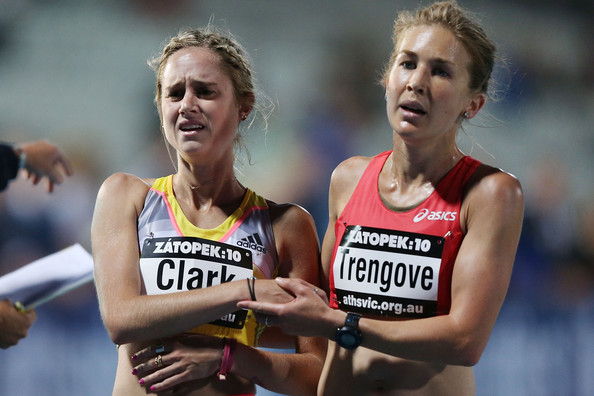 When you think things couldn't get any better Milly Clark produced a marathon debut* that could just go down as the best ever by an Australian.
Clark, 26, was in no mood to travel all the way to the Netherlands just to run a marathon for fun, and at the end of 42.195 km's the former National steeplechase champion was stopping the clock at a staggering 2:29.07.
It placed Clark third in the race (behind winner Joyce Chepkirui of Kenya, 2:24.11), and was even more amazing considering that she passed through the half way mark in 75:32 (negative split run race).
So in the matter of 24 hours we have had two major moves on the Australian women's all-time ranking list for the marathon – Trengove up to no.6 and Clark all the way up to no.8, with both performances also qualfiers for the 2016 Olympics. What more could you ask for!
Link: Milly Jane Clark RT Journal
Hale Find Early Season form in Tasmania
Jack Hale exploded onto the scene in 2014 with a wind-assisted 10.13s (+3.8) over the 100m at the Australian All-Schools (December 6) after previously posting a legal 10.42s (+0.7) in Hobart on October 18 in the same year.
Although 2015 hasn't quite reached the same heights for the 17 year-old junior star of the track (which included being run out in the semi final stage of the World Youth Championships), the future still looks very bright for the young Tasmanian.
On Saturday in Launceston Hale launched his bid to gain a spot on the Australian team for the 2016 World Junior Championships with a wind assisted mark of 10.44s (+5.6). Although adjustment for the wind has the performance closer to 10.68s, it was a great opener for what should be an interesting 2015/16 domestic season.
After the race Hale said
"Running this type of time with the training I'm doing now is very pleasing. To be honest, I didn't feel it [the wind] to much, if I did I would be honest and say I did."
It will now be interesting to see what sort of form Hale will bring to the Australian All-Schools in Melbourne in December. We can only hope that the Lakeside stadium will play a positive part on the final result!
Other Athletics News
In other interesting news, 200m Australian champion Monica Brennan will move up to tackle the longer 400m event in 2015/16. With a PB of 23.41s (when winning the National title in 2013), Brennan will certainly have the speed necessary to challenge for a quick time over the full lap. Brennan was pointed in the direction of the 400m by Olympic and World Pole Vault Champion, Steve Hooker, and if everything goes to plan we could see Brennan push for an Olympic qualifier of 52.00s over the coming 9 months.
In the Burnie 10km on Sunday, victories went to Victoria Mitchell (33:58) in the women's event, while Brett Robinson (29:06) won the men's event. Robinson was pushed all the way by David McNeill (29:11) in the men's race, while Courtney Powell (34:33) and Genevieve LaCaze (34:51) filled the minor placings in the women's race.
*Milly Clark did technically run a marathon prior to Amsterdam, so this will officially be her 2nd career marathon but first major marathon event.