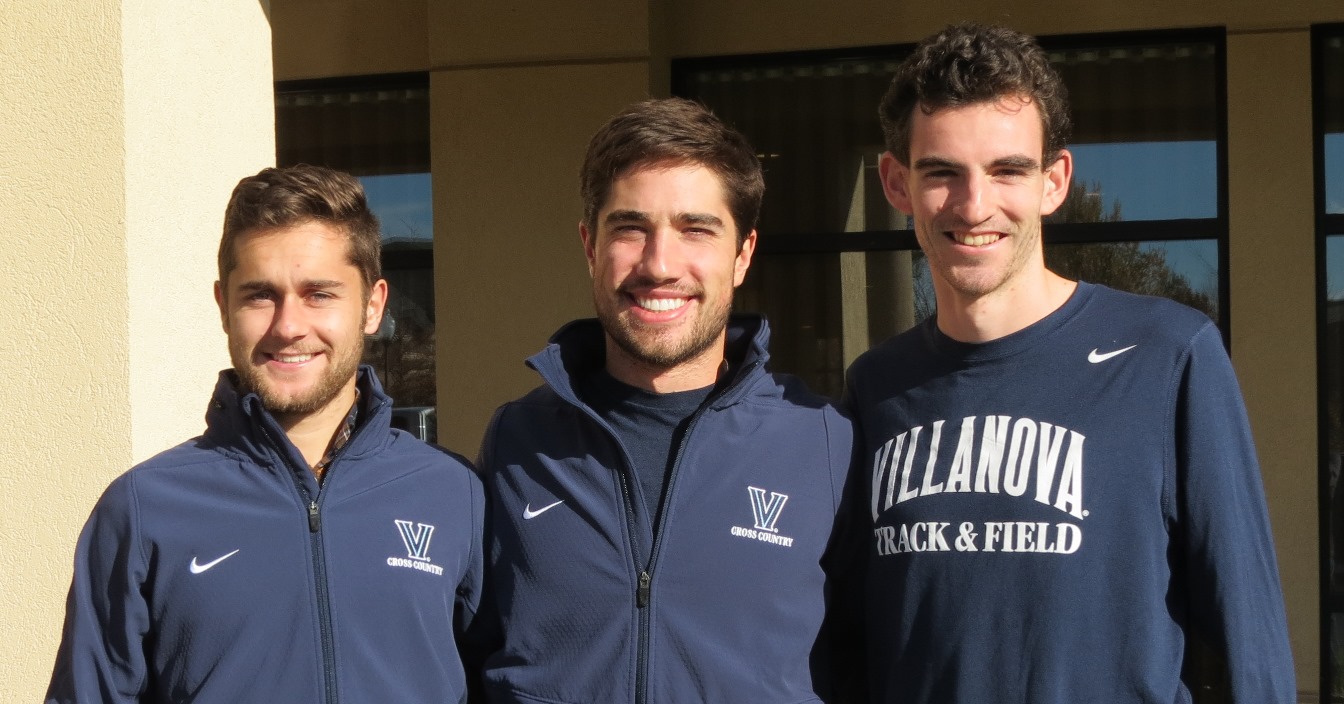 By Chris Lotsbom, @ChrisLotsbom
(c) 2015 Race Results Weekly, all rights reserved
LOUISVILLE (19-Nov) — Like three brothers who have grown up together, Villanova's Patrick Tiernan, Rob Denault, and Jordy Williamsz laugh here in a Louisville hotel lobby, exchanging jabs and jokes. The three Wildcats will toe the line in under 48 hours for the NCAA Division I Cross Country Championships, hoping to end their season on a high note.
When Tiernan, Denault, and Williamsz don their Villanova singlets on Saturday, they will think about the rest of their team back home in Pennsylvania. Very rarely does a team qualify three individuals –and not a whole team– for these championships. Yet that's just what happened to the Wildcats, snake-bit by the NCAA's complicated qualifying system despite being ranked as high as 12th last month (and sixth at the beginning of the season).
"It is interesting coming into it not thinking about the team aspect," said Tiernan, a junior and a native of Toowoomba, Queensland in Australia. "Sort of going in and going all out I guess. As much as you want to run with the other boys and stuff, the fact that we can't score as a team sort of makes everyone run their own race. Good in a sense because you don't often get an opportunity like that over here. But bittersweet."
"Probably more bitter than anything," quipped Williamsz, a senior and another Australian from Elwood, Victoria. To qualify as a team for these championships, schools either need to finish in the top two at their regional (earning an automatic qualifying birth), or accumulate a certain amount of points by defeating other teams that are ranked. While this system rewards teams who race at big regular season competitions (like Pre-Nationals or Wisconsin Invitational), it does not favor teams that decide to race low-key meets through mid-season.
Such was the case with Villanova. For years, Coach Marcus O'Sullivan and Villanova has taken a unique approach by easing into the season, racing at local competitions to build momentum through the fall. In past years the strategy worked well, with Villanova securing automatic qualifying selections in each of the last six years (their women's team, under coach Gina Procaccio, did qualify this year).
But this year, Villanova was left outside of the big dance after being defeated by Georgetown and Penn at last week's Mid-Atlantic Regional. Penn placed second a mere seven points ahead of Villanova. Without enough regular season points to earn an at-large selection, Villanova would be relegated to sending only individual qualifiers Tiernan, Denault, and Williamsz.
"As you know, cross country –especially for us– is a big team thing and a couple guys missed out on going unfortunately, which would have been nice to have them here," said Williamsz. "You get a lot out of the experience. But I mean, as far as the race for the three of us, I know for myself it's a different kind of motivation. You find an extra gear pretty easily when you know you have a couple guys you're running for.
"I just think," Williamsz began before pausing, trying to find the right words. "It's going to be different. I don't quite know what to expect, but I know the three of us are going to be giving it our all."
Speaking with the aforementioned trio, it is clear that they are frustrated and disappointed not having the rest of their teammates here. While some favor the points-based system for it's head-to-head mechanism, it is extremely complicated and does not take certain factors –like coach's strategy and progression through the season– into account. It also means that some worthy teams –like Villanova, which has a tradition of performing well at nationals– are left out.
"There's guys back at home who are first timers. This would have been their first nationals as seniors, and they unfortunately won't get the opportunity to come to NCAA's in cross, which sucks," said Denault, a Canadian from Aurora, Ontario. "Whenever you put on that Villanova singlet, though, you're running for the team."
Speaking from the heart having thought about the complicated system, all three Wildcats were a bit perplexed at how it works. Tiernan admitted he was confused and unsure of the points and wins formula. Denault said he's given it a lot of thought over the past week, and tossed out an idea of four mega-regions instead of nine smaller regions (the current current system doesn't differentiate whether a region is filled with ten ranked teams or one, and doesn't reward the former).
Offering no excuses, the trio simply wished the system did not hold a bias against teams who chose not to compete at Wisconsin, Pre-Nationals, or other large meets mid-season.
"It's tough for a program like us where we like to take the earlier races a little easier and not have a lot of competition at our first few races just to warm into the season. It's difficult to get the points or wins or whatever they call it when we're trying to do that at the same time," Tiernan said. "I don't necessarily know whether it's unfair. I guess I can't really have an opinion on it when I don't know what it is… Is there a better way to do it? I don't know."
Turning their attention to Saturday, all three are motivated and determined to run their absolute best. They want to show the nation that Villanova is still considered a top team in the nation in cross country this year, even if they can't score a full squad. This will be Denault and Williamsz's final cross country race as collegians, and they want to leave everything on the course.
"We're all very tight-knit. We've been through a lot together and I think that's been the overarching thing. We've been through ups, we've been through downs," said Denault, speaking while looking at his teammates and smiling. "Winning Penn [Relays 4xMile Championship of America title] with you guys and Sam [McEntee] was, like, surreal last year, just cause of everything we've gone through."
For several minutes the trio reminisced about past national meets they ran together: the 27th place showing as a team here in 2012 ("awful," said Williamsz). Then the 17th place spot in 2013, proud that they'd jumped ten spots as a team ("That was better," added Tiernan). They paused speaking about last year's national meet, when they finished seventh as a squad in Terre Haute, Ind.
Tiernan is considered an individual favorite for the win; he's undefeated this year. He earned dominant 26- and 21 second wins at Mid-Atlantic Region and the Big East Conference meets, respectively.
"We just are going to go out and have some fun. I think the few years before I've come into it expecting a bit too much, over-thinking it, and in a way it's kind of nice coming with the two of them on this trip cause it's really relaxed," said Tiernan. "Honestly, no real expectations. I just want to be able to go out there and cross that finish line knowing I've given it everything I've got."
Come Saturday, Villanova will race as a unit one last time, even if they can't score. They'll have their teammates support from afar, and want to end the season with an impressive showing.
"I think the guys that we had all the way up to regionals grew together. And everyone is supportive of what we are trying to do," Denault said. "Hope to end it on a high note, leave it all out there."
Nearing the end of the interview, Tiernan spoke up.
"I think the three of us realize our role on the team has been trying to compete at our highest caliber," he began. "This year we knew we had our work cut out for us… I think it's pretty safe to say we are a tight group."
PHOTO: Jordy Williamsz, Rob Denault and Patrick Tiernan of Villanova University in advance of the 2015 NCAA Division I Cross Country Championships (Photo by David Monti for Race Results Weekly)