35 Days and Counting
We are closing in the all important final deadline for Olympic selection, being July 11, and we are still hopeful of sending 60 individual athletes to Rio. At present the likely number would be 56, after the recent additions of Matt Denny (discus), Josh Robinson (javelin) and Melissa Breen (100m). We also had Steve Solomon come within a whisker of qualification, after running a 45.44s in Townsville.
It now leaves only a handful of athletes still in the mix for additional spots on the Australian team, including:
Brittany McGowan and Lora Storey (800m)
James Nipperess (3000m steeplechase) and
Brianna Beahan (100m hurdles)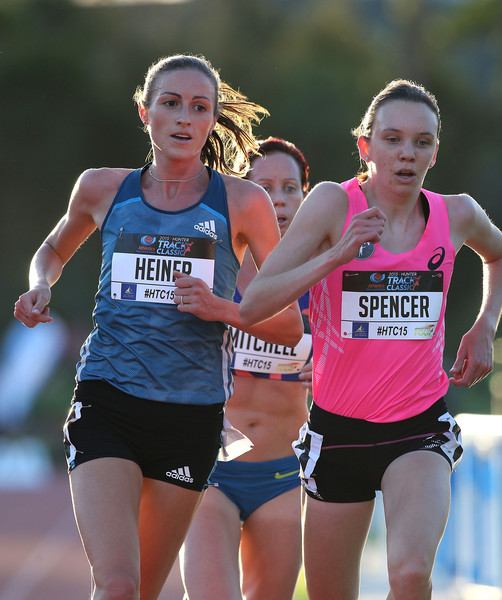 Storey looks set to have additional competitions in the Unites States on June 12 (Portland Track Festival) and the Harry Jerome Track Classic (June 17). There she will attempt to produce the required 2.01.50 for the 800m, after closing on on the mark with a 2.01.67 on May 1.
In Portland Storey will be joined by two athletes who are also still in the hunt for Olympic selection – Heidi See (1500m) and Kate Spencer (5000m). See didn't have the race she had wanted in her last outing (a 4.19.12 at the Furman Elite meeting on June 4), but you would expect her to bounce back quickly and keep her dreams alive with the all important 4.07.00 required for Rio.
Spencer on the other hand is in career best form, with her recent 15.33.40 on May 20 just over a second outside of her PB set back in 2014. It was a big improvement on her 15.59.73 in Stanford on May 1, and another big performance could see her within striking distance of the OQ time of 15.24.00 – a time that Genevieve LaCaze came close to at the recent Birmingham Diamond League meeting (where she ran an impressive 14 second PB of 15.27.13).
McGowan is currently in Europe and will have further races in Oslo, Norway (Diamond League meeting) on June 9, followed by additional races in Geneva, Switzerland (June 11) and Nancy, France (June 14). McGowan ran a quality 2.02.82 in Belgium over the weekend (straight off the plane), and should be closer to her 2.01.64 SB in her upcoming races – which would in turn see her very close to the OQ.
Also competing at the Harry Jerome Track Classic will be Nipperess, looking to improve on his newly created PB from the Hoka One One meeting on May 20 of 8.32.59. The magical time the 26 year-old will be looking for is 8.30.00. Nipperess will be joined in Canada by:
Josh Wright, Jeremy Roff, Joshua Johnson, Matthew Dempsey and Jordan Gusman (1500m), with Gusman still an outside chance of sneaking under the OQ time of 3.36.20.
Brendon Reading (5000m walk)
Bridey Delaney (1500m)
After his impressive performances in Townsville (45.72s and 45.44s), Solomon will join McGowan in Geneva, Switzerland on June 11 to push for the extra 0.04sec required for Olympic selection. It's hard to believe that he's still only 23 years old, with the champion sprinter setting his PB of 44.97s competing at the London Olympics when only 19. Since then he has had his share of difficult periods, but showed at the National Championships (when running 45.50s) that he was back ready to take on the very best in the world once again.
It Could Have Been So Much Different for Breen in Townsville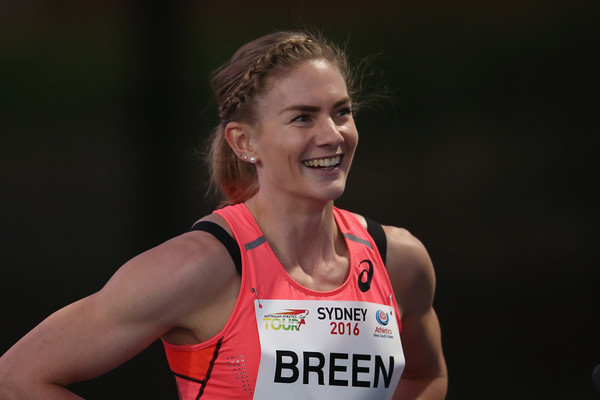 It's hard to imagine, but Melissa Breen could have simply said enough is enough if she hadn't recorded the all important Olympic qualifier over the weekend in Townsville. Waking up early on Sunday morning to take advantage of favourable conditions, Breen showed mental strength to finally record an OQ time of 11.31s (+0.9). This was after earlier running 11.50s (-1.3) and 11.36s (+1.7).
"I was obviously shattered to have come so close again last night," Breen told AAP.
"So to come off a dodgy night's sleep, get up early and get the job done is something I'm really proud of. I would really have struggled if I'd had to head back to Canberra yet again without the time."
Breen went onto say, "I was never going to allow myself to go to Europe to chase the qualifier, to stress in that situation again," she said.
"It's really difficult to run away from home, and away from your support group under that sort of pressure. Now it will be a completely different mindset getting on that plane to Europe knowing I have ticked the box and am already on the team for Rio."
Breen said she lost confidence while struggling with a hamstring tendon injury in the domestic season. "But my family kept believing in me and my coach Matt Beckenham kept believing in me," she said. "And now I've got the job done."
Mitchell – There is So Much More to Come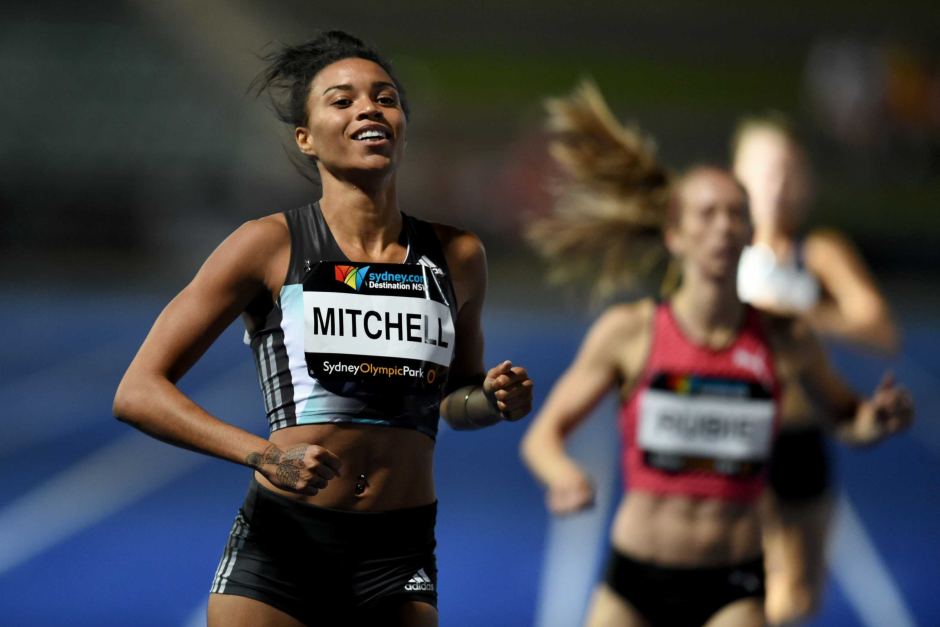 As we have said over the past 6 months, Morgan Mitchell has come a long way in 2016. If you needed any more evidence of how far that has been, look no further than her race at the Birmingham Diamond League meeting on Sunday.
Mitchell's 51.25s PB (by 0.56s) was a statement that she will certainly not just be making up the numbers in Rio.
The jet lagged 21-year-old hinted there was more to come as she continues to shave time off ahead of the Rio Olympics in August, and having produced a breakout domestic season, Mitchell showed she can step it up in elite company by keeping pace with some quality athletes including Jamaican Christine Day (51.09sec, and was also second to Mitchell at the Melbourne World Challenge earlier this year).
"I wanted more. We always want more," Mitchell said post race. "But 51.2, come on – that's massive, (after) getting off a plane (on Wednesday)!

"I'm so jet lagged. That just gave me a lot of confidence going into (the Diamond League event in) Oslo next week. I'm keen, I'm ready."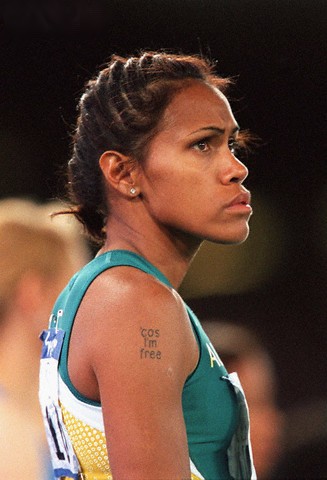 A 51.2sec performance is "massive', with only 6 Australian women ever producing sub 51 second performances in the history of the event. That list is pretty impressive:
Cathy Freeman (right) leads the way with 59 sub 51sec performances (including 17 sub 50 second performances), with her last one coming at the 2000 Olympic Games (49.11sec), 6 years after recording her first sub 51 second performance – a 50.82s in San Jose in 1994 at the age of only 21. Freeman is an amazing role model, who has played a part in Mitchell being in the position she's currently in – an athlete that any young athlete can look up to and dream the Olympic dream.
Renee Poetschka is second on the list with 7 sub 51 second performances, highlighted by a 50.19s PB. All her performances came between 1994 and 1996.
Maree Holland and Jana Rawlinson are next on the list with 3 sub 51 second performances, with Holland producing them all in 1988 (twice at the Seoul Olympics), while Rawlinson ran her three across both 2003 and 2004 – including an impressive 50.43s PB.
Mitchell will now look to join the above mentioned athletes (which also includes Debbie Flintoff-King and Michelle Lock, both with 2), and if she does there is every chance she could push ever closer to making it all the way to an Olympic final. Now that would be one of stories of the year.
Additional News – Pearson, Hale, Blundell and More
Should we be concerned about the run of Sally Pearson at the Birmingham Diamond League meeting on Sunday (where she ran 13.25s)? I think if you read this article published in the Daily Telegraph (click here) you will get a better understanding of where Pearson is at in 2016. It's probably best summed up by the following quotes from our champion hurdler:
"I just hope that my country doesn't put too much pressure on me to go out and blitz them all. It's not realistic at this point, knowing where I am and what some of the other girls have done.

"I'm realistic about my results but in 10 weeks I can be at my best. I can't guarantee that I'm going to win Olympic gold; I know the chances of me winning are probably high but I can't guarantee it.

"What I do know is that I can get into the same sort of shape that I was in at the last Olympics."
So should we be concerned with a 13.25s? Yes, there is certainly a long way to go for Pearson to make an Olympic final, but you can never deny the fact that she is a World and Olympic champion – and they certainly don't hand those titles out to anybody.
Aussie Junior Stars Showing Strong form leading into World U/20 Championships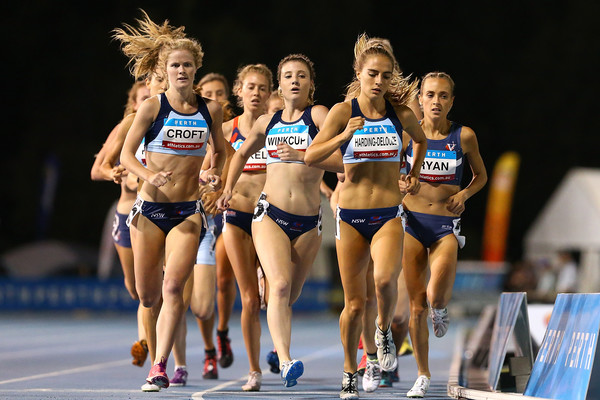 In addition to the outstanding sprinting efforts shown by Breen and Solomon, there were also some quality performances from our junior stars readying themselves for the World U/20 Championships next month in Poland.
Jack Hale produced his second fastest time of his career with an excellent 10.33s (+0.1) win in the 100m
Alex Hulley produced her second biggest throw in the women's hammer throw (65.28m), just shy of her Australian U/20 record of 65.75m.
Kirsty Williams (51.91m) and Bianca Hansen (50.81m) both looked in great form in the women's discus
Matthew Ramsden ran a solo 3.45.10 in the men's 1500m – athlete to keep an eye out for next month
John Dodds jumped a PB of 2.18m in the men's high jump
Jess Thornton ran a 23.70s (+1.8) / 54.57s double in the 200m/400m
Kurtis Marschall, a medal hope in Poland, cleared 5.40m in the men's pole vault
Also, Beth Croft last weekend produced the 5th fastest time ever recorded by a Australian junior in the women's 3000m steeplechase – recording an impressive PB of 10.13.88.
In other senior action from Townsville:
Luke Cann smashed his previous PB of 79.36m in the men's javelin, with an excellent 80.27m throw.
Monica Brennan continues to show selectors that she should be selected in the women's 4x400m squad for Rio, with 53.88s and 53.97s performances in the 400m coupled with a very fast 23.43s (+0.0) time in teh 200m – just shy of her PB of 23.41s
Women's 1500m Rio Selection – Spots Still Up for Grabs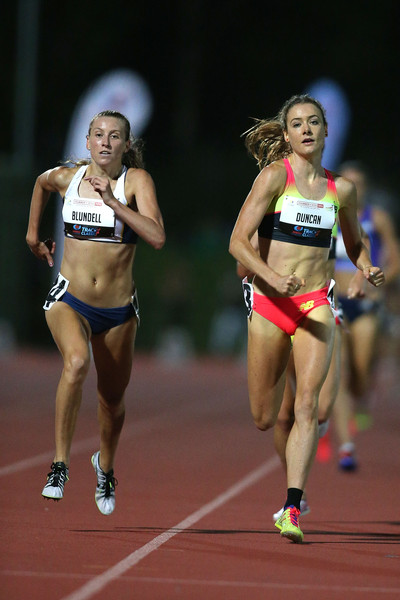 Jenny Blundell is doing everything in her power to make to women's 1500m team for Rio, with yet another OQ time of 4.05.30 over the weekend in Belgium. Blundell ran away from the field, winning by more than 4 seconds, and in the process recording her second OQ time of 2016. This comes after a superb 4.04.62 PB set in Beijing on May 18.
The difficult part comes due to the fact that Melissa Duncan has already been selected for Rio, while Linden Hall has produced a sensational 4.01.78 from Eugene, leaving only one spot realistically up for grabs. That could easily be taken if Heidi See manages to produce a time of 4.07.00 over the coming weeks, having the added bonus of being National champion (which is essentially the wildcard in the equation).
The only other athlete that is still in the picture is 2013 World Championship finalist, Zoe Buckman, who has an OQ time of 4.06.30 from 2015 but has to break 4.10.00 in 2016 (largely due to the slow recovery from an injury suffered in the middle of 2015). Buckman's recent result was also recorded over the weekend – a 4.12.77 in Spain, well below a time that would see her on the plane to Rio.
(ed. Duncan will need to produce a 4.12.00 prior to July 12, to prove her fitness and ensure that she remains on the team for Rio. This is after recovering from a recent injury suffered just after the World Indoor Championships earlier this year – an event where she set an Australian Indoor record of 4.06.93).
Ryan Gregson, Kathryn Mitchell, Fabrice Lapierre in Career Best Form
Ryan Gregson, Fabrice Lapierre and Kathryn Mitchell have not put a foot wrong in 2016, with all three athletes in career best form heading into Rio. Gregson again showed in Birmingham that he's benefiting from an extended period of injury free time, with his 3.35.50 the 4th time in 2016 that he's run under 3.36.00.
Another interesting fact is that Gregson has now defeated 3.27.64 athlete and Kenyan star Silas Kiplagat in his past two head to head clashes, after never beating him in 8 previous meetings. It is just yet another sign that the 26 year-old is ready to make his first final at a major championships (Olympics or World Championships).
In the field Mitchell has been just as impressive. Knowing that this could well be her last real shot at Olympic glory (Mitchell will be 34 in July), she has produced three podium finishes at Diamond League events in 2016 – 2nd in Doha (63.25m), 3rd in Rabat (60.68m) and 2nd in Birmingham (63.93m). Mitchell also won the IAAF World Challenge meeting in Beijing (64.37m), to show the world that she will right in the mix in for the medals in Rio.
Lapierre has shown similar form to Mitchell in 2016, which has seen him place in the top-3 in all four of his Diamond League appearances. The 2016 World Indoor silver medalist is even nudging his PB set back in 2010 of 8.40m, with a windy 8.36m in Rabat and a legal 8.31m (-0.4), also in Rabat.
Back on the track, Josh Ralph showed the form that took him to a PB of 1.45.79 set in August last year. His 600m time of 1.15.50 at the Birmingham Diamond League meeting was the 6th fastest time ever recorded by an Australian in the rarely run event. The Australian best stands at 1.15.14 (Lachlan Renshaw in 2010), with the list including equal Australian 800m record holder, Ralph Doubell at no.3 (1.15.3h).
Ralph looks ready to improve on his SB of 1.47.01 over the coming weeks, which will ensure that he is selected for Rio when nominations are made on July 12.
What's Coming Up this Week
The action never stops, with most of the action centred around the Diamond league meeting on Friday morning (AEST):
9 June: IAAF Diamond League (Round 7) – Oslo (NOR)
400m: Morgan Mitchell (Vic)
800m: Brittany McGowan (Qld), Selma Kajan (NSW)
1500m: Luke Mathews (Vic)
Mile: Ryan Gregson (NSW)
5000m: Brett Robinson (Vic)
100m Hurdles: Sally Pearson (Qld)
3000m steeplechase: Madeline Hills (NSW), Genevieve LaCaze (Qld)
We also have the NCAA Championships (June 8-11), where we will have up to 12 Australians in action, including Viallanova University duo, Patrick Tiernan and Jordan Williamsz.
Then on Monday morning (AEST) we will get to see the likes of Linden Hall and Heidi See go head to head in Portland over the 1500m, while Lora Storey (800m), Jordan Gusman (1500m) and Kate Spencer (5000m) also adding to the interest from an Australian perspective. Action aplenty for all our Aussie stars as the Rio Olympics draws ever closer.