By David Monti, @d9monti
(c) 2017 Race Results Weekly, all rights reserved
LONDON (20-Apr) — After a rousing, near-world record victory over Wilson Kipsang at last September's BMW Berlin Marathon, Kenenisa Bekele went to the Standard Chartered Dubai Marathon last January with high hopes. The 34 year-old, three-time Olympic gold medalist had trained well, and hoped that a world record was in the cards.
But right after the start, disaster struck. Organisers did not provide an adequate buffer between the mass participants and the elites at the front, and Bekele was shoved to the pavement by the surge of runners behind him just seconds into the race, and trampled.  Although he was able to get back on his feet, and even join the lead pack, his back and hip were hurting and he dropped out just past the 20-K mark.  He was seen on global television walking on the side of the course, looking for a ride back to the start.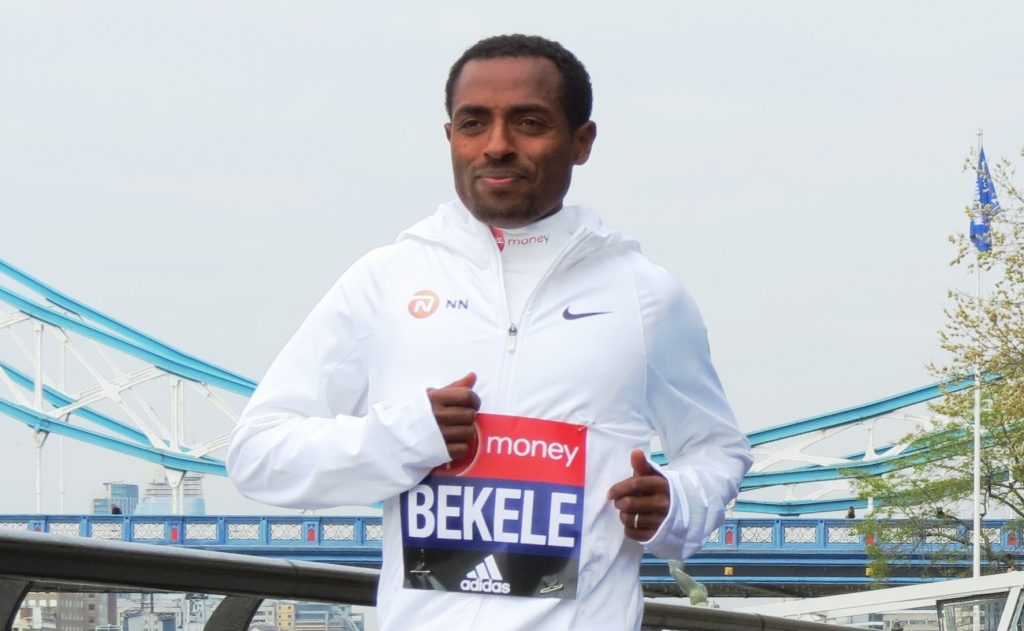 "Coming to Dubai, I feel some challenge," Bekele told reporters here today, referring to the excitement he felt before the race.  "I fall down.  My body was imbalanced because I fall down."
Bekele, whose time in Berlin last September was only six seconds outside of Dennis Kimetto's world record, comes to London in good form, he said.  He also has extra motivation after being passed up by the Ethiopian federation for last summer's Rio Olympics despite finishing third in 2:06:36.
"Of course I was angry," he said of the snub.
Here in London, Bekele faces the usual high-quality field of this Abbott World Marathon Majors event.  He is the fastest man in the field with a 2:03:03 personal best, but he is just one of six men with sub-2:06 personal bests, including powerful Kenyans like Abel Kirui and Daniel Wanjiru, top Ethiopians Feyisa Lilesa and Tesfaye Abera.  The reigning TCS New York City Marathon champion, Ghirmay Ghebreslassie is also in the field, as is Kenyan half-marathon specialist, Bedan Karoki, who will be making his debut.  Bekele finds this kind of race to be particularly motivating.
"Every time I'm excited when I'm running marathon," Bekele explained.  "Marathon is really challenging race.  Every time you are facing different competitors.  Each time you feel a different feeling in the marathon."  He added: "Marathon is special race."
Since making his debut in Paris in 2014 in 2:05:04, Bekele has only completed three more marathons.  In addition to his personal best in Berlin last September, he was fourth at Chicago in 2014 (2:05:51) and third in London last year (2:06:36). He has twice failed to finish in Dubai, in both 2016 and 2017, underlying how difficult the transition can be from cross country and track to marathon running. He said he's still working on that.
"Of course, running on the road is different than track," Bekele explained. "When you run on the track you run with half foot. Running on the road is full foot.  Also, you use different shoes and different style.  It's really different than track. More difficult, yes."
Although Bekele's track career is over, he sees his world records for 5000m (12:37.35, 2004) and 10,000m (26:17.53, 2005) lasting much longer.  When asked today who might be able to break those marks, Bekele smiled, and looked slightly embarrassed.
"Since now I don't see anyone to reach this record," Bekele said.  "It takes a long time.  If course, I'm surprised about it.  I hope a few years more nobody will break this record."